Surviving Europe on Summer Vacation

Sunsets, Seclusion and Sales: How to Survive Europe on Summer Vacation
By Hanson Hosein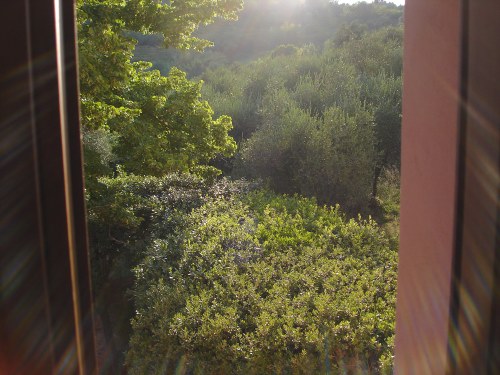 July 30, 2004
FLORENCE:
There's this shopping mall on the outskirts of a major city. It harbors stores from the most well-heeled of Italian designers. You can grab a slice of pizza or a cup of cappuccino while you consider the great bargains you just scored. The parking lot is filled with late model European cars. This location sports the fashionably minimalist name "
The Mall
." And why not? How many more of these Middle America-type retail palaces are you going to find adjacent to the capital of the Middle Ages: Florence, Italy?
What about the Duomo? The Campanile? Michelangelo's "David" at the Uffizi gallery? Certainly, those are all world-class tourist sites -- the highlight of any guidebook. But those same guidebooks offer this universal warning: don't travel to southern Europe in late summer. It's way too hot and there are way too many other tourists.
Unfortunately, many of us don't have the luxury of choosing our time-off to coincide with low-season travel. But I think I've found the way to beat the heat and the crowds (especially if you've already seen the major sights on a previous trip). And that's not to travel like a tourist at all. Instead, shop, eat, and soak up the Old World atmosphere.
That's exactly what my wife and I set out to do on our recent getaway, which began in the French Riviera. We originally booked a hotel in Nice, the de facto capital of the Cote d'Azur. Sure there's Belle Epoque architecture and beautiful people on the boardwalk. But as we got closer to our departure date, my trepidation grew while I contemplated rubbing elbows with thousands of well-oiled European sun worshippers along the Mediterranean.
So we opted for a small hotel in the tiny fishing village of Villefranche-Sur-Mer, nicely nestled between Nice and Monte Carlo. It's not exactly unknown -- U2's Bono and Tina Turner are said to own homes there. But its beautiful bay is removed enough from the big city's bright lights to handily reduce the number of tourists who flock here. The beaches weren't too crowded and we were able to enjoy fabulous grilled fish, carpaccio and seafood pasta (this part of France once belonged to Italy).
Yet, this was nothing more than an appetizer to the main course that lay ahead: Tuscany. And the only way to tour this enchanting part of the world is by car. Although gas and tolls are exponentially higher there than in North America (count on $50 to fill up the smallest vehicle), you'll avoid the European rush-to-relax at the airports and train station as the locals stampede south for their time off. I recommend booking online as we did, with a big company like Hertz. We got a much better deal that we would have found locally -- including, most importantly, unlimited mileage. Our sporty little four-door "Smart" car (a new Mercedes off-shoot for the urban jet set) cost about $34 a day. So we didn't look too much out of place as we did our own Grand Prix through the streets of aristocratic Monte Carlo.
Tuscany may have been already overrun and conquered, thanks largely to Frances Mayes excellent book (and film), "Under the Tuscan Sun." But there are lesser-known gems in the northern part of this tourist hot spot. Just follow these easy driving directions: ignore that leaning tower in Pisa on the coast and head inland, making sure you stop the car before you go too far and get trapped in Florence. That's how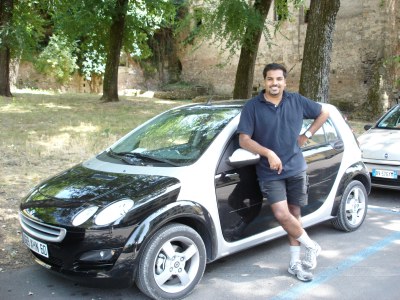 you'll find the quiet utopia of Lucca.
We didn't bother to book a hotel there. Instead, we found the delightful
Villa Giovannini online
, and stayed in a 300-year old house just outside the old city's walls. Owner Lucia Giovannini speaks fluent English and happily welcomes guests from all over the world. She told us that she has noticed that tourists have slowly begun to discover the many virtues of her hometown.
"When I was growing up, even the Italians didn't know where Lucca was," she said. "I had to explain it was close to Pisa."
Now Giovannini has guests who are staying for as long as a month. Our bed and breakfast there cost $90. And we followed a truck driver one evening to find another great bargain less than a mile away from our accommodations: the "Mama and Papa"-run "Trattoria da Pio", where the menu changes every night. We figured if the locals ate there, it had to be good.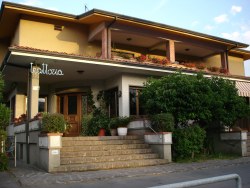 It was. For $40, we consumed nearly two liters of red table wine, enjoyed a huge plate of specialty hams, hearty vegetable soup, tortellini stuffed with ground sausage, chocolate pie and of course, espresso. This was local food at its best. In Italy, we learned you have to go out of your way to have a bad meal.
Certainly, Lucca's important place in the history of the Roman Empire and Renaissance Italy endows it with an array of important religious and archeological sites. But we were merely content to walk its cobblestone streets. We also took advantage of another European summer specialty: the outdoor music festival. In this way we were able to watch superstar singer Peter Gabriel perform in the old town's gorgeous Napoleon Square one evening -- his only Italian date on that particular leg of his tour.
For our main assault on the heart of Tuscany, we laid camp an hour and a half south, outside the medieval city of Siena. There we booked the standard Saturday-to-Saturday rental for what's known as "self-catered" accommodations. At
Residence L'Aia
, that meant we paid $115 a night for our own air-conditioned house, complete with fully-equipped kitchen, television, washing machine and swimming pool. It would have been much more expensive (and crowded) to find similar hotel accommodations in the center of town. In this way, we were also able to enjoy the unique experience of shopping in an Italian supermarket, with its huge cheese selection and an entire aisle dedicated to pasta. This led to a couple of nights of cooking back at our house. As the sun sank behind the Tuscan hills, we would sip on a hearty Brunello that we had purchased on a day trip to the wine connoisseur's capital of Montalcino.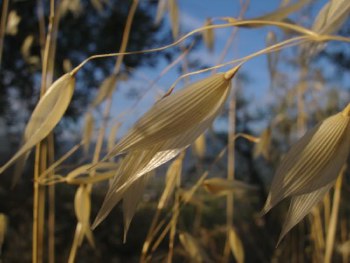 We were quickly reminded of why we had tried so hard to avoid the big tourist sites when we were surrounded by the hordes dismounting from tour buses at San Gimignano, also known as the "Medieval Manhattan" because of stone-towered skyline. And further south in Rome there was also a long-line up to pass through the metal detectors at St. Peter's Basilica in Vatican City.
Our antidote to the scourge of tourism? Consumption. We stopped nearly every hour of the day at a café or a bar to sip an espresso or a glass of wine. Either usually cost no more than a dollar. To combat the incredible heat in Rome, we did as the Romans do and filled up our bottles for free at public fountains that gushed top quality water from the city's underground springs.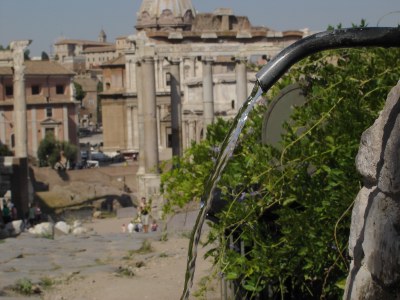 But if you're still searching for a really good reason to face Europe at this time of the year, look no further than the shop window. Almost every piece of clothing, pair of shoes and handbag is up to fifty percent off. Even with a strong Euro, you can easily grab some excellent deals on top Italian goods. Which is why we heard so many English-speakers gushing over the bargains at outlet stores like "The Mall" near Florence. Of course, the Old World's churches and museums will always be there. But these sales will only last while supplies last -- and while the summer sun beats down on Europe's crowded streets and sights.
LINKS:
"The Mall", Florence: +39 055 8657775. http://www.outlet-firenze.com/the_mall.htm
Villa Giovannini, Lucca: Via di Moriano * trav. nr.1, S.Quirico di Moriano +39-0583-341351 (no credit cards). http://www.knowital.com/properties/lucca/html6/giovannini1.html
Residence L'Aia, Siena: via Fiorentina, 95, Siena +39-0577-51987 (one of the few self-catering accommodations to take credit cards, most require bank transfers in advance).www.sienaholidays.com