This Year in Jerusalem

Paris, April 3, 2002 3:45 p.m.
This is where the Air Canada crew gets off, and a new one gets on. The staff now refuses to overnight in Israel because of the level of danger there. So the "direct" flight to Tel Aviv from Toronto just means you get to keep your seat, but you have to remain on the plane for two hours and gaze longingly at Charles De Gaulle airport, and consider the duty free wine and cheese you could have bought.
The plane is nearly empty. Three flight attendants cater to my needs. Given the length of the trip from Kelowna to Tel Aviv (no direct flight there, it's a 24-hour journey), all I do need is sleep, water and a bit of food.
Thirty-seven hours in Paris for the flight crew. One flight attendant tells me ruefully that she misses overnighting in Tel Aviv - her hairdresser is there. When the new crew gets on, one of woman recognizes me as a "regular" (it's getting to be that way). I think she's an Israeli Arab. She chats warmly with me in English, and her Israeli colleague in Hebrew.
An Israeli passenger comes over to talk to me. She had noticed me on the flight from Vancouver. As a single male traveller, it's hard not to notice the inquisitive stares as you approach the gate or get on the plane. I fit the profile. But we've all made it this far, so conversation is acceptable. And despite all the troubles, most people from the Mideast are just darned friendly - whatever their affiliation. We talk about the violence, Israeli politicians, the death of the Left in Israel, and the despair. It's a charming conversation, but a dead-end subject unfortunately.
-------------------------------

Jerusalem, April 4, 2002
The jet lag from a 24-hour journey is nearly debilitating. You go to bed at 2 in the morning and you wake up at 5 a.m., as if your body just wants to tell you: "thanks for the nap, now let's get going."
Add that to a kosher breakfast served up by the hotel you're staying in the day after Passover (no leavened products baked the day before, hence the lack of toast and the abundance of dry matzoh), and it's hard not to miss home and your habitual time zone. Even worse, your network's major broadcast airs at 9 p.m. eastern - that would be 5 a.m. local.
Those who haven't been here see the story of the Mideast as sexy, glamorous and dangerous. What they don't see is that the conflict we have before us is in some ways, a deadly form of politics waged by two PR-saavy campaigners.
At Jerusalem Capital Studios, that towering pillar of media convergence, Israeli spin doctors make their rounds, kindly attending to their journalistic patients with the most persuasive of bedtime manner. It's a challenge to start the day with Ariel Sharon's bright but frenetic spokesman, Ranaan Gissin. He goes from television network to television network, perfecting the message he wants the rest of the world to hear, never losing patience or getting bored - unlike movie stars who have to endlessly push their latest product to an infinite queue of entertainment reporters.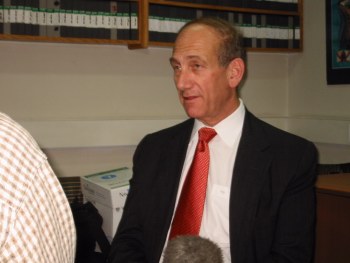 Jerusalem Mayor Ehud Olmert does the same thing, but later in the day, just in case we've forgotten what Gissin said that morning. Olmert is at his most charming and persuasive. Many Israelis think he's a right-wing hardliner, but to listen to him on a day like this, he sounds quite sensible. And he just had laser eye surgery, so he's lost his heavy lenses. He comes across as quite the telegenic advocate.
I run into former Prime Minister Ehud Barak just before he does a live appearance for an American network. I'd like to believe he recognizes me from a dramatic encounter two years ago on the eve of Yom Kippur, and at the outset of the Intifada. Then, I was producing a live shot with him for NBC's "Meet the Press" and he showed up seconds before he was about to go on the air. Could brinkmanship be in the blood here?
"You're getting on a lot," I tell Barak with a smile.
He smiles back.
"It allows me to perfect my English," he says.
"I always thought you spoke good English," I reply. "But if you keep going like this, one day you'll sound like Bibi," I add in reference to the Israeli darling of the North American media, former Prime Minister Binyamin Netanyahu.
"That is not something I aspire to," Barak replies with diplomatic wit.
Speaking of media darlings, Bibi's counterpart on the Palestinian side is legislator Hanan Ashrawi. Her English is perfect, her delivery emphatic.
I caught her on a bad day. The Israeli siege of Ramallah had prevented her for going home. Instead, she was holed up in the Ambassador Hotel in East Jerusalem, holding court over the plethora of international press seeking her reaction to anything that had happened that day.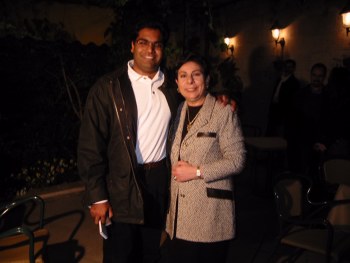 She was in a rotten mood when we finally sat down. I apologized profusely for disturbing her so late in the day, told her I had only three questions, then proceeded to ask four. She said more than I had expected to, and as usual everything that came out of her mouth was a perfect soundbite for TV. Her aides came over and thanked me for being so nice to her, which allowed me to bug her for a photo, "for my wife," I told her. By then, her mood had improved greatly (had I gone too easy on her?) and she happily obliged my inane request. Such is international reporting in the line of mire.
Jerusalem, Sunday April 7, 2002
Call it "Restaurant Roulette." A new Israeli ritual intended to seek out the safest place to engage in social intercourse during these insecure times. Otherwise put: where could my friend Natalie and I have lunch one sunny Saturday afternoon without running the risk of being blown up by a suicide bomber?
It's not something I've ever had to worry about - even when I lived in Tel Aviv for three and a half years during the heady days of peace in the late 90's, until it deteriorated into war last year. But now, with a population terrorized, it's the first thing you think of before you set foot outside your door.
We ran down the list of possibilities over the phone. Not Basel Street - too many people, too hip, thus too likely a target. Certainly not the southern part of town that had already been hit by a bomber a week ago. We settled upon a restaurant on the beach. You had to pay an entrance fee to park nearby, and there was enough open space surrounding the outdoor patio to spot a potential threat before it got too close.
Other Israelis had the same idea. The beach was crowded and so was the restaurant. We encountered the private security guard at the entrance before we even spoke to the hostess about getting a table. While seated, the couple next to us looked at the guard and commented to each other about he should keep more of an eye on the tables and less on the bar. Natalie and I kept our own eyes peeled for trouble while we tried to relax and enjoy our morning off.
Security is even a concern when choosing a hotel. Normally, I would stay at the American Colony in Arab East Jerusalem - a neutral meeting place and safe ground for foreigners. But unlike hotels in West Jerusalem (which are also terror targets) and elsewhere in Israel, the Colony is busting to the rafters with journalists and diplomats who have helped sustain the booming Intifada "industry". Even the less well known Hotel Addar across the street is full.
"You must be doing great business," I told Maher, the Addar's desk manager, hoping to meet someone who was actually benefiting from the ongoing conflict.
"Yes," he said. "But I would rather not make money off the lives of Israelis and Palestinians." Maher went on to explain that he hasn't been home in a week. The Israeli army has besieged his hometown of Bethlehem, and no one is getting in or out.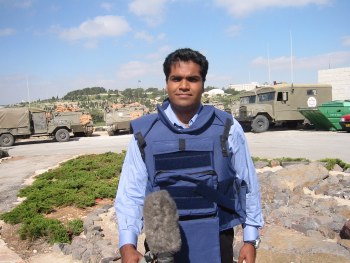 The level of danger here is worse than it was even two months ago. When I arrived in February, my Israeli taxi driver was happy to tempt fate and take a short cut through the West Bank to get me to my Jerusalem hotel. He said the Israeli Army was in control and it was safe now. Two years ago, I could have driven my own, unprotected car to Ramallah, just as easily as someone could go from downtown Toronto to Mississauga. But now, even an armoured car is no guarantee of safety. It's impossible not to consider your own mortality here nearly every minute of the day.
Friday, April 12, 2002 Amman, Jordan
It's nearly imperceptible, but things have changed in this small desert kingdom. It might be the local newspapers' daily multi-page accounts of what they call the Israeli repression of Palestinians. It could be the re-emergence of photos of the late King Hussein, three years after his death - perhaps illustrating a latent dissatisfaction with his son's performance so far. Or it might be the concrete structure that is now the Allenby Bridge, once a rickety one lane marvel that crossed the Jordan River and represented the only link between the Hashemite Kingdom and the Jewish state. There is something more solid and substantial there now, but it is cold and grey in appearance.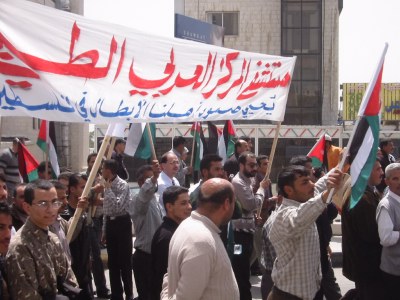 As we crossed from Israel to Jordan, Israeli security seem to be in disarray - not a common occurence. It took them five minutes to decide which door we should enter for our security interview. We found out later that two soldiers from the border unit had died in a suicide bombing in Haifa earlier that day.
Once on the Jordanian side, we got an enthusiastic thumbs up from the local commander when he found out we were Canadian. Having travelled to Arab countries with Americans at the outset of this Intifada, I could guess what his reaction would have been had we been nationals from south of the Canadian border - either outright silence or a vociferous complaint of America's blanket support of Israel.
There's no other way to put it. The streets of Amman are seething. More than sixty percent of the population of this Arab country is Palestinian - mainly refugees of the 1967 war. And every one of them has family or friends across the border who were suffering from Israel's brutal incursions into the West Bank.
Most Jordanians share their anger. There have been violent protests. They threaten to overrun the Israeli embassy, or rush the three bridges that connect the two countries.
While we're shooting in the centre of town, at least three people shout out "No Israel" for our benefit as they walk by.
In all my visits to Jordan, I've never heard the people here utter remarks of doubt about their monarch. When King Hussein died, the grief on the streets was genuine, the people unified in their support for the monarchy. That's gone now.
"He hasn't reached out to the people" one man told me about King Abdullah. He added that had Hussein been alive, he would have pulled off some dramatic stunt that would defuse his people's anger - like jetting off to try and see Arafat, even if he knew Israel would stop him. The emotional release would be in the attempt itself.
Abdullah's wife is Palestinian. The couple has declared its support for the people living in the West Bank. But in the minds of their subjects, they have not done enough.
And to paraphrase a well known song from the 1960's, "this revolution" is being televised. Jordanian newspapers report that viewership of the Pan-Arab satellite channel Al-Jazeera is at record levels. More than anything, this medium is what is propelling the sea of Arab anger across the region. Ten years ago, images of the past Intifada may have been broadcast on the one government-run channel. But now, it's all Palestinian all the time. Arab TV does not spare its viewers the editorial sensitivity of the Western networks. The pictures are bloody, and on other networks, like Abu Dhabi TV, are sometimes replayed in slow motion to dramatic music.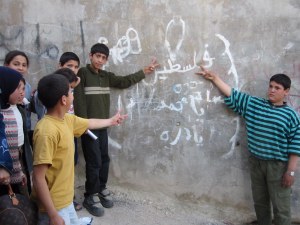 Many Arab regimes are frightened of the motivational power of satellite TV on their people - that if they do not act forcefully enough against Israel, the anger on the streets could be transformed into a direct threat to their hold on power.
I saw that when we spent a few minutes with a Palestinian family to watch the 5 p.m. news on Al-Jazeera. They live in a poor neighboorhood near the highway, but nearly every home has a satellite dish planted on its roof. And as the latest pictures of the Israeli incursion into the West Bank rolled, our hosts got more and more worked up, shouting at the TV, waving their hands in frustration. The many children gathered around us said that they "too want to go to Palestine to fight the Israelis." That they were willing to die for this cause.
We stayed an extra day in Jordan to cover a demonstration that advertised that a half million people might march on the Israeli Embassy. But the government shut it down, placing roadblocks around the country, preventing protestors from entering Amman. In the city itself, policemen seemed to be on every corner. They were in control for now. The protest was cancelled.
We returned to Jerusalem that afternoon. We got back to the CBC office just two hours before a young Palestinian woman detonated her deadly load about five hundred meters down the road, killing four Israelis and two foreign workers from China, and injuring many others. Among the many millions who want to jump the barricades and do something about this conflict, she, had broken through.
#30
April 18, 2002 Issawiya: A Casual Brutality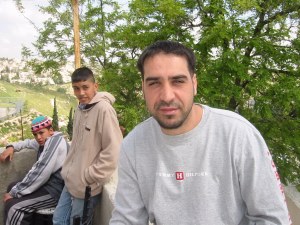 Issawiya is not Jenin.
No one alleges a massacre happened here. Rather men and boys as young as thirteen are arrested.
No week-long gunfights. Instead, this is old-style Intifada central, where Palestinians throw stones and Israelis fire rubber bullets and tear gas canisters.
And as far as I know, there no bomb factories, even if in the past, the Israelis have busted what they call "terror cells" here.
But to a lesser degree, there are some similarities between this Palestinian neighbourhood of East Jerusalem and the shell-shocked refugee camp in Jenin. I spent four difficult hours here today. It's impossible for me to imagine how hard it would be to live in this village of 15,000 right now. I think I would have died of frustration.
Like Jenin, houses have been bulldozed here. The Israeli army have destroyed what it calls, "illegal structures" - houses built by residents of the village without getting a permit from the city of Jerusalem. To the North American ear, this may seem like a sensible legality. Until you understand that the municipality does not readily hand out building permits to Palestinians. At all. It's a deliberate effort to curb the Arab population in East Jerusalem, as Israel attempts to strengthen its hold over the entire city. It took control over the whole of Jerusalem after the Six-Day war in 1967, and is loathe to surrender much of it under any eventual peace deal with the Palestinians.
And like Jenin, this village has just been closed off by the Israeli Army. Israel celebrated its 54th birthday with one of the highest security alerts ever. It put thousands of police and soldiers on the street. And then it sealed off whole Arab neighbourhoods in East Jerusalem for fear of suicide bombers using them as staging areas, given that the army had so brutally reduced the likelihood of such an attack originating from deeper inside the West Bank with its latest offensive. And Issawiya was among those neighbourhoods.
I arrived there nearly by accident. My intention had been to interview Rabbi Arik Ascherman, head of Rabbis for Human Rights. He just happened to head to Issawiya when he heard that Israeli troops had entered the village. That's what Rabbi Arik does. He looks for trouble. And then he gets in the way. He thinks as an Israeli-American, he might be able to stop the Army from doing something they wouldn't otherwise regret if it knew no one they cared, was watching. I first met him when he was trying to stop Israel's house demolition policy three years ago.
Despite his criticism of his own country, he'll also tell you that the Palestinians are no angels.
"We have two peoples here, who so much see themselves as victims, they cannot see themselves as victimisers," Arik said. "There are no saints on either side."
But he says Israel is the dominant power, and when it acts, it must do so justly, and within the moral framework of Judaism.
"Jewish tradition teaches us, that even in time of warfare, there are red lines that you do not cross," Arik said. Clearly, he believes that his country is crossing those lines over and over again.
Then I met Darwish. He was doing what I was doing. Shooting his own video on a small camcorder (his was even smaller than mine). Darwish has lived in New York for sixteen years, but regularly returns to his home town. And this time, he had brought a camera from the electronics store that he runs in The Bronx.
"Look," he said, pointing at a four-story building nearby. "They're in my house. And on my land. It's outrageous. It's ridiculous. We can't even live in our own house."
"They" were the Israeli soldiers who had taken position on the roof of the building. "They" were heavily armed. And Darwish had taken video of them firing tear gas and stun grenades at the people on the street below. That's what had woken him up at 7 o'clock.
This being the digital age, I dubbed his video easily to my camera. It was shaky, but good. Darwish was shooting from his bedroom window, afraid that if the Israelis saw him, they would confiscate his tape. Rabbi Arik had not yet arrived on the scene. Only Darwish was watching, and recording. He told me he had decided to make the tape so he could show his friends in New York what life here was really like.
Then as I was talking to him, we heard a loud bang.
"For no reason, for no reason," Darwish said. He looked down at a group of kids scattering. A soldier had just fired a rubber bullet "They just trying to go to work, go to school. They have no rocks. Nothing in their hands."
He took me into his building. The soldiers on the roof spotted him. In Hebrew, they asked to see his ID. Darwish said he doesn't speak Hebrew. The soldier noticed my camera. He switched to English. The ID wasn't enough. My host was forced to return to his bedroom and show his passport as well.
A neighbour brought us sweet tea. A few of Darwish's relatives loitered with us on the balcony.
"Nobody is allowed to go to work, everybody is stuck in the village," Darwish said. "We've been neighbours for so many years. I don't know why they're doing this."
Darwish then dispatched his brother to show me around Issawiya. We stopped in the centre of the village. People seemed happy to see a foreign journalist. They all had fresh stories to tell.
I was led into a house where the kitchen had been blown out by Israeli soldiers a few days ago. Apparently they were searching for "terrorists," but had found nothing. So instead, they trashed the living room. A huge piece of concrete from the wall lay on the ground. Nearby, a beauty salon looked like something I had seen in Kosovo after the Serb army had been through an Albanian neighbourhood. Mirrors were shattered, brushes and hair dryers were strewn about the ground, there were dozens of bulletholes (from M-16 guns I was told) in the wall. In one home, an infant was sleeping on the bed, her bottle still in her mouth. Her mother pointed out where the soldiers had broken the window and part of the bed when they had conducted their search.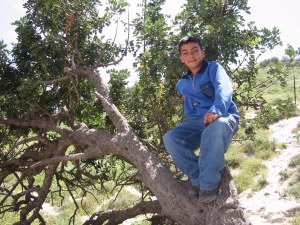 And then I was taken to the tree. Local legend has it that it's the same tamarind tree under which Jesus once rested. Which is how Issawiya got it's name. In Arabic, it means, "Where Jesus slept." The Palestinians believe the tree to be indestructible, and recount the number of times the Israelis have tried to chop it down, but have magically, been unable to. It may be folklore to counter the reality of house demolitions, but it's a story that seems to give them strength. They're proud of their tree.
Once I was done shooting, I tried to leave Issawiya the way I came. About thirty cars were waiting along the road. They had been there for hours. I decided to invoke my "noblesse oblige" as a foreigner, and drove by them. The other drivers looked at me bemusedly, as if to say, "it's not going to work." A soldier started yelling at me. I yell back "I'm a Canadian journalist" in Hebrew, waving my ID card.
He replied in English, "No journalists, go back." I had no choice. I turned the car around. We've heard many times now that the army has lost its patience with journalists. I wasn't going to push my luck.
Until I found a Spanish TV crew inside the village. I started talking to their Palestinian driver. He told me that there was another way out, but I shouldn't drive through town with my Israeli car (it had been safe during my tour, because I had a local escort). I decided that I would take my chances, hoping that everyone would remember that I had just been shooting there, and followed the Spaniards' van (conveniently labelled with "TV" in black tape on every possible side of the vehicle).
We made it through town safely. We hit the roadblock. The suitably programmed soldiers signalled to us to turn around. The Spanish then got out of their van. They were searched, and so was their vehicle. A few minutes later, they were allowed to pass. Now I was on my own. I approached the soldiers slowly, rolled my windows down, and prepared to get out of the car. A soldier looked at me, and almost with a smile, told me to go ahead. No search, no questions asked. And I have no idea why.
#30
April 19, 2002 A Casual Brutality Part II
I met up with Rabbi Ascherman today. He was on a stake-out at the Sheikh Jarrah neighborhood of East Jerusalem. An Israeli court had handed down an eviction notice against Palestinian tenants, saying they didn't have the legal right to be where they had been living for the last forty years. And once they were gone, a group of right-wing Israelis would move in and establish yet another foothold in this Palestinian neighborhood (for the record, they say they have documentation proving that the property is now theirs). The rabbi was there to try and stop any police who might show up.
Neither of us were in a hopeful mood. I have to reproduce this answer he gave me, in its entirety, because I believe it truly reflects the despair of the situation. So many people who want to understand what is happening here ask me for my assessment, will it all ever end? And I think I would have to share Arik's opinion. This is what he told me.
"Some day, we are going to get back to the peace table.
I'm a pessimist these days. I'm usually an optimist. But today, I'm a pessimist.
I strongly suspect that we're in this for five or ten years, this cycle of violence.
Because right now, the extremists on both sides are playing each other like virtuoso violinists. They know just how to get the reaction they want from the other side.
Every time you have a some tremendous effort to get a ceasefire - then one suicide bombing, one incursion by the Israeli Army and you're back to where you've started. And I think we'll have to through this cycle of bloodshed before both sides get tired of killing each other.
But someday, we will get back to the negotiating table, and then, the question will be, what have we learned?"
Other than nearly getting arrested by Israeli police for filming its roadblock near Issawiya, today was a fortuitous one. I seem to have become quite a well-known face in that village. At the gas station near the roadblock, an attendant said he had seen me yesterday in his hometown. As did a waiter at a bar the night before. Suddenly, everyone I meet is from Issawiya. And when I showed up at Damascus Gate at the entrance to the Old City just in time for Friday prayers, I was nabbed by Darwish, the friendly Bronx native I had met yesterday. He had come to pray at Al-Aqsa mosque. But the Israeli police wasn't allowing any Palestinian male under forty to enter, for fear that things might get out of hand after prayers.
Darwish was clearly upset. He was set to return to New York next week, and this would be his last chance to pray. He had wanted to go to Al-Aqsa so badly, he had snuck out of Issawiya, climbing up the hill and jumping the fence near Hebrew University (which overlooks his village).
Darwish did get a chance to pray. On the road outside Damascus Gate, with a hundred other young Palestinian men. They sat on pieces of cardboard. As they prostrated themselves, their foreheads touched the asphalt of the street. I couldn't understand what the imam was saying, but judging from the tone of his voice, I'm certain it wasn't anything nice about the dozens of Israeli police who were keeping a watchful eye on the roadside congregation.
#30
[scenes from my previous trip:]
Tuesday February 12, 2002 Jerusalem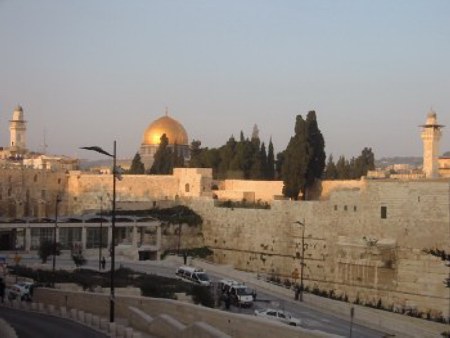 My commute to work isn't the same. Back at home, it's a nearly effortless ten minute Sunday-like drive along Lakeshore Road. The only obstacles are senior citizens with impaired judgement. Many of them veer into the flow of traffic without thought to the relative speed of the oncoming cars.
Here, driving is about risk and adventure. And it's a skill that has come back to me very quickly. I've only been away for a year after all.
First, you must travel from one world to another. I set out from the regal confines of the American Colony Hotel in East Jerusalem. I have a brief encounter with the controlled chaos that is the preserve of the Palestinian driver. On this side, the only thing that makes any sense is the generous give-and-take people give each other on the road, as if to say, "it's awful out here, but we're all in this together."
But then you cross the main thoroughfare that technically divides East and West Jerusalem. This was No Man's Land until 1967, when Israel took over the entire city after the Six-Day War with Jordan, Egypt and Syria. Now it's just the busy street that hardly separates Palestinians from Israelis. And once you pass over to the other side, you become an animal of instinct behind the wheel, because here, it's extreme Darwin. There's no place for the weak or the forgiving. Drivers jockey for position, create a right of way out of the oncoming lane, honk mercilessly refusing to allow anyone to push in front of them. On these hard streets, there is fear and paranoia of being seen as a sucker.
The sidewalks are filled with men in black. Depending on their sect of choice, these ultra-Orthodox Jews will sport black hose, long black coats, or black suits. Some have full grey beards, other nicely groomed whiskers, and the younger ones sprout long, single locks of hair. Their spiritual allegiance determines which century they will appear to have last adhered to the local eastern European urban fashion - 17th or 20th, but certainly not the 21st. If it's raining, many of them will put clear plastic bags over the crown of their fedoras to stop any seepage through the black felt. It's a scene of religious observance that contrasts harshly with the overtly modern war on the roads.
Current events have imposed change on this city weighed down by history, custom, faith and just a bit of outright stupidity. Many more police checkpoints have sprouted up since I left this region exactly twelve months ago. But their location is as random as the horrific violence here. Turn down one street and you'll be stopped by an adolescent in green garb. But try the next road and it's clear sailing for those who bear both good and ill will towards the civilian population.
"Random" is the best word to describe life here now. The threat of violence in the most unlikely of places has created a deep-seated feeling of despair. You can try and insulate yourself against the probability of bodily harm by not going out and avoiding public places. Like the Mahane Yehuda market which is frequented more by security personnel than customers looking for a good deal on fresh produce and meat. On a Friday morning just prior to Shabbat, there is a remarkable amount of room to manoeuvre among the fruit and vegetable stalls.
Some friends chided me for having dared enter the market - a favourite target of suicide bombers - so I could indulge in a falafel sandwich. But it's a quick walk from the office. And we deliberately avoided taking Jaffa Street to get there. That's a main city artery where something like twelve terror attacks have occurred. That fact has prompted a Jerusalem Post reporter to comment, "Sooner or later, almost everybody in Jerusalem walks along Jaffa Road, now part of a murderous lottery."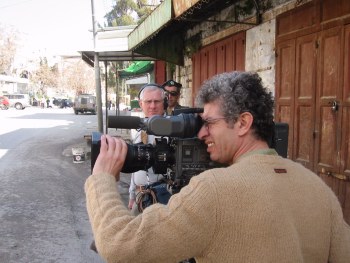 Attempting to beat the odds, my kind colleagues at CBC Jerusalem were quick to order a new flak jacket for me. For about $1000 U.S. I got the latest in body armour technology, made by people who apparently have first-hand experience in trying to thwart deadly projectiles. The flak jacket salesman might as well been trying to hawk encyclopaedias, so casual and cheerful was he. He pointed out how the Kevlar in the neck and groin sections would stop the average bullet. But he was proudest of the breast plate. "Famostone Strike Face Type II" was strong enough to absorb the destructive force of Kalishnikov fire, and light enough to prevent the more likely occupational hazard of wearing a thirty-pound flak jacket - getting a hernia.
Journalists seem to be the only people who are keeping this area solvent. The economy has been devastated by the absence of tourists and foreign investment. Hotels are empty everywhere - except at the overpriced American Colony where the Intifada industry keeps them rolling in the dough. There, diplomats and big-budget journalists (and sometimes small-budget ones like yours truly who can negotiate a decent room rate) looking for common ground and non-kosher food, congregate happily. This is the place where you'll easily find TV stars like "60 Minutes" correspondent Mike Wallace, wearing his Vietnam-era khaki jacket, eating breakfast alone prior to his one-on-one celebrity interview with that most famous of mumblers, Yassir Arafat.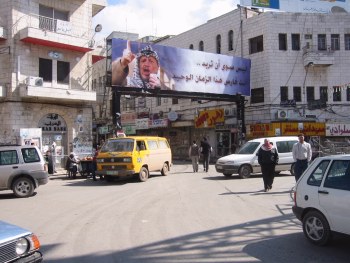 Meanwhile, others feel the pain. The Old City is a ghost town. Issa Salem, who used to work for NBC, took me on a quick tour of his backyard. He lives in the Christian quarter, close to the Greek Orthodox Church near Jaffa Gate. Two years ago, the cobblestone alleyways of the city were inundated with tourists. The Pope was coming, and so was Peace. Everyone had a job, everyone seemed happy.
And now, formerly-employed tour guides who can speak at least four languages languish in silence outside of a cafe. They suck on water pipes and down endless glasses of thick Turkish coffee. I ask Issa how much more can people endure? How long will this violence continue? He shrugs and wistfully smiles. "I don't know. Maybe four, five years."
#30
Tuesday, February 19, 2002 Jerusalem
Sage and Wisdom
The bazaar-hardened veterans of the Middle East must think me an easy mark. Within ten hours, two pairs of Palestinians and Israelis were concerned enough about my wellbeing to ask me, "How much did you pay for that?"
"That" was a bushel of the local miracle herb, "Mariyamiya" or "sage" in English. A certain Mrs. Kanawati from Bethlehem first demonstrated its curative powers to me a few years ago. "Just add it to a pot of black tea," she would say. "And it will solve all of your problems." Then she would add, "Except a broken heart."
Happily there was no need to test that disclaimer. My female companion at the time of that life lesson in the West Bank ultimately became my wife.
It had been a year since I had moved from the region. My innards toughened by a three year assignment here - were now softened by the good life in North America. And perhaps according to the aforementioned Doubting Tobias' and Tariqs, my bargaining skills as well?
A recent two week assignment to Jerusalem brought it all back: the violence, as well as a violent stomach affliction.
Who had been responsible? Perhaps it had been my inadvertant reversal of ethnic menu choices here. Had it been the shwarma from Jewish West Jerusalem or the veal schnitzel from Arab East Jerusalem? I joked to a friend that both Israeli and Palestinian were try to kill me. In typical Mideast style he said that was good a thing, it meant that I was important.
Unable to keep anything down, I surrendered to the care of the Balsam Pharmacy on Salahadin Street in East Jerusalem. I described my symptoms. The fever. The chills. The aches. The chaotic state of my stomach. The kindly pharmacist immediately understood. First he did the professional thing. He prescribed me a box of Israeli-made pills. And then from behind the counter, he pulled out a bushel of the frosty green sage. I found out later that the Arabs had a saying, "How can a man die who has sage in his garden?"
For the next few hours, I took the sage everywhere I went. Struggling to remain conscious while being sociable at a bar, I begged the waiter to bring me a pot of tea. My Israelli guests laughed at me when they saw my magic plant. They probably thought I had been taken in by some quack doctor. "How much did you pay?" The Palestinian waiter was more supportive. But he too had to ask me how much I had paid for the sage.
That was the first question I faced at breakfast the next morning. Nearly restored to full health, I was happy to tell my interrogator. Ten shekels ($2.50) bought me the old fashioned-sage...as well as the box of modern medicine. It was hardly a princely sum, or a sucker's ransom, for peace of mind and a peaceful stomach.
#30