Page 2 Morocco

Saturday, March 10, 2001 9:52 a.m. Marrakech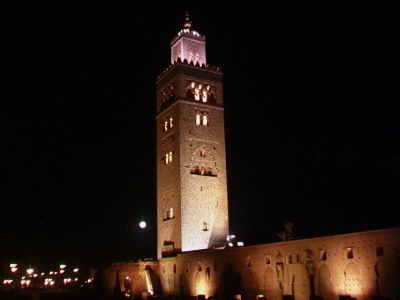 I was expecting the hustle and noise of Cairo and instead, we got the calmness and civility of Amman in the beautiful Moroccan city of Marrakech. The clear blue sky contrasts nicely with the adobe-colored buildings. Except when we pass by the horse-drawn caleches, a heavenly scent pervades the main streets of the city. I suspect the flowers in spring bloom and the orange trees that line Mohammed V Boulevard are the source.
Yesterday, I took on the car rental "souk" of Marrakech. Car rentals in this country are grossly overpriced, more expensive than Europe and North America. For a subcompact, most agencies' starting prices are around $50 a day - Hertz was $60. So I did the rounds, stopping in at reputable international agencies and the dozens of hole-in-the-wall local agencies alike, trying to find a decent car that I could afford and that could take on the Atlas Mountains. The budget car of choice is the Fiat Uno, but Mustapha at Concorde Rental Agency gave me an earful about how useless those cars are outside of the city. He even showed me his agency's entry in a French travel guide which stated at the outset his hatred of all things "Uno."
Happily, Fatima at Thrifty quoted me $35 right off the bat for the next level up from the Uno, the Fiat Pallio. It should do us fine, and we'll be picking it up tomorrow for our odyssey through the Atlas Mountains.
We have already endured one Moroccan trek. Our connection from Casablanca to Marrakech was canceled, and we ended up having to take a bus instead. What was supposed to be a 40 minute flight became a three hour ordeal. But it certainly gave us a chance to take in a bit of the Moroccan countryside, as I formulated my "Impressions from a Bus." The country is far more lush than I thought, and the contrast of the red soil against the verdant hills brought to mind the Moroccan flag with its red star in a sea of green.
Compared to other developing countries, and especially to other Arab states, Morocco is a dream. It's clean, organized, and almost European in appearance. Most odd are the abundance of ultra-modern gas stations that line the highways, all with their own brand of mini marts - one such shop humorously named "Ibrahimart."
And the prices! With the exception of the incredibly expensive, but ornate couscous joint that is Restaurant Bar El Baroud (around $50 a person), this country is a great deal for Westerners. This morning, we ended up having breakfast at the Espace Délice French bakery around the corner from our hotel. This friendly place combines the best of French and Arab pastries. For $1.70, we enjoyed two café crèmes, two croissants, and one cream-filled chocolate croissant. A two kilometer taxi ride costs about a dollar, as does two 1.5 liter bottles of mineral water in a convenience store along the main tourist drag on Mohammed V street.
11:11 p.m. That Same Day
Today was the day of the medina, Djemaa el-Fna. Like the rest of Morocco, I was expecting the worst: exorbitant tourist prices and aggressive hustlers. But I was pleasantly surprised. Shopping in Marrakech's souk was like browsing in a North American mall compared to the hawkers' onslaught a visitor can be subjected to in places like Jerusalem, Cairo or New Delhi. The sellers were polite, some tried to get our attention, but gave up when we ignored them. The market didn't strike me as overwhelming a destination as the guidebooks would have us believe, although we have been quite Middle Eastified over the last few years. We didn't even get lost inside.
Indeed, we ended up doing the medina quite quickly today, almost instantly finding an innocuous shop within which to do most of our purchasing: an iron frame with doors that will eventually house a window, colorful leather lamp shades, ornate-handled skewers - all for $40! Our vendor was a young salesman who was happy to show us our wares, but didn't press us too hard, and even trusted us when we said that we would return after our first look-through (obviously we did).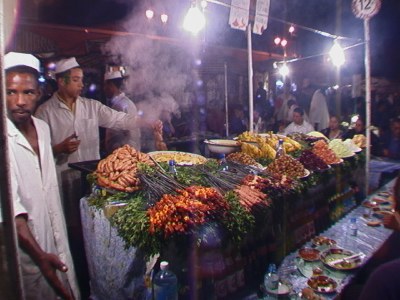 However, we were far more impressed tonight, as we returned to the medina for dinner. As night fell, the place was instantly transformed into a medieval-like state fair, replete with snake charmers, storytellers, potion salesman and jugglers. A full moon illuminated the main square that was populated by dozens of food stalls, smoke rising from their grills, casting an eerie and magical pall over the area. We selected the most picturesque of the stalls - it was unromantically signpost as number "12." My thinking was that if we ate there, they wouldn't object to my shooting a few pictures during the meal. They didn't. Before our eyes, they grilled juicy sausages and beef skewers, served us salads and soup, the final bill for two adding up to $7.50.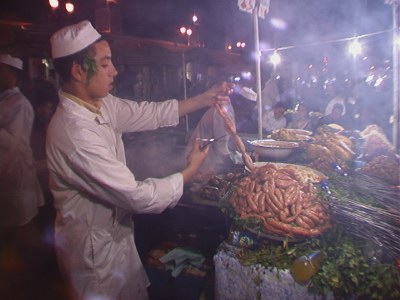 Like almost everyone else that we have met here, the Moroccans who served us were charming, eloquent and friendly. Today was certainly one of the best experiences we have had since we began our travels ten days ago.
After dinner, we navigated the thousands of locals who flooded the streets on this Saturday night before the important Muslim feast of Eid al-Adha. Up to now, Marrakech had struck me as a sedate, quiet city, more populated by tourists than Moroccans. Tonight proved otherwise as the people of Marrakech took back their streets, dressed in suits, jalabias, traditional Muslim garb, tight jeans and short skirts. It was a night out on the town in the most jubilant fashion possible. How different was the youthful energy of this Moroccan city compared to the awful agedness of those waiting for a miracle back in Lourdes.
Sunday, March 11, 2001 Boulmane du Dades 9:45 p.m.
As I emerged from my cave this evening, the North Star came at me like a single high beam headlight along an abandoned road. It has been a long time since I have seen stars in the night sky like those here in central Morocco. Combined with the altitude (1500 meters), the sheer number of twinkles out there gave me a near case of vertigo.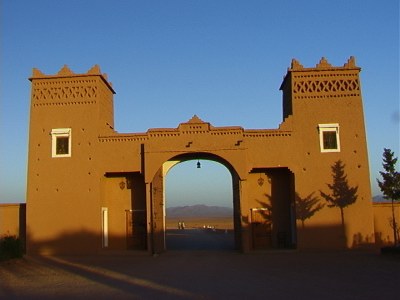 We're spending the night in the most unusual of accommodations: a faux casbah built by the family of businessman and reputed tour guide Ibrahim Lemnouia, a local Berber. For years, my friend Martin has been telling me that I had to visit this corner of the planet and meet Ibrahim, and finally I have. And here I am, getting ready for bed in a grotto dug into the side of a mountain, which Ibrahim says simulates how the mountain nomads still live - minus the electricity, running water, and padlocked door. The Casbah Tizzarouine is a little pricey for this part of Morocco -- $30 per person per night including breakfast and dinner - but it's certainly worth the experience, and the awesome location in the desert overlooking the village of Boulmane du Dades.
Heather and I are the only North Americans here tonight. The rest are French, enjoying a pseudo-colonial experience, in a country that mercifully speaks the only language that they know. It's a luxury that affords some of them the ability to even tell off the waiter in a way that only the people of France can.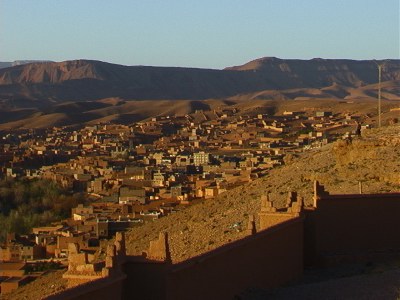 "I'm very sorry, but it is terrible," one diner told our waiter when he had the temerity to ask whether the dinner was to his liking. "We've paid a lot of money, and we would never be served meat like this in Paris. It's hard. It's just inedible!"
If I'm able to quote this man word for word, it's only because what he said was so memorable (I thought he was joking at first when he began his tirade), and because he said it loud enough to share his feelings with the rest of us. Our beef tagine dish was quite good, even if the beef was a bit too fatty and stringy, but given where we were, my expectations were not high. The presentation -- in a sizzling earthenware dish -- as well as the service, were top notch, and frankly, I've had worse meals in places like, well yes, France.
It took us six hours to make the 200 kilometer trek over the Middle Atlas mountains from Marrakech into this Sinai-like red, desertified region, and it was worth it. Part of the ordeal was the hour it took us to get out of Marrakech - each policeman I asked for directions from gave me a different direction to go in, and I was still trying to get used to my vastly underpowered, all manual economy Fiat Pallio. When we finally did get out, I was able to recognize other fellow tourists by the fact that they too were driving the ubiquitous Pallios as carefully as they could along the harrowing mountain roads. It wasn't until well after the halfway point of our journey that I could actually push the car to over fifty km/h. It was just too dangerous before that.
Of course as I complain about the arduous path to this wonderful place, I have to point out that we passed at least hundred cyclists along the way. And these weren't adventurous tourists, but rather hardened locals who had no problems making their way up the mountain roads, or through the desert despite the harsh sun. Some were dressed in Tour de France like stretchy spandex, others wrapped in leather coats and sweaters oblivious to the heat, and even more wearing the traditional Moroccan hooded robe (which Heather said made them look like sinister Smurfs).
And while I slowed the car down to almost zero to negotiate a hairpin turn, a gaggle of boys would pop out from the side of the road either to try and peddle some amethyst, displaying their wares like two halves of a glittering coconut split open, or merely just to play chicken with the cowardly tourists. It wasn't a car ride, it was an experience.
Many times I made the mistake of pressing "SCAN" on the car radio, only to finally take notice a few minutes later that the digital readout was still rapidly changing, desperate to do good and find a signal. And on each occasion, I would put it out of its misery and just turn it off, resigning myself to the peace and quiet of the countryside, occasionally grateful that I was forced to listen to my surroundings because it gave me enough time to react when I heard a truck or a bus steaming towards me from the opposite direction. As we made our way through the desert, we would often pass under an ornate gateway that would appear out of nowhere. Heather made the astute observation that the gateways were probably put there for that exact reason - to make the lonely traveler feel that no matter how isolated they felt, that they were still "somewhere." [We found out later that they were used to delimit local borders.]
And now, my companion sleeps, our cave toasty warm because of the portable heater, the silence outside so pronounced that my ears seem to be ringing from the inability to comprehend the absence of noise. I may have left the Middle East behind when I left Tel Aviv, but I shall forever cherish the desert.
Monday, March 12, 2001 10:03 pm Boulmane du Dades
Today lends new meaning to "off the beaten path." Or for another road cliché, "good intentions pave the way to…"
We meant to make a perfunctory visit to the nearby Valley of the Roses before heading off the scenic Dades Gorge. We meant to stay in a hotel in that gorge. We meant to politely accept Ibrahim's generous offer and have him show us around for a couple of hours.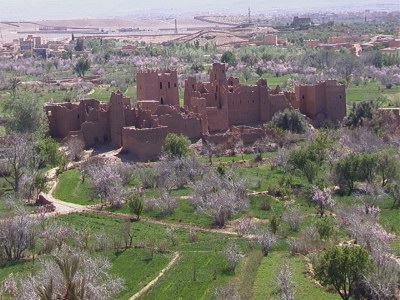 Rather, Ibrahim's tour took six hours, and he took us places that few outsiders have ever seen before. We ended up returning to his hotel tonight, where the food was much better, and the Valley of the Roses ended up being the highlight of our tour.
Ibrahim took control of my Fiat at precisely 11:08 this morning and we headed off to town to get some sun screen for Heather (only white folks use this stuff, hence the extortionate price at the local pharmacy). We decided to also buy some lunch provisions, and suddenly Ibrahim was showing us parts of the town we didn't know existed. The minute he led us onto a concealed side street to buy bread from an impossible to notice bakery, and the owner greeted him warmly, we knew that this was going to be a special tour.
During those six hours, Ibrahim demonstrated that my super compact Fiat was actually a 4x4 in disguise, as this bare bones basic beauty took on the unpaved roads of the region with nary a complaint.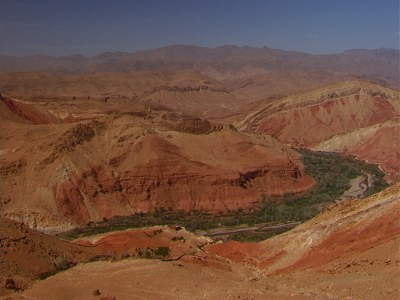 The Valley of the Roses merits a paragraph in the Lonely Planet guide to Morocco, and apparently even less in other travel books. It's a lush and fertile place in the middle of the desert where Moroccans, about fifty years ago, took rose bushes brought to them by merchants from Damascus, and made them grow. Now, 4,000 tonnes of roses are grown every year, and rose water and other products are exported around the world from here. They bloom in May and perfume the entire area with their scent, but the almond trees were already flowering, so we didn't feel as if we were missing out. Ibrahim, however, kept mentioning how he was dreaming of May when the roses would emerge. It sounds as if it's a special time here.
As we drove further and further away from the national highway, it was impossible not to notice that adobe-colored villages seem to spring out of nowhere. Thousands of people lived in this valley, some of them inhabiting the centuries-old medieval-like casbahs that dotted the area. Many of the women were wearing their finest multicolored regalia today, as they went to visit their friends in nearby towns on this, the last day of Eid. Their gold tinged black gowns fluttered in the light desert wind. The sun was hot, but the air was still fresh and light.
We then left the Valley of the Roses and headed into a wide expanse of ochre-tinted desert. Ibrahim took a sudden left in the middle of nowhere, and we got out of the car. There, amidst all the rock and dust was a series of small holes dug into the ground. These were the grottoes of the nomads, and they were Ibrahim's friends.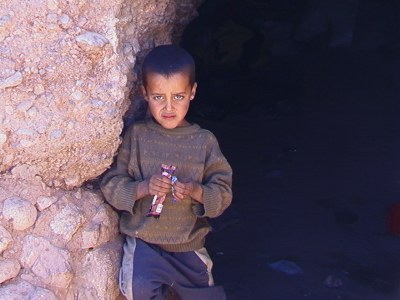 As we stared at one hole, the heads of three small children emerged. They recognized Ibrahim, and then their eyes lit up as he handed out chocolate bars to all of them. The girl, who seemed to be no older than four, said hello to me and kissed my hand. They didn't seem to be at all fazed by the fact that we were strangers.
Ibrahim gave us the grand tour, showing us the months-old baby who was lying in the dark cave where the family did their cooking. The mother was out in the mountains, allowing the sheep and goats to graze, the father had gone to get water from the local public reservoir. The children were responsible for taking care of their baby brother, who cried softly in the smoke-stained cave.
In the adjacent grottoes, noises from other newborn creatures emerged: from baby sheep and goats who could barely stand. Ibrahim explained that the livestock were the livelihood of the nomads, who lived off of the proceeds of their wool, milk, and meat. Although their life appeared to be hard, it seemed to be one they were content with, spending six months in the desert, and six summer months higher up in the Atlas mountains. Ibrahim said that he had invited their father to spend some time with them in town, and after the second day, he decided to return to the desert, saying that he much preferred it there.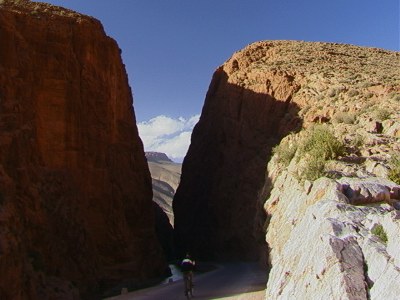 We continued our tour, taking lunch by a river, and then heading into the Dades Gorge. It was quite stunning, with its abundance of vegetation surrounded by oddly shaped geological formations - some resembled monkeys' paws and shark's teeth. We drove by the hotel we were supposed to stay in tonight and we immediately decided that it would be better to remain at Ibrahim's hotel and check out the local market the next day. A drive through the gorge was sufficient, we would not need to spend two nights there as we had previously thought.
Tuesday, March 14, 2001 11:16 p.m. Boulmane du Dades
Ibrahim calls it "Arab telephone," and considers it the best form of communication in the world. In essence, it involves at least two people speaking to each other - in each other's physical presence. During this conversation, they share news and gossip from where they come from, generally catching up on the latest. Ibrahim was delighted today to find out that the guide he had been trying to reach via a real telephone for the last 36 hours, finally showed up on his doorstep this evening, serendipitously on his way back home after parting ways with a gaggle of Spanish tourists in the town of Ouzzarzate. For our host, this was the best example of "Arab telephone," modern technology failing where traditional social habits come through in a pinch.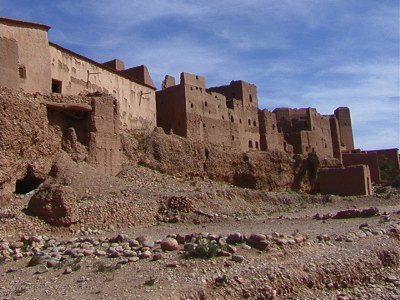 And speaking of traditional social habits, we experienced them abundantly today. Hassan, a young musician from the hotel took us on a 3 ½ hour hike this morning. We began along the top of the ridge overlooking the town, stepping over millions of small rocks, walking through tiny villages and disintegrating abandoned casbahs. It was the close-up of the wide shot that we had seen the day before - the towns, the fields, the ruins, the people. The sights and smells were far more visceral from this vantage point compared to from the seat of a car. I noticed that the area was not as clean as I first thought: black plastic bags were strewn about, we stepped over rusty tin cans and empty boxes, and also encountered the odd unpleasant odor.
It was amazing to see the adobe walls close up. They were truly made of mud and straw, and they were strong and smooth. There was nary a paved road to be seen, and water wells dotted the landscape. That said, the houses we walked by were numbered and had their own electricity meters. And the people were as welcoming and non-confrontational as could be.
We stopped in Hassan's mother's hometown of Ait Mahidi. There were only women at home, the men had gone off into the fields to work. Each one of them shook our hands gently, and then kissed their fingers or touched their heart. We sat down in a cool, dark living room. As if to prove that they were connected to the outside world, our hosts immediately fired up their satellite television, and we were treated to an Egyptian soap opera.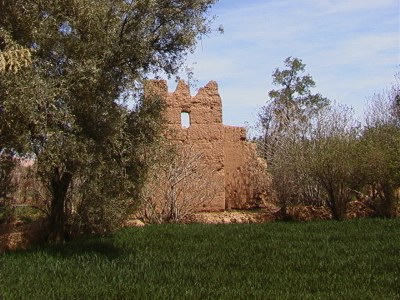 The women of the household didn't speak French and very little Arabic. So they spoke to Hassan in Berber, he translated into French, and then I translated into English for Heather. It was quite cumbersome, but charming all the same. We were served hot, sweet tea, poured from on high so the long stream of hot liquid produced a froth at the top of each golden-rimmed glass. With that, we ate coarse, flat bread, baked fresh that same morning using the wheat from the fields, fresh butter, and cake-like batter that was crumbly and sugary.
It was a nice pit stop as we headed back into the sunlight and a long walk back to the hotel. Hassan also took us to his home, which was also very simple, with rooms for cooking, watching television, sleeping, as well as ample space for the cows, goats and chickens. There was very little adornment, and even less furniture, but the lack of "things" was more than made up for by the sense that these people were happy and proud of where they lived.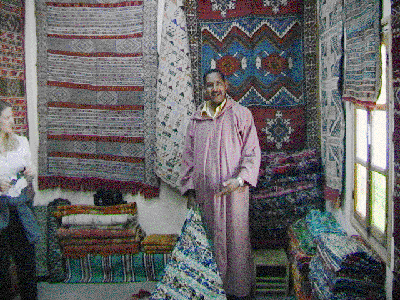 The same thing could be said for Ibrahim, whose family is seen as one of the more prosperous ones locally. He may have had a bit more land and more livestock, but there was no visible evidence of his wealth or desire for western comforts, any more than Hassan's family. As we observed when we had the incredibly good fortune to be invited to his home for dinner, they lived as simply, traditionally and as communally as everyone else we had encountered here. The women prepared the tagine and couscous in the kitchen, and we ate it in the living room with Ibrahim, his nephew Hussein, and the tour guide from Merzouga. We ate from the same plate and had ample subjects for conversation. Whatever were the trappings of Ibrahim's merchant background, they were nowhere to be seen inside his comfortable and modest home.
Saturday, March 17, 2001 Casablanca - Paris, Air France Flight # 2197 3:13 p.m.
Not to jinx the arrival of our luggage at Charles De Gaulle Airport, but our departure from Morocco was much smoother (albeit far from flawless) than our arrival. We had a spontaneous trial run of what it would be like to get to Marrakech airport yesterday (given that we had been bussed in from Casablanca a week ago, so we had never set foot in the airport), because Alexander, a fellow traveler hitched a ride with us back to the city and needed to catch a flight to Europe.
Assuming the worst, I scoped out the airport. The Thrifty office was in the tiny Arrivals hall, which required a three minute walk outdoors to get to. There was no one in the office. There was no Royal Air Maroc counter to speak of in either the Arrivals or Departures halls. I predicted disaster and that we would miss our connection with the Paris flight from Casablanca.
So we hurried back to the Hotel de Manara, our latest home away from home. This was a place that had clearly seen better days, but its location and price were perfect for our needs. The hotel's beautiful multicolored tiles and its service staff had been permanently scarred by the daily onslaught of group tours. Our own check-in was unpleasant and perfunctory. The ride up on the elevator to the third floor forced me to hold my nose - the smell combined equaled a backup toilet with cigar smoke. But having encountered more than enough third world carpet cleansers in my time, I knew that the source of the odor was more benign.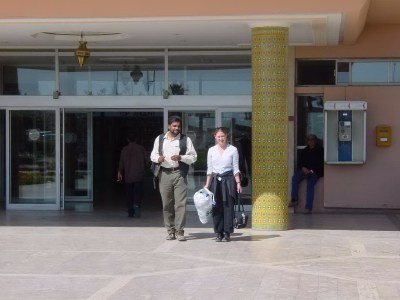 All of Marrakech stank for that matter. Either the city was busier than I had remembered it, or the bit of paradise we had experienced on the other side of the Atlas' finally made me realize that it was just another place in the underdeveloped world. Mopeds and cyclists buzzed all around us, cars drove indiscriminately over white lines, and various areas of the downtown area seemed to harbor untreated human sewage. The woman at the Royal Air Maroc office in the new city was unfriendly and unapologetic as she wordlessly changed our Marrakech-Casablanca flight to a later time (in a rare flash of brilliance, I had decided to confirm our flights in person), unresponsive to my fears about missing the connection because of the airline's bad track record so far. Policemen were out in droves handing out parking tickets the day that I decided to drive in the city. Parking "attendants" tried to get money out of me for stopping my car for a few minutes at the curbside in their "territory" while attending to my errands. Except for the Thrifty Rent-a-car woman who happily volunteered to meet us at the airport the next morning to receive the car, and the incredibly nice man on a moped who led us out of the medina when we got hopelessly lost inside it (saying that the tip I subsequently offered him for his kindness was "not necessary"), I was suddenly left longing for Berber hospitality. How had we not seen this side of Marrakech when we had first arrived here?
It was probably because it was the end of our self-imposed exile - from friends, family and current events. While during the scouting trip to the airport, I had spied a day old edition of the International Herald Tribune announcing that the Dow had dipped below 10,000. The economy that lay in the direction we were ultimately headed, seemed to be in a tailspin. Back to start, back to reality. Mercifully, Hussein, one of our newfound friends from Boulmane du Dades was on business in Marrakech and he rescued us that night for a drink and a quick visit to the medina. Our spirits were immediately revived.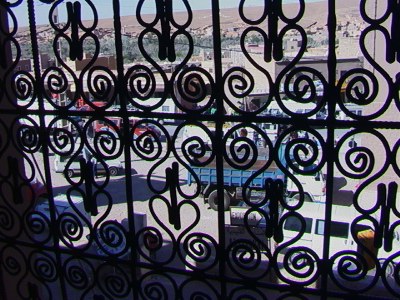 I could hardly be blamed for having been bewitched by our expedition through central Morocco. Our last encounter with a local had been near the highest point on the road between Marrakech and the other side of the Atlas Mountains, in the small Berber town of Taddert. There, I kept a promise I had made to Hamad Boker, the owner of Le Jardin, an outdoor restaurant.
Five days before, Heather and I had passed through on the first day of our road trip through central Morocco. Looking for a pit stop, Heather had consulted our Lonely Planet guide and suggested Taddert. Wary of our first encounter with tourist-hungry souvenir hawkers in the mountains, I inadvertently drove through the town without stopping. I had even ignored Hamad's physical gestures in the middle of the road beseeching us to stop and visit, and only turned around when I realized that the next village down looked even more tourist-hungry than Taddert. We returned to Hamad's restaurant for a couple of orange Fanta's then, and I instantly had a good feeling about the middle aged Berber and his cousin who ran the outdoor cafe. I decided that I wanted to have lunch there, but we had already bought a baguette and processed French cheese (yes the French can be as convenience-food oriented as the Americans), so we decided to move on, but I promised Hamad that we would stop for lunch on the way back. "Insha'Allah," was his response. "God willing" in Arabic.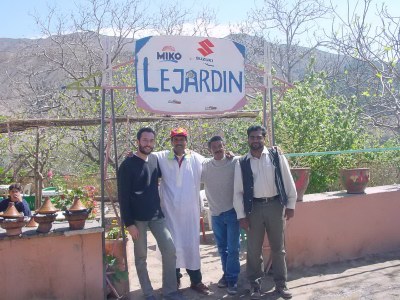 And so there we were, a week later, eating grilled mutton brochettes and dipping bread into a tasty potato and carrot tagine stew. We had just purchased a few ceramic knick knacks from Hamad's brother across the street (who also maintained a public toilet, so we were bound to examine his goods in a more "relived" state), and we were feeling good about our entire week among the Berbers, so I got to speaking to Hamad about tagines. He had instantly recognized me when we had pulled up in front of Le Jardin, and gave us the thumbs up sign. Which meant that he was pleased to engage in a discussion with a tourist who had kept his promise.
And so Hamad explained to us how the tagine, the classic clay pot that Moroccans used to prepare their delicious stews in the oven, had to be seasoned with olive oil and lemon prior to being used for the first time, or else it would explode while cooking. Seasoned properly he said, a proper tagine, acquired from a knowledgeable retail seller in the Atlas Mountains, would last for ten years. That was enough for us, and I asked him to bring us one that we could purchase for Heather's sister. Six dollars, a number of handshakes, and a few photographs later, we left Hamad and his family holding a three-person tagine, feeling wholeheartedly pleased with our Morocco experience.
But then again, it just wasn't the tagine episode that made this such a memorable trip. The morning before, I had fulfilled a dream shared by a few minor characters in Paul Bowles' classic Sheltering Sky, and had sipped tea in the Sahara. Unlike those three women, I was not found dead with sand in my cup. And recounting that experience requires an entire subchapter all to itself.
Tea in the Sahara
Tuesday-Wednesday March 13-14, 2001 Erg Chebbi Dune, Morocco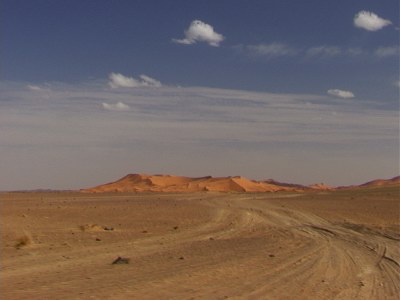 I must have eaten at least a cup of sand. Such would be my contribution to the steady expansion of the Sahara Desert as I contended with the grains of sand in the beef tagine that our nomad guide expertly prepared for us that evening, as well as what had blown into our tattered tent that night during a rapidly gathering sandstorm. After a terribly restless sleep, I awoke to find sand all around us, sand in my eyes, and the telltale crunch inside my mouth.
And yet visiting the dunes of the Sahara Desert is a memorable experience that should not be passed up should you find yourself visiting the beautiful and welcoming North African country of Morocco. It requires careful planning. Although the dune is only five hundred kilometers from Marrakech, the drive takes at least eight hours because you must cross over the Atlas Mountains and deal with the single-lane, albeit well-maintained, highways in the central part of the country. And then there's the off-road challenge of getting to the dune. But the scenery and the villages along the way are well worth the trek.
It was not something that we had planned particularly well. I had originally intended to drive to the frontier town of Erfoud, stay in a hotel there, and then arrange for one of myriad sunset/sunrise tours to the dune from which this area had made its fame and fortune. But all the guidebooks strongly suggested that a visit to the dune was worth far more than a half hour visit. And our new friend, whose family owned the Casbah Tizzarouine hotel in Boulmane du Dades, three hours away from the dune, said that he could not, in good conscience, let us find our own way there. He added that a few years ago, a few French tourists had gotten lost trying to get to the dune, and one of them had died. With that cautionary tale in mind, I agreed that we should hire a guide to take us.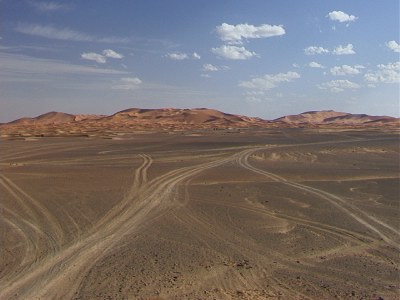 In hindsight, we could have probably made it to the dune ourselves, but only after many wrong turns, requests for directions, and probably getting stuck in the sand a few times. I would have not been worth the hassle. So having Ibrahim accompany us for his daily rate of $25 made it a relatively easy process. Once we passed through the totally forgettable Erfoud with its bountiful array of hotels, we took a barely paved road due east towards the nearly Algerian border. There were no signs -- no indication at all that fifty kilometers beyond, a massive sand dune awaited us.
And then, the paved road ended, and even with the number of trails that had been dug by the tires of four-wheel drive vehicles into the rocky ground, I only had a vague idea of which direction to go. That's when Ibrahim assumed the driver's position and showed me how it was done. We were driving a subcompact, front-wheel drive Fiat, but there was never a doubt that we needed anything larger, more powerful, or with all-wheel drive. Our guide deftly navigated along the unpaved roads, sometimes even deviating from them when he sensed that it would be a smoother ride to go even further off the off-road and blaze our own trails. Suddenly, in the distance, we could see the dune, looming large and pink in contrast to the flat terrain of black stones beneath our wheels.
I noticed how red sand began to drift across our path Then we started to drive by numerous small hills of sand. Determined to prove to us how innocuous and fun these miniature dunes could be, Ibrahim drove the car quickly over the sides of a few of them. When all four tires hit the sand, it was as if we were gliding, we no longer felt the pebbles and stones that had made our ride so far such a bumpy one. And still our tiny car persevered, taking on the best of them, as we competed with the much larger all-wheel drive vehicles that had begun to appear around us, all with the same destination in mind: the dune.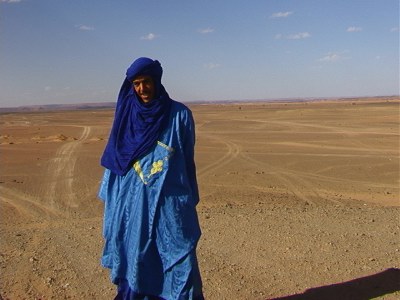 I had visited the Sahara desert from its eastern extremity before, adjacent to the Pyramids of Giza in Egypt. But that experience was somewhat diminished by the awesome placement of the Pyramids, not to mention the thousands of tourist traps surrounding them, as well as the all too visible proximity of the megalopolis of Cairo.
But here, alongside Erg Chebbi, there were merely a couple of makeshift hotels to give anyone the sense that civilization was even remotely close by. At the Café du Sud, we were greeted by a number of Moroccans who were dressed in the same flowing, indigo blue robes that our guide was sporting; their shesh (turbans) wrapped around their heads and lower necks. I could imagine these men of the desert on horseback, rifles at the ready, prepared to take on any interloper, just like a scene out of Lawrence of Arabia.
Saddled camels lounged beside the dune, which was now only a stone's throw away from the Café du Sud. We were promptly given the trademark sugary sweet hot tea of Morocco and asked what was our pleasure: did we wish to spend the night here at the auberge for $25 a person, and then hire the camels to make both an evening and morning trek to a suitable point on the dune? At first blush, it didn't sound like such a bad option, but then we were made an offer impossible to refuse: how about spending the night in a tent, under the desert stars an hour and a half camel's ride into the dune? A nomad guide would accompany us, prepare dinner and tea, and then bring us back in the morning after we witnessed the sunrise, for breakfast back at the auberge. The catch? It would cost $70 a person -- a fortune in inexpensive Morocco -- and we would have to pay cash, because who takes credit cards in the middle of nowhere?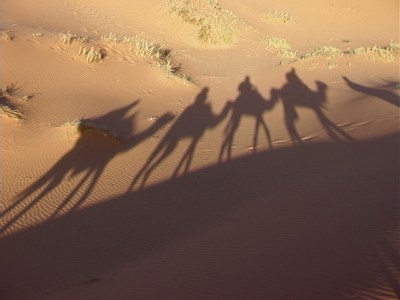 Of course, we couldn't resist, and two cups of tea later, we found ourselves on camel-back, trudging through the desert. My travel companion Heather and I were joined by another intrepid couple from Lexington, Kentucky who had also decided that they could not pass up a conversation-grabbing night in the Sahara. So together, we made the slow, although not too uncomfortable trek through the shallow sand of the dune.
I was pleased that we quickly left behind the jeep loads of tourists who had been unloaded on the dunes like some inhabitants of an ant farm, crawling on foot and spreading out all over the sand. I forgot about them and luxuriated in the setting sun, watching the sand around us turn a deeper shade of red.
Omar, our guide kept a steady pace, walking ahead, leading the camel caravan. The only indication that our direction had any purpose was the trails of dried camel dung left by previous expeditions over the dune. Anna Maria, half of the Lexington couple, wondered aloud about the shallow marks on the sand; they look like they had been left by chicken's feet. A few minutes later, we solved the mystery: large black beetles, about the length of a man's thumb, were clambering over the sand drifts, leaving behind their tracks in the fine sand of the desert. Less dainty and regal than the scarabs, flies clung to our camels by the dozen, hitching a ride to our ultimate destination, hoping for a free meal. Happily, they would magically disappear as soon as the sun went down.
And there we finally were, in a large black tent in the valley of Erg Chebbi. Omar set to work immediately, taking out the gas stove from a red metal box outside of the tent. He prepared another round of hot, sweet tea. After drinking that, we all went for quick walk in the utter stillness of the Sahara while Omar remained behind to make dinner.
That night, we sat inside the tent and shared the beef tagine and coarse nomad bread - dipping into the communal pot that Omar had set before us. It was a delicious and hot. The light was too dim for us to examine the exact ingredients of the stew, but our mouths were not too insensitive to notice the few grains of sand that had somehow made their way into our dinner. We then stepped outside to take in the awesome sight of the night sky and what looked like a tapestry of stars. We haggled over the exact location of the Big Dipper and the North Star, and then came to an amicable resolution. Then it was time for bed.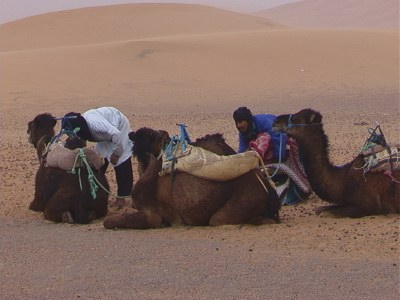 I don't know if I ever got more than twenty consecutive minutes of proper sleep during the night. The ground was hard, and the wind had suddenly picked up outside, blowing the flap of our tent open and finding holes in the fabric through which to blow sand. Together, the noise, the sand, and the cold draft kept me up all night, and I wondered how the camels were faring in what sounded like a pretty nasty sandstorm.
"This is terrible!" Heather whispered to me, and we had to laugh quietly at the absurdity of how our romantic desert expedition had deteriorated into such an uncomfortable situation.
The next morning, we groggily emerged from the tent around 6:00, hoping to salvage our trip by catching a spectacular sunrise. It was not to be. Clouds had gathered and had prevented the sun from making an appearance. The sand was a dull yellow. Omar tried to sell us some fossils (the Sahara had once been an immense sea and there was plenty of prehistoric evidence to show how underwater life had once thrived here) and I bought one of his flat shiny artifacts in lieu of giving him a tip.
We then rode over the ridge back to the Café du Sud, and suddenly realized that the sand storm was not over. The wind was strong, sand drifted over the camels' tracks and the skies had been painted a faint red by the dust from the desert. We had not gotten our promised sunrise, but we were given the chance to witness something more rare and magical. A sandstorm was the stuff of fairy tales and the sullen morning setting was dreamlike enough to make us forget the restless sleep we had suffered the night before. We had all been utterly captivated by the Sahara Desert.