A Month of Sundays

Friday, March 2, 2001 Flight 6110 Paris-Toulouse
Vulnerability settles in as once again, I make life much harder than it has to be. The move left me so frazzled, that the day of our departure from Tel Aviv, I scraped the rental car against a post in a near-empty parking garage at the office, I neglected to pick up my biggest suitcase on the luggage carousel at Charles de Gaulle airport in Paris, and I left my electronic organizer in a taxi that I ran after seconds after realizing my oversight, but to no avail and to an overwhelming sense of futility. It was if all my gains had been erased in one day. I was quickly crumbling.
I'm exhausted, overwhelmed and insecure. I longer have an employer that I can fall back upon, the money in my bank account will not be supplemented any further, and now most of my personal details can be put to use by some ill-intentioned individual should he decide to take advantage of my electronic organizer. I head to Toulouse wondering whether it might have been a better idea to return to North America first, to regroup and relax, before setting off on yet another adventure. At the time, my thinking was that if I returned home, I would quickly grow despondent at the lack of "action" so soon after leaving my job. So it was best to continue to challenge myself and take joy and energy from overcoming those challenges. So far, those challenges have been greater than what I have been able to counter with, and there's little joy.
That's not entirely the case. Despite the cold, rainy weather, it's wonderful to be back in Paris. This is the city that brought Heather and I together in the first place (when I gave her travel advice many years ago), and in the second place (when we met again in an impromptu a year and a half ago). It was great to see my old friends, Pierre and Françoise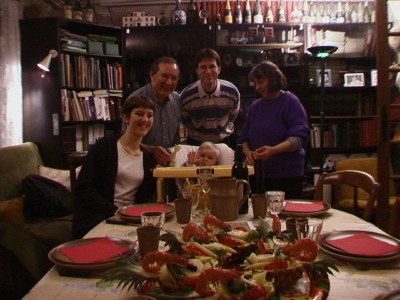 again at their rustic house just south of Paris. They were of course, wonderfully accommodating and tolerant of the mountain of foibles that were immediately associated with my arrival. Pierre drove me around Rungis in search of the taxi driver who has unsuspectedly carried off my digitized life. We even went on to Orly Airport -- because that was the direction in which I had seen him go -- and checked out the taxi stands at both terminals. To no avail.
But we were comforted by a midnight "snack" back at their house, which included a shrimp cocktail served in the husk of a grapefruit, fresh cold cuts, bread, a plate of cheeses, washed down by some red wine from 1987. We were clearly among friends, and we were clearly in France, land of the bons vivants, despite its not-so-creeping Americanization.
My original plan had been to spend Thursday in Paris, doing a bit of shopping for Heather and enjoying a nice lunch. Instead, Pierre unilaterally decided to take the day off and drive us back to the airport so I could try and find my unclaimed luggage. Before we left, the radio announced that there had been a serious earthquake in Seattle the night before. Françoise remarked that maybe the quake had subconsciously affected me. Later in the morning, a bomb was detonated on a sherut taxi 60 kilometers north of Tel Aviv. Chaos on either end of our lives seemed to be the order of the day. Happily, Heather's family and friends were unscathed by the earthquake, and I had permanently left the Middle East and television news to revel in their own unique fascination with the pornography of violence.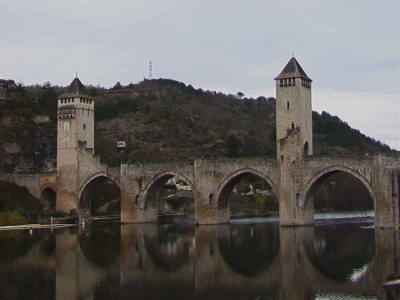 Air France was remarkably accommodating and located my bag immediately. My greatest concern had been that since it was an abandoned piece of luggage from a flight from Israel, that it would have been destroyed almost immediately by the police. That was not the case, and it was returned to me without question. One triumph during a week of difficulties.
We then headed to the police station in the 15th arrondissement on la rue de Mourillion that took care of lost and found objects from taxis and public transportation. I expected it to be a fruitless exercise. I didn't get my organizer back, but the clerks at the office were incredibly helpful. They had me fill out a form, explained to me how the process works, and left me hopeful that if my taxi driver found the Handspring Visor with the two credit cards, my Israeli press I.D. and my NBC Tel Aviv business cards, I would somehow get it back. I maintain a small glimmer of hope, only because I had a long conversation with the driver during our trip, and we realized that we were both journalists (he was from Algeria), and that he was a friendly, honest, observant person who would be unlikely not to remember me, or return lost property to a kindred spirit.
Attempts to reverse the stupidity of my acts behind us, we then proceeded to spend a lovely day in Paris. Pierre showed Heather the grocery store in the basement of the Galeries Lafayette department store. It was gourmet paradise, with French culinary specialties from throughout the country. Hams hung from the ceiling, wines were on sale for as little as $4 a bottle, beautifully constructed pastries called out to us from the glass cases, and shoppers browsed, pushing golden pushcarts throughout the store. We had our own delightful food experience as I treated everyone to lunch at the slightly touristy, but perfectly situated (and historic) Café de la Paix, in front of the gloriously restored Paris Opera. Heather had an onion soup, I braved the threat of mad cow disease, foot and mouth disease, and heart disease and had steak frites, as well as a bite of Pierre's delightful steak tartare. It was a good way to end the day.
But of course, it didn't end that way, because we were the guests of a traditional French family who insisted that we enjoy a proper evening meal: raclette with three different types of cheese, potatoes, four different sets of cold cuts, salad, cornichons and a bottle of Bordeaux. We weren't even close to hungry, but that didn't matter.
Saturday, March 3, 2001 Gramat, southwestern France 8:03 p.m.
The recovery continues at its slow but sure pace. In twenty-seven minutes, we will descend to the restaurant of the Le Relais des gourmands (the hotel/restaurant where we are staying) and indulge in the regional specialties of the Quercy area (which is north of Cahors, which is in turn north of Toulouse). Our month of Sundays continues as we tour this beautiful and underrated region in a small, diesel-powered Ford Fiesta and try hard not to lose our heads any further (I left the power cables for this computer and my video camera back at the hotel in Toulouse).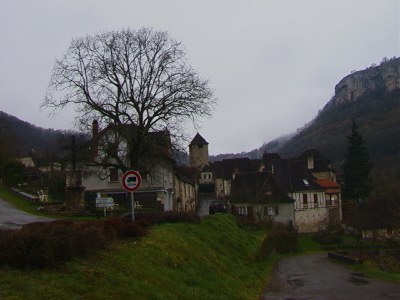 Last night, as I sat in a noisy, smoky Toulouse Internet café, checking my e-mail and trying to book train tickets to Brussels and London well in advance so that we can save some money, I thought about packing it all in and returning to Canada immediately. I feel overwhelmed and burned out, unable to make any decisions, lacking the confidence to push ahead. Moving house from a place where I lived for over three years is hard enough, moving as a recently unemployed professional with no idea how the future is going to turn out is impossible. I opted for our month of Sundays with the hope that new challenges and new climes would clear my head. Instead I'm left feeling that I don't need any more obstacles and that I just need to lick my wounds for now.
But today the sun shone during our journey out of Toulouse and we had a delightful meal in a modest, family-run hotel in the center of Cahors. This was the second culinary success we have had thanks to the French backpacker's Guide du routard, which led us the day before to Le Colombier where I nearly fell into a food coma after my incredible, but super rich cassoulet. It's the regional specialty, replete with white beans, duck, goose, lamb, and sausage. And the dessert! Pears in chocolate sauce with white chocolate swirls with crème anglaise. Heather had a flambéed apple tart.
Having learned our lesson, we decided to eat a bit lighter for our meal in Cahors at Restaurant le Troquet. Heather stuck to onion soup and salad, but I indulged in a cold-cut plate, and stewed lamb with white beans. The meal was hearty and filling, the service friendly and familiar, and the bill just under $15 (including a couple of glasses of the local, robust wine). The roads were relatively empty, the car had enough power to take on their curves and hills, and the further we drove, the better I felt. I look forward to a tour of the region tomorrow. Even better, we now have a farm to stay on near Lourdes for three nights starting Monday, and we at least have a hotel for our first two nights in Marrakech. Certainty is slowly returning.
Dinner: Le Relais des gourmands - aperitif, champagne mixed with armagnac, salad with mushrooms, salad with duck lardons, roast beef and potatoes, duck with orange sauce, chocolate and vanilla ice cream in custard, rocamadour cheese, 1991 bronze medal wine from Cahors, armagnac digestif.
Sunday, March 04, 2001 Gramat, France
Suicide bomb in Netanya. That led the news on BBC World in our hotel room, and we couldn't even escape it on RFM on the car radio as it recounted "the world in 80 seconds." Four people dead, including the bomber. And I didn't even feel the slightest urge to return to the scene of the tragic crime. Instead, we were roaring around the wonderful, winding rural roads of the Dordogne region in the rain. There was scarcely any traffic to impede my joyful down and upshifting as we went through valleys, up hills, across rivers and along the sides of white-faced cliffs. We followed the advice of the friendly woman who worked at the Gramat tourist office and took an "off-the-beaten" path tour of the area. The roads sometimes were hardly wide enough to handle my subcompact car and I grew to appreciate the minimalism of European vehicles as we went through rustic French towns that looked like they hadn't been touch in over three hundred years.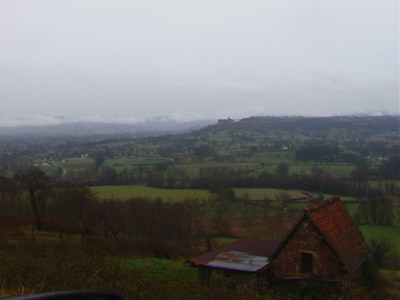 We stumbled across a British film crew that was shooting a movie nearby. Given the weather and scenery, it could have been a scene from the Harry Potter movie, another sequel to the Blair Witch Project or a documentary about the hidden wonders of France (it was actually Charlotte Gray, a movie about a WWII resistance heroine starring Cate Blanchette). We managed to drive through at least two villages that were classified as some as the most beautiful in France. In the famous pilgrimage center of Rocamadour, we came across a shrine perched on a 150-meter cliff-face. As the story goes, the tax-gatherer Zaccheus, a disciple of Jesus, fled the persecution and stress of the Holy Land (sound familiar?) to this remote corner of France. His tradition of picking the pockets of the innocents continues as visitors are bilked of their money to take an elevator to the second level, even more cash to take a funicular to the top, and then at a turnstile that doesn't give change and charges the wildly uneven amount of 17 francs for automatic admission. Yes, I ended up paying 40 francs, because who has 34 francs pocket change? All that to finally realize that I could have driven to the top.
But that would have robbed us of a spectacular approach at the foot of the cliff that rivals that of the drive up to Mont Saint Michel in Normandy. The clouds hung low and Rocamadour just appeared out of nowhere. The streets were completely empty, which was contrary to the siege of tour buses I had read about. This was the benefit to traveling off-season. The views from the ramparts at the top were spectacular and well worth the unforeseen costs. It's hard to believe that this has not become as big a tourist draw as some of France's other religious monuments further north.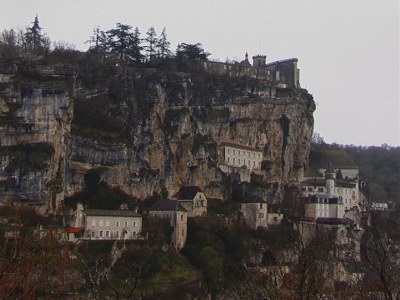 We then continued our tour through the beautiful villages that were shuttered tight because of the time of year, the weather, and the fact that it was a Sunday. The rain didn't bother us too much as it lent to an intimate, timeless atmosphere that we both enjoyed. The driving was civilized and the countryside peaceful. I could almost hear my nerve-endings repairing themselves.
Of course, the huge disadvantage to any travel through Europe on a Sunday is the dearth of eating establishments in the afternoon. We were only able to find refuge in a café back in Gramat where Heather had her customary glass of red wine, and I my classic bottle of Orangina. And we both indulged in a simple baguette of ham, butter and cornichons. But I'm not pointing this out for sympathy, because tonight's meal promises to be rich and sustaining enough to make the whole day's expedition worthwhile.
Dinner: Le Lion D'Or - salad with duck paté, duck confit with potato and celery purée and sweet carrot purée, celery soup, escargots with mushrooms from the local woods, duck with pepper sauce, Domaine du Pinarae 1994 (Cahors). About $65 for us both.
Monday, March 05, 2001 Loubajac near Lourdes
What a way to start the day. In search of breakfast, my intention was to purchase a couple of croissants at the bakery in the center of Gramat and take them to a nearby café and order two café crèmes. The previous day, we had ordered coffees and croissants at that same café and the owner had put on her jacket, ran outside in the rain and purchased the croissants herself at the bakery. Although it was sunny today, I wanted to avoid putting her through that again.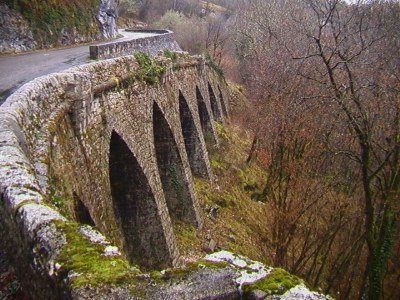 But as usual, I was to be confounded by the perversity of business hours in France. The patisserie was closed, and I was to find out later, so were most shops on Monday in this part of France. So we opted to return to the Hotel de Promenade, whose friendly owner, Mr. Bougeresse, had saved us the day before with ham and butter sandwiches when all else was closed.
We were not disappointed. For about $7.50, we both had two large cafés crèmes, pound cake with jam, and freshly baked croissants. We then hit the road and unlike the day before, we were blessed with bright sunlight and blue skies. I further appreciated the agility of my rear wheel drive compact car, as we zoomed along the immaculately-paved country roads. And when I hit the highway, I managed to peak at 160 km/h without even noticing. My European roots were beginning to show.
I'm starting to worry less and enjoy my immediate surroundings more, which is the sign of a good vacation. I picked up my forgotten power cables from the Hotel Raymond IV in Toulouse, found some new adapters for them at the nearby electronics shop and found my way fairly easily around the city. I spoke to Hertz in Israel and had them fix my bill, reducing the charges that I had been levied at the airport when I had dropped off the car. I also asked my friendly manager on Carlebach Street to "take it easy" on me when they were fixing the damage I had inflicted on the car before I had left. Slowly but surely, I am repairing the holes that I dug in haste a week ago. Now only if I can get my electronic organizer back, I will be at one again with the universe…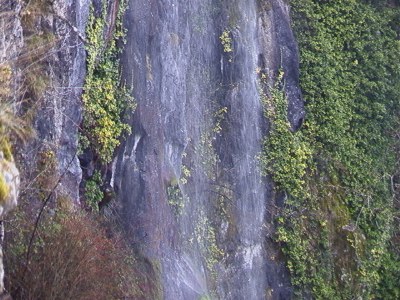 Hitting the A64 heading due west from Toulouse, we entered yet another micro-world of France. The fields were straight and green, the Pyrenees grew out of the horizon like some monolithic ghosts in the mist. Once we arrived in the Christian pilgrimage town of Lourdes, I noticed how laid back everyone seemed in their Patagonia pullovers and jeans. It was as if we had landed in Colorado where everyone went skiing on their lunch break. The roads were wide, neon sides adorned the sides of the national highway, and I felt as if I were revisiting Route 66 past its prime.
Then we arrived at the Vives farm just outside of Lourdes. The mountains provided an awesome backdrop as we approached the small town of Loubajac. The Vives make a living out of running an efficient and cozy chambre d'hôte on a two-hectare hobby farm. The rooms are beautifully decorated, the bathroom is the largest we have encountered yet, and the price is incredible: just over $50 a night for two, including breakfast and dinner. Tonight we ate homegrown duck paté, duck with crème fraiche and mustard, green beans, salad, a local goat cheese and almond tart. The Vives are simple folk who only speak French, and managed to make it clear quite early in the meal that Americans don't have any culture. Unfortunately, Heather was unable to defend herself given the language barrier, but I had no difficulty saying that MacDonald's seemed to be far more popular in France than in the United States these days. People who don't travel tend to make gross generalizations about America, especially Europeans. It was a good dinner, with a Belgian and French couple, but the conversation was parochially European, and lacked the worldliness that I would have expected in such a setting.
Tomorrow: we go hiking in the mountains and try to do some dry-cleaning!
Tuesday, March 06, 2001 8:33 a.m.
Quiet outside, I hear the faint crow of a rooster. A very comfortable shower, and now I sit on the couch in our room, typing this as I listen to a Tea Party MP3 track on the tinny speakers of my laptop. No telephone, no television here, but still I still feel some need to attach myself to modern technology to do something distinctly classic: write my travel journal and listen to a bit of music. This will probably seem more odd once we hit Morocco.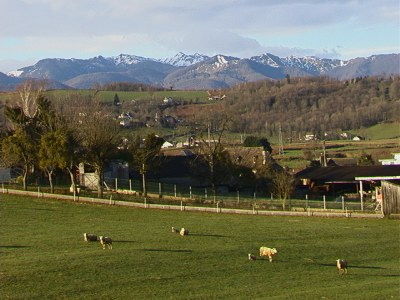 I'm reading the French book,The Gospel According to Pilate, because I should read a bit more in French and because I can't deny my fascination with religion nor my attachment to the Middle East and Jerusalem. The book contains the fictional first person narratives of Jesus in a lengthy prologue the night before the crucifixion, as well as letter by Pilate to Emperor Titus complaining about the controversy and phenomenon surrounding the Resurrection. One passage I especially liked was [badly translated from the original French]:
Behind us, at the bottom of the valley, was Jerusalem…I shrugged my shoulders: it was a capital city for sure, but an oriental capital, excessive, pretentious, clanking, the capital of religious deceit, the capital of exploitation of innocent souls, the capital of the manipulation of spirits, of the mental torture through the weapons of guilt and the need to repent, a citadel of inanity that the magician from Nazareth had violently denounced, and on that point, I have to admit that I agreed with him.
Wednesday, March 07, 2001 9:28 a.m. Lubajac
I find that breakfast in the countryside revitalizes my soul. I woke this morning to a rooster crowing and like an alcoholic suffering from the shakes as he purges his body of toxins, I realized that I was having a tough time adjusting to this slower, disconnected pace of life. I felt out of it, as if I should be working, forging ahead and growing.
And then we joined the others for a breakfast of strong rich coffee, bread, homemade jams, fromage blanc with strawberry preserves, and a cake infused with pastis, rum and white wine, and all of a sudden this world was a good place to be again. The sun was out, the birds conversing, and I was nowhere near a telephone, television or radio.
Last night, the main topic of conversation around the dinner table was whether the quaint and historic Belgian town of Bruges was spelt with an `s' on the end or not. Now this was not an easy debate to win, given that three of my dinner mates are Belgian. However, I advocated that there was indeed an `s' on the end of Bruges, recalling the correspondence I used to send to my friends who attended the College of Europe in that town during the mid-90's. The Belgians disagreed, and we discussed the topic for a good 20 minutes in an amicable fashion. We were probably all confusing the Flemish spelling with the Wallon one, and maybe even including a bit of Anglicization for good measure. Jean-Marc Vives, the owner, finally got up and found an old copy of the Larousse Dictionary, and happily, and to the everlasting embarrassment of the Belgians, the guy from North America was right. And thus my position as an anglophone, youngish guy with a dark complexion, a beard and a fiancée who didn't speak a word of French, was finally elevated amongst my companions.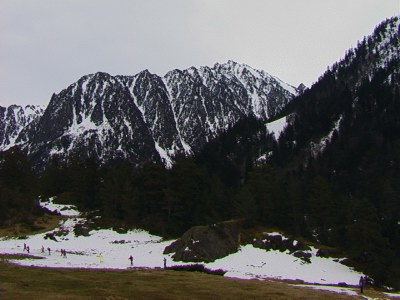 Yesterday, we decided to take a hike in the mountains. Following the advice of Nadine Vives, we headed towards the Pont d'Espagne (the bridge to Spain, an old smuggling route between the two countries). Naturally, I got lost along the way, and ended up at 1700 meters in the middle of nowhere. Amazingly, there were a few other people up there who were kind enough to tell me how to return to the beginning and find the road we needed. Along the way, we stopped in a nearly deserted small town (apparently in this part of France, all the shops are shut on Tuesdays) and picked up lunch supplies. Happily, both the bakery and grocery store were open, and the friendly people there enthusiastically supplied us with a fresh baguette, a cheap bottle of Madiran wine (around $2.75), ham, sausage, local cheese and chocolate.
Up at the Pont d'Espagne, which serves as a small ski resort and hiking area, we walked for about an hour, climbing around 150 meters as we got closer to the snowcapped peaks of the Pyrenees. French children cross country skied around us, and we stopped for lunch in the middle of a valley, laughing as we swigged the cheap wine.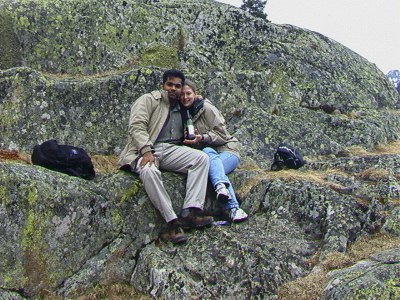 Later that afternoon, we headed into Lourdes, the self-declared pilgrimage capital of Europe. Every year, this town received over five million Christian pilgrims hoping for a miracle to cure whatever ails them. The streets are stuffed with hotels - Lourdes is second only to Paris in terms of amount of accommodation in France. Frankly, the place reminded me of Reno, Nevada, slightly run down, with older people walking the streets - a town that had clearly seen better days, probably back in the 1950's. I found it all mildly depressing. The shrine itself struck me to be the Catholic equivalent to the Western Wall in Jerusalem, with people lining up to touch the rock where a young girl was said to have seen the Virgin Mary appear at least twenty times back in the mid-1800's. Our hosts at the farm say that sixty-six miracles have been authenticated by local religious and health authorities since pilgrims began making the trek to Lourdes. Such is the power of faith.
Thursday, March 8, 2001 Toulouse 4:45 p.m.
It really is just like starting over. I'm typing this on my laptop (okay, so that's new) perched on a washing machine in a Toulouse Laundromat. We're doing our laundry before we head off for Morocco tomorrow, so it's a bit of necessity, and not something that even a four-star hotel could accomplish on our behalf. It feels odd nonetheless, here in the Toulousian equivalent of the Latin Quarter, in our two-star hotel (which is actually much better than the three-star Hotel Raymond IV that we had last time we were here), drinking café crèmes in an establishment known as Les Facultés - it's as if I've been here before. A simple life, without the trappings, hopeful for the future, unsure of how it's all going to turn out.
Last night's final dinner on the farm ended in a raucous songfest as two more retired couples joined out little party near Lourdes. It was odd that Heather and I were the only non-retired, non-Francophones there, but that made it an even more enriching experience. It all began with Maurice the Belgian prodding Heather into song so that they could hear her voice (the language barrier keeping her quite mute throughout our meals up to now).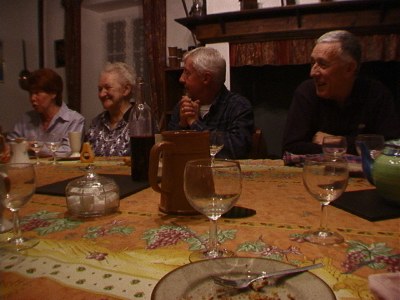 So Heather, being a good sport, launched into the "la la" version of
La vie en rose
, and suddenly the entire table was in Piaf-mode. Perhaps it had been the farm-raised duck breast in honey sauce, or the spicy local goat cheese, the plentiful but coarse, Madiran wine or the apricot tarts that put us in the mood to sing with such joie de vivre. But there was no denying, the chemistry among us was good and it gave us the best reason to avoid hotels when staying in rural France. Obviously, we had to endure a few jibes from the chauvinist French about the lack of culture back in North America, but I gave as good as we got, so I think they learned a thing or two about the continent they'll probably never visit for fear of having to speak English.
Still, it was difficult to say goodbye to everyone this morning, it was as if we had all gone camping together and had gotten to know each other very well due to the uniqueness of the experience. There were hugs and kisses and exchanges of addresses, as well as hearty best wishes for our upcoming nuptials. Such is the essential joy of travel.