Mideast R&R

After a nasty little medical episode (read
Hospitable Land
for more on that) I found that the best way to recover was to take a little break in the desert. (all photos by HRH)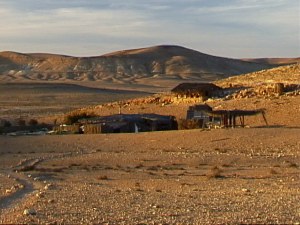 Technology-wise, it was as if the 18th century has collided with the 21st. I was writing by candlelight in a hut in the middle of Israel's Negev Desert. Actually, I was typing away on a portable keyboard onto my Personal Digital Assistant and my camera is outside on a tripod aimed at the sky shooting time lapse footage as the stars begin to light up the night sky. It was a wonderfully relaxing, inspiring setting.
Reality-wise, however, it's still pure Middle East -- even while I was taking a bit of quiet time to restore my health and sanity after weeks of covering the conflict between Palestinians and Israelis. And of course, I felt compelled to write about it, whether I needed the rest or not!
Heather, and I decided to try and find peaceful venues for our long weekend away together. We both love the desert -- geographically, it's what makes this corner of the world so special. So we headed to Taba, on the southern end of the Egypt's Sinai desert, just across the border from Israel.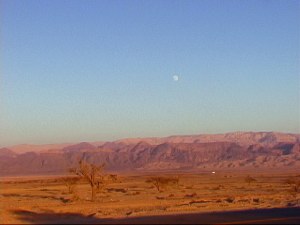 The sun was just setting on the ochre-tinged mountains of the Sinai as we presented our passports to the Israelis. Unlike the other times we had crossed here, there were hardly any tourists coming or going. It was as if the Middle East had become off limits because of the nasty conflict taking place 250 miles north of where we were. We walked across to the Egyptian checkpoint.
"Canada good," the Egyptian border guard said as he looked over my passport. Heather could not help but notice that he had refrained to comment on her American documents. As this conflict dragged on, the Arab world was beginning to perceive the United States as a less than an impartial arbiter between itself and Israel.
Our hotel was usually a refuge for large groups of Israelis who would normally descend on the Sinai over the weekends. They felt comfortable there -- with its superb Red Sea diving and spectacular treks through the desert. It didn't hurt that Israel had once occupied the Sinai until it returned it to Egypt after the Camp David accords in the early 1980's. But as we arrived, I counted only two Israeli license plates in the parking lot. They were staying home now.
Which was much to the chagrin of the maitre d' at our hotel's Italian restaurant. He is an Israeli Arab from Nazareth who speaks fluent Hebrew and is well known by the Israeli clientele. The restaurant is half-empty now; its diners are mainly European and Egyptian.
"They will come back," the maitre d' said about his Israeli brethren "We are waiting for them."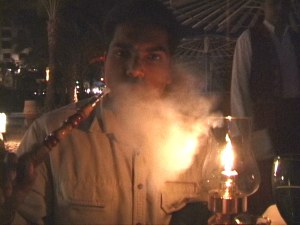 The Egyptian waiter at another restaurant was less charitable. With the recount madness going on in Florida, he said that he hoped that George W. Bush would triumph.
"Gore said such things that are good for Israel," he explained. "And bad for Arabs."
It seemed to me that there had to be something that was good for Arabs and Israelis as we sat eating our dinner on the Red Sea beach. I spotted a couple of Israeli casino boats decked out in neon as they headed for international waters along the coast of Jordan and Saudi Arabia. Israel prohibits gambling, but Israelis are able to get their fix from these boats that technically run their operations outside of the country. Given the current tense situation between Arab and Jew, I wondered why these ships wanted to attract so much attention to themselves.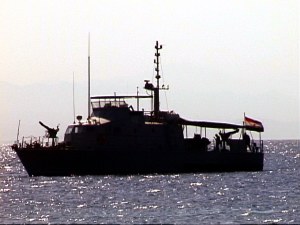 The next morning, the casino boats had been replaced by something far more serious. As vacationers at our hotel walked to breakfast in the full blaze of the already hot morning sun, an Israeli gunboat stared down its Egyptian counterpart a few hundred yards away. Tourists determined to enjoy their day of snorkeling and tennis were doing so in the shadow of military readiness. We turned on the news to learn that a Russian airplane had been hijacked and had landed at an Israeli air force base not far away. Current events seemed to be following me whether I liked it or not. I felt the tension that I had tried hard to lose, return.
We crossed back over the still silent border, although it was obvious that there was a heightened state of alert because of the number and nature of the security questions that both Egyptian and Israeli border police asked us.
Back in Israeli in the resort town of Eilat, everyone was out in shorts and t-shirts, determined to have a good time. Acting on a tip from my NBC colleague Dubi Duvshani, I stopped off at a recently-established fish farm. Amazingly, we were still in the middle of the desert, this time, steps away from the border crossing into the Kingdom of Jordan. The fish was fresh and the prices excellent. I bought three kilograms and marveled at the surrealness of it all.
We drove on through the heart of the Negev Desert into the Ramon Crater, the largest crater on earth, formed millions of years ago by erosion. It's one of my favorite places to visit in Israel, particularly because it is so awesome with its imposing natural walls -- and because it is mercifully so devoid of humanity.
We stopped off at the local police station in the town of Mizpe Ramon at the edge of the crater. I wanted to drop of a thank you letter and a pen for a police officer who had gone looking for Heather in the middle of the night two weeks ago when she had taken an overnight trip to do a story nearby and I couldn't reach her on her cellphone. I had been very worried precisely because of the current tensions. Of course cellphones don't work very well out in the desert, but I wanted to double check, which the local police were happy to do on my behalf. When I dropped off the thank you package, the officer on duty insisted that I open it in front of him, "just in case it is a bomb." "Good point," was all I could muster, and complied.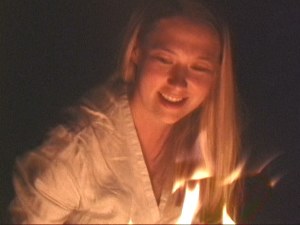 Finally, we found ourselves a few miles away from any town at the "Succah in the Desert." These are rustic huts and tents in the middle of nowhere, advertised as "a pure and tranquil space to rest, rebalance and rejuvenate." I looked forward to doing exactly that, except we had to wait for the Israeli Air Force to complete its afternoon maneuvers. Overhead, frequent sonic booms made it sound as if the skies were being ravaged by war.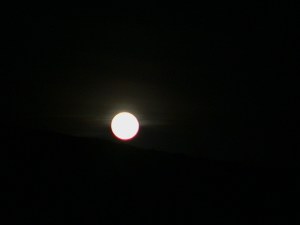 That night, I bore witness to a glow emerge from a hilltop, only to watch it metamorphose into the full moon on the rise. The stars were too numerous to count, the silence was broken only by the bark of a dog. If it were to be my last night before returning to the madness up north, I hoped that it would be one of peace and tranquility. It was. However, the next morning, my car broke down in the desert. Such is the most eternal of Middle East realities.