Middle East Journal

June 18-20, 1997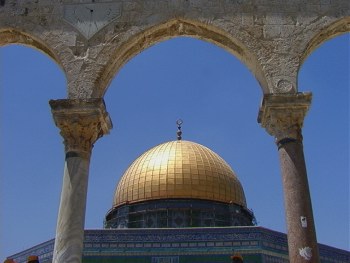 "...Murdered in the glory of God." That's the Hebrew inscription on Baruch
Goldstein's tomb, make that shrine, erected in Hebron at the behest of right
wing settlers. I suppose they thought that Goldstein deserved sanctification
for violating a couple of Commandments and killing 29 people who were minding
their own business in 1994 at the Tomb of the Patriarchs.
But Hebron is a peculiar place, where at this point in time, everything seems
to be done with a wink and a nod. Israeli soldiers let our white Volvo with
yellow Israeli plates pass through their checkpoints, barely paying any
attention to us. A young Israeli settler cavorts down the street of Hebron
near some Israeli houses, packing a pistol, but still walks nonchalantly by
the adjacent Arab businesses.
As I walked with Martin Fletcher, our Tel Aviv correspondent, down the narrow,
busy streets of Hebron, I could scarcely believe that this was the nexus of the
current strife between Arab and Jew. Young, green garbed soldiers milled
around, as the Arab people moved around them, tending to their everyday
affairs. Stores were open, and teemed with merchandise: sandals, shoes,
toiletries, fresh produce. If we were going to do a story today, I thought to
myself, we would be hard pressed to find any news.
But as we turned the corner, I spotted a crowd of Palestinians clustered under
a tin awning, observing the spectacle. A few Israeli soldiers were chatting,
relaxed, as a few more of their colleagues, a few feet away, were crouched
down, aiming their rifles with great intensity at something, down the street.
As we approached, a baseball-sized rock skipped a few inches from our shoes.
This, in a nutshell, a microcosm, a theater...was the Intifada: at this
juncture, nothing more than a spectator sport that carried a huge symbolic
weight. As Martin Fletcher said in his stand-up that we shot a few hours later
on that street in Hebron while the flaming coke bottle molotov cocktails
rained behind him: "It's all been happening all week on this same street
corner. The same small group of Palestinians, same small group of soldiers.
But the message goes way beyond this Hebron street."
The lines of demarcation are clear. The rocks and stones may hit the soldiers,
but they don't kill. The rubber bullets from the Israeli guns may hurt and
wound, but they're shot in an almost half-hearted way. The Palestinian children
don't attack the settlers' homes directly, and the Israeli soldiers don't
launch any kind of forceful raid. This confrontation could be much bloodier,
more warlike, but both sides understand what it's really about. It's a
Palestinian warning that if the peace process doesn't resume soon, bullets will
replace the rocks. Palestinian Authority policeman are nowhere to be found,
which gives the uprising a de facto stamp of Arafat's approval. As a newcomer
to this strange play, it's hard not to be puzzled. Is this being put on just for us, the media?
A Palestinian lawyer who has his office on that street, offers us coffee. We
thank him. "For nothing," Hijazi Shyokhi says gracefully. He approves of this
most recent uprising, seeing it as the only way to grab Israeli, and American
attention. "What we want, till now, we shout from our whole mouth, for the
whole world," he said. "We want justice peace in this area. But what can we
do if the Israeli government denies this and don't hear this shouting?"
A few hours later, and a mere kilometer away from the shouting, I buy a few
handmade ceramic vases and cups from a local Hebron factory. I can't tell
whether the owner is Arab or Jew, and he sells products with both Hebrew and
Arabic inscribed upon them. We run into a couple of other of Western
journalists making their purchases, including the Boston Globe correspondent
who will soon be moving to New York to work for the Times. He's outfitting his
new apartment there with a set of blue dishes. They're a terrific bargain,
and very beautiful.
And then, about 100 kilometers later, I am back in Tel Aviv, where people
cavort as if they were in Miami Beach or Malibu, and not in the Holy Land. The
sun seems to always shine here, and people have a joie de vivre here that I
used to notice when I lived in Paris. The cafes are full, the pristine beaches
overcrowded, and the Mediterranean as blue as can be. No one wears a jacket or
tie, preferring instead a form of casual exhibitionism in their shorts, tight
jeans, and form fitting tops (for both men and women). Today, just as the
Sabbath is about to start, a small parade of cars outfitted with multicolored
balloons and rainbow flags drive down Dizengoff Street: a demonstration of gay
pride. Hebron is a world away.
Sunday, June 22, 1997
Well today is the equivalent of the Israeli Monday, which means, to the
uninitiated such as myself, you darned well better have made something of the
last two days.
So I did. Sundown on Friday marks the Jewish Sabbath. That's when Jews are to
refrain from working and other physical activities and instead, engage in
prayer and quiet reflection. I think someone forgot to tell the denizens of
Tel Aviv. Sabbath here just mean even MORE cars on the road, even LOUDER music
on the beach, and even more OUTRAGEOUS clothing as they flocked to the cafes,
restaurants and clubs. It's wild. Coming back with Martin Fletcher from our
interview in Jerusalem, we stopped off in Ayalon Forest to join his friends at
a birthday party. Not quite what you would expect surrounded by trees and open
sky: copious food and alcohol, and a well-equipped DJ whose pounding rhythms
probably vexed the forest's non-human inhabitants to no end.
And later that night (around 12:30 a.m.), I joined our NBC driver/cameraman/
fixer/operator/former bodyguard/ex-Mossad super well connected guy, Amikam
Cohen and his wife on the outskirts of Tel Aviv in a container port, where
some intrepid entrepreneur had essentially created a discotheque zone:
warehouses converted into dance floors. We went to see Amikam's 23-year-old
son play guitar with his band at their first concert. I didn't understand a
word of the Hebrew lyrics, but the music was great (kind of folksy, kind of Led
Zeppelinish), and I didn't mind hitting my bed at 3:00 a.m., knowing that I would
have to get up again at 7:00 to head to the Golan Heights.
Ok, although I didn't mind, it was still painful. I joined fellow NBC-er Rich
Latour (who just happened to be here on vacation at the same time) and his
Israeli friend, Oded in our trek up to the Golan Heights. Oded is a
28-year-old flight technician/navigator in the Israeli Air Force -- a cool guy
in any language.
He drove us up to the Mediterranean coast to Caesaria where we saw the theater
that King Herod built, and which is still used today for concerts. We went
through a couple of Druze villages, stopping to eat a pita stuffed with fresh
goat cheese and olive oil, seasoned with a parsley-like spice called zatar.
On to Haifa, the major Israeli port, and then even more food in Akko...humus,
pita, french fries. When was the last time I had eaten meat?
We then entered the Galilee -- prime Jesus Christ territory. The Sea of
Galilee is actually a fresh-water lake, into which the Jordan River feeds.
This is the place where J.C. pulled the loaves and fishes trick, as well as the
walking on water incident. I walked THROUGH the water, which was quite warm.
While doing so, I reflected upon J.C. doing it 2000 years ago, and also on the
fact that this same water was the prime source for Israel's drinking water.
Hope my feet were clean.
As we drove around the area, we wondered if television news had existed 2,000
years ago, how it would have handled a huge news personality like Jesus. Would
it be something like, "Terror in the Holy Land?" Maybe more like, "Trial of
the Millennium: the Romans vs. J.C." "You're looking now live at the site of
where the crucifixion will occur..."..."Judas in his own words," and of course,
the prime time comedy talk show would probably have "the Dancing Pilates."
The Golan Heights is a magnificent piece of land overlooking the Galilee, as
well as the Jordanian and Syrian borders. Syria once controlled this area and
wants it back. Judging from the level of agriculture, defense fortifications
(land mines, tank bases, bunkers), and tourism in this area (which looks like a
cross between Kansas and Nevada), I can see why Israel would have a tough time
negotiating with the Syrians.
On the "this place is never boring" front: a drug addict stole a bag on the
beach on Friday afternoon, about 1/2 km from my hotel. He took it aside to
inspect his booty and was shocked to discover some kind of contraption with
lots of wires protruding from it. Deciding to do the "right thing," he alerted
officials. It turned out that the bag contained a bomb with 3kg of TNT and 20
minutes left on the timer. That would have done a lot of damage to the
unsuspecting hundreds of people enjoying the Sabbath afternoon on the beach.
And it may be a sign that a new terrorism campaign is about to start.
Tonight, after my story on Weekend Nightly News airs (30 years after the 6-day
war), I'm heading out with the police on a stolen car raid, which should be
exciting. Tomorrow, I'm going to the Palestinian town of Ramallah to interview
David Kuttab, a journalist, and the Palestinian executive producer of the new
Israeli version of Sesame Street.
Tel Aviv, June 26, 1997
I suppose if there's anyone I guy who's last name is "Hosein" can befriend in
Israel, one of the higher-ups in charge for security at the ultra-safe Israeli
airline El Al would be it.
I had dinner last night with Rafi Sagi, and his live-in girlfriend (and former
Israeli basketball star) Orit Litany, at their apartment in north Tel Aviv.
Friends of a friend, Rafi is being transferred by El Al to head up security at
its New York area operations. They'll be moving out to New York, just as I (if
my transfer works out) move into Tel Aviv.
If I am allowed to stereotype Israelis at this early point in my stay, I would
say that Rafi and Orit fit the mould. Bright, worldly, assertive, and above
all, warm -- they don't suffocate you with their hospitality, but rather cuddle
you in interesting dialogue and comfortable interaction. Above all, I was
able, early in the conversation to : (1) pick out some problems in the house
lease that they were about to sign for their new place in New Jersey, since
they knew I was once a lawyer; (2) obtain an unsolicited (yeah right)
equivalent of "get out of jail free" pass from Rafi, should I ever have to fly
El Al and I wish to avoid the 3 hour pre-interview/grilling that I would be
subject to by his colleagues at Ben Gurion airport. Mission accomplished!
I have been getting along exceptionally well with the Israelis, both at work,
and in the office, which is a big surprise to me, since I had been warmed
beforehand that they were brash and impolite, and very bad drivers. Well, I
once lived with the French, I drive in Manhattan, and I'm brash and impolite,
so call me born-again Israeli. Now pass the humus before I kick your face in.
A couple of nights ago I went out with Paul Goldman, the editor here at NBC,
and his wife. we met on the beach for a drink, and watched the sun set. At
that key "magic moment," my essential Israeli implement went off (my cellphone
rang, I now I have a hip holster so I can whip it out like some cyber Clint
Eastwood at the O.K. Corrall). It was the home office in New York City. I
couldn't help but mention that I was sitting with friends, sipping Tuborg
beer, feet in the sand, watching a very rosy sun set into the Mediterranean
horizon. I suspect the groans at the end of the line were not meant as a sign
of support for me in my difficult endeavor over here.
I ate dinner with Paul at his place that night...an impromptu quiche, salad
with delicious homemade vinaigrette, and fresh Israeli melon wrapped in
proscuitto. Pork in Israel? Paul told me we can get anything we want here.
The Israelis aren't huge meat eaters, but that's probably because the
vegetables are out of this world -- tomatoes as succulent as can be, and
lettuce that makes New York produce seem so...weed-like. Still, I was
surprised that many Israelis eat pork (and go dancing and drinking on the
Sabbath), but as I read in Thomas Friedman's, excellent but uneven, "From
Beirut to Jerusalem," many Jews, once they are living in Israel feel that that
is enough -- that is what makes them Jewish, and their culture and religion is
no longer threatened. So why not take it easy? Not a question to ask the
orthodox!
Tonight however, STEAK, with Yigal Anug, a Canadian-trained veterinarian who
happens to be the brother-in-law of a friend of mine from New York, and is
married to a Catholic (formerly) woman from Colombian who got into an argument
with his friend Rafi last night about how Israelis have screwed up the peace
process. I can't wait: great food and great conversation.
And yes, I have been working, quite hard actually. My police ride on the West
Bank was an all-night affair. The chief of the stolen car unit, Pi'Shon was
really accommodating (and also pointed out that where we were standing, just
inside the West Bank at 11:00 p.m., was where he had been shot at the night
before...very reassuring these Israeli police). He pointed out the dirt roads
on which the thieves would drive the stolen cars in their effort to get them
into the West Bank, then strip the cars and sell the parts back to dealers in
Israel. This has become a big problem since the Palestinians have assumed
authority over certain areas of the West Bank, because thieves can pretty much
act with impunity once they cross the "green Line" -- the Israeli version of
the Mexican border.
Anyway, nothing happened until 4:50 a.m. when we got the call that police had
blockaded the road about 10 minutes away and a car had done a serious U-turn
and fled. But by the time we got there, the driver had escaped, leaving behind
a nice Mazda from Tel Aviv in the ditch. The sun was beginning to rise, and
the police were very upset that they had not caught their man: a very unusual
scene. Luckily, the authorities have agreed to do it all over again next week,
including a helicopter ride over the west bank, and a visit to some of the chop
shops. This will end up eventually on the Today Show and Dateline
International.
My shoot the day after in Ramallah (Arafat's HQ), was also interesting. We
spoke to Daoud Kuttab, Palestinian moderate, recently jailed journalist (the
Palestinians threw him in the slammer for a week for upsetting their political
sensibilities), and executive producer of the new Israeli/Palestinian version
of Sesame Street. He's also an all-round good guy, who spoke to us
enthusiastically about the Sesame Street project (a story of ours for Nightly
News), and about the political situation generally. After the interview, we
did what any right-thinking people would do in an Arab territory: we ate humus
and pita.
June 28, 1997 JERUSALEM
"I've got a Devil's Haircut, in my mind." Dusk fell on Jerusalem as I motored
through the Old City, not quite sure what I was doing, as I listened to Beck on
my car stereo. A quixotic scene without a doubt.
Jerusalem is far away from the Euro-tendencies of Tel Aviv. And unlike Tel
Aviv, which permits itself to be compared to some other place, Jerusalem is a
world onto itself -- a strange, exciting, tense, exotic, beautifully
frightening world.
A superficial drive-by while listening to the car stereo reveals only just
another ancient, walled city, nicely lit: like Barcelona, Quebec City, Les
Baux-de-Provence. But dare to get out of the car, take a tour, chat with a
Palestinian journalist, spot the plethora of Israeli soldiers touting Uzi's
alongside the Holy sites, you can't help but think that this place just
seethes.
I woke up early and drove a Sabbath-induced, traffic-free highway straight into
Jerusalem. I had decided to stay at the American Colony Hotel in Arab East
Jerusalem, rather than in a Sheraton or a Hilton for a couple of reasons: (1)
the Jewish Sabbath would make a stay in Jewish Jerusalem a little too sedate;
and (2) the American Colony Hotel has an incredible reputation, a must-stay,
serving non-kosher food to spies, diplomats, writers and journalists. It is a
fantastically beautiful hotel-- straight out of Casablanca, a 19th century
Turkish pasha's villa, complete with sumptuous courtyard, and Swiss-managed
service. Lawrence of Arabic stayed here, along with Winston Churchill, and for
you former law students, our fave, Lord Denning of the Court of Appeals of
England.
I managed to book a private tour guide to take me, as well as my friends, Sid
and Barbara Cohen (from Ottawa -- who happened to be here at the same time as
I) through the maze of the Old City of Jerusalem.
Our guide, an Englishwoman who lived in Jerusalem, was very good, and quite
adept at showing us the essentials in under four hours. We walked by the
Wailing Wall, overseen by soldiers from on high as Jewish men prayed separately
from the women. We walked into the Dome of the Rock -- a superb example of
Islamic architecture with its gold painted cupola and plush carpets (which we
walked upon, shoeless). It was hard to believe that only a month ago, I was
also walking barefoot through the entrance of the Taj Mahal. That's good
fortune.
But our guide also pointed out the bullet hole in the pillar at the Al-Aqsa
mosque, from the gun that killed King Abdullah of Jordan, who had been hinting
at peace with Israel in the early 1950's. We had to leave our water bottles at
the door, just in case they contained gasoline -- which was how a madman from
Australia destroyed the cedar wood pulpit in 1969 (he had been apparently
suffering from Jerusalem syndrome -- the Christian strain -- which hit him, as
it does many other religious people when they finally walk the streets of the
city that they have read about, or prayed to, so much for so long. JS renders
you either stark raving mad, or makes you a self-appointed Messiah).
That's the kind of hold this city on a hill holds over the world's three
principle religions -- a strange spell that leads to competition (my mosque is
taller than your church), turf wars (get your filthy hands off of my Quarter),
and the occasional massacre (martyrs of the world apply here).
I must confess that I feel very little for this much revered place. In fact, I
found it very hard to understand how so much blood could be spilled over this
town on the edge of the desert.
But as my colleague Haled Abu Toameh told me, it's only a matter of time before
Jerusalem casts its spell over believer and non-believer alike. Haled is a
Palestinian journalist who works on retainer for NBC. He knows this story, and
he knows the city. He remarked that it becomes almost impossible to leave
Jerusalem after living here for as little as two years. Foreign journalists
come here all the time for a brief stint he said, and end up staying. Why?
"the tension," Haled explained. The tension between Arab & Jew, Sephardim and
Ashkenazim, Copt and Catholic, Palestinian and Israeli. Tension enough to go
'round, to get the blood boiling, and the adrenaline flowing.
That's why there are more foreign journalists here than in any other city in
the world, why U.S. News & World Report spends $10,000 a month to maintain a
bureau here despite that magazines abhorrence of international news, why ABC
News has its bureau here rather than in Tel Aviv (as should we, but who
wouldn't want to live in Tel Aviv?) -- this is one heckuva story: a story that
can lull you into a false sense of no news, and then explode upon the most
trivial of provocations.
And that's what Haled believes will happen soon: that this story will explode,
that one day, an Israeli or a Palestinian will overstep the volatile boundary,
and poof, the rules evaporate into the dry Jerusalem air.
So I escaped the possibility of that happening in the next 24 hours, and drove
down to the Dead Sea the next day, a descent into the lowest of lows (it's the
lowest point on Earth) floated in the mineral-laden body of water as a few
Palestinians blasted their music and covered themselves in skin-nourishing Dead
Sea mud. A quick trip to Masada, that symbol of Jewish resistance (and mine,
since I went at midday, in the desert heat), and then zipped back to the Israel
Museum to ogle at the Dead Sea Scrolls. A surreal and a chance of a lifetime..
...day trip.
----------------------------------------------------------------------------------
It was unanimous. Volvo does indeed make the most comfortable
car seat in the business.
Let me paint the scene: a typically sunny, dry, dusty summer day
in a West Bank town (Tulkarem) forty-five minutes outside of Tel
Aviv. I'm sipping Turkish coffee with Avni, Dubi, and Chaim --
the NBC Tel Aviv crew (another cameraman, Chaim Dekel, is up in
a police chopper somewhere over our heads). Oh yeah, we're busy
negotiating with a gaggle of Palestinians just outside their
spare parts shop. Our hosts are very hospitable -- they
prepared the coffee for us, and invited us to sit with them in a
circle as we chatted. But each and every one of us was
comfortably installed on individual car seats, which had clearly
been ripped out of cars, and were now placed on the ground for
our convenience.
One Palestinian man pointed each seat out, grinning. "Subaru,
Honda, Toyota Corolla," he said. Then he got excited. "Volvo,
Volvo!" Yes, the Volvo seat is the most comfortable, and the
man who we ended up interviewing, insisted sitting on a black
leather Volvo seat (I think I was on the Honda seat) --
definitely the strangest interview I have ever done.
This is where the stolen Israeli cars are brought, and sold, and
then sliced into thousands of parts, which are then resold to
Israeli dealers. It's hard for the Israeli police to do much
about it here, this is an autonomous region, under the Palestinian
Authority. Still, our friends were initially very suspicious of
us, and thought that we might be police. It took a good 45
minutes of intense, Middle-East-style negotiations (animated,
with charm and aggression, and lots of patience) to convince them
that we were American journalists (well actually, 3 Israelis and
a Canadian masquerading as an American). They wondered how a
guy with the last name Hosein could be from Canada. Then one
guy said that he thought he had seen me in a police station in
Haifa the other week. Me? An Israeli policeman?
But we convinced them eventually that our intentions were good (I
think the fact that I told them that my parents had a Volvo
helped our cause -- they do love that car!), and we sat down to
do the interview, and to shoot the doors and hubcaps piled
neatly all over the lot. Just as we were beginning, one guy
came out with a front instrument gauge panel in his hand...he
seemed very pleased with his acquisition.
Although our interviewees never actually confessed to dealing in
stolen parts, they did make some interesting comments, in a
mixture of Arabic and Hebrew (one guy spoke Arabic, the other
guy translated it into broken Hebrew, then one of my guys
translated it into English for me). The best one liner:
"Israelis stole our land, so we steal their cars!" One man
explained to me that he wished that they weren't teaching their
children to steal, but he felt that they had no other choice
since they could no longer work in Israel (the economic
situation, and unemployment specifically, is dire in the
Territories, but that's not entirely Israel's fault).
So we lucked out with that interview. We could have easily been
chased away, or worse. Alas, in another story about cars, I was
not so lucky. My own car was towed away just outside our office
in Tel Aviv. That's what I get for daring to park on the street.
Ultimately, Israel is an unusual place. You can easily be lulled into thinking
that it's just another developed country, that happens to have great weather,
good looking people, a relaxed lifestyle and incompetent drivers. The roads
are well built, the water is safe to drink, the restaurants as good any
mid-level New York establishment. The country even produces good wine (albeit
it comes from the Golan Heights area, which may one day be returned to Syria).
It's Manhattan meets Miami Beach meets California meets Provence, all in a
place the size of New Jersey -- mercifully minus the Superfund sites and
Newark.
And then you read the newspaper editorial headlines: "Winds of War," "War is
Inevitable," "On the Verge" and you realize that there's no such thing as
paradise without compromise. Yesterday, in the ongoing symbolic theater in
Hebron, some Palestinians began to shoot at Bet Hadassah, the Jewish settler
enclave in the heart of Arab Hebron. From rocks to bullets, from skirmishes on
one street in the town, to a direct attack on a settlement: for Israeli people,
observers, experts, soothsayers and diviners, the signs are clear -- big
trouble is around the corner.
So, in my ongoing attempt to enjoy a country still at relative peace (O
Desperate Rationalization), I've put about 1,500 km on my little white Kia
automobile (a Korean subcompact with a Japanese design and a really spunky
engine that has learned to like off-road driving). I've treated most of
this country to very loud rock music blasting out of my open window. By
refusing to unpump up the volume, I've shown no preference, deference, or
reverence to the Old City of Jerusalem, the Dead Sea, the Negev Desert or the
Egyptian Border Crossing near Eilat. "Welcome Canadian," the grinning Egyptian
soldier said to me, enjoying my Muslim-sounding last name and my harmless
nationality, as he handed me back my passport and waived me through. "Eat some
Iron Maiden," I told him silently as I quickly accelerated across the border.
The juxtaposition between a really great country to visit and live (should I
move here, my apartment will be larger than my one in New York, I'll have a
car...a wimpy winter...and the beach) and a country under siege is a startling
one. Martin Fletcher recently showed me an invitation he received from Judaica
Multimedia, for the Inauguration Ceremony of the Encyclopaedia Judaica CD-ROM
edition, at the President of Israel's residence. The fine print, written in
elegant blue script, reads, "This is a personal invitation...Parking in the
Jerusalem Theater parking lot. Please do not bring weapons." I'll have to
remind Martin to leave his Uzi with the submachine gun check girl.
The biggest professional danger in working as a foreign journalist here is
probably how easy and quickly you can lose perspective. There is the everyday
tension of not knowing when the next conflagration will come, and where. Will
Hebron explode, will the government fall, will that car across the street blow
up? A crisis is always just around the corner, and you can't help but feel
that tension. But it's not always easy to translate what you feel into a good
enough reason for New York to buy yet another "the Apocalypse is nigh" story
from Israel. I suspect that only outright war, or outright peace will be
enough to really capture people's imaginations in the West.
And yet, this young country, with a population of six million, still seems to
attract a disproportionate amount of journalists, and therefore attention.
When was the last time our American audience cared about the internal
machinations of the Swedish government? (better yet, when was the first
time?). Is it because Israel is the cradle of Western civilization? The
meeting point of three great Faiths -- where Moses never entered, Jesus walked,
and Mohammed rose up to Heaven. A struggle for the Ages? An American
strategic interest? The influence of a strong Jewish lobby in North America?
The place where the Messiah will come (or if you're not Jewish) Second come?
The black hole whose Armageddon will suck in the rest of the world? All of
the above? Or is just a great, sexy story with terrific pictures -- no
different from that fire last night in downtown Buffalo, the drive-by shooting
in LA, the bodega hold-up in the Bronx?
More insightful people than I, who have been here longer, haven't found the
answer, but no one seems to mind, it's an invigorating, challenging story to
cover, and hey, it's better than being posted to Moscow. So buckle my sandals,
avoid humus on hot days (salmonella city), and get that flak jacket dry
cleaned, it promises to be quite an adventure.
BETHLEHEM, December 5, 1997
As I stood on top of the roof of a Syrian church in Bethlehem this morning
trying to get that perfect shot of the crucifix on the steeple of the Church
of the Nativity in line with the crescent moon of the adjacent mosque, NBC
cameraman Jeff Riggins turned to me and said, "I think the real religion here
is television." He was, of course, right. For every cross in Christ's
hometown there were a hundred television antennae. For every crescent moon
there were three satellite dishes -- Islam was the newer, and now more
dominant religion in Bethlehem after all. And a few hours later, when the
call to prayer from the mosque's powerful megaphone was broadcast across
Manger Square, and echoed off the Church of the Nativity, I knew that to be
true. Which is what the story we were there to do was all about: whither
the cradle of Christianity?
I have now been in Israel for two weeks, as a defender of the faith in
American television news' ongoing crusade (cue Richard the Lionheart: turns
over in grave upon overuse of metaphor). Yesterday, NBC correspondent Martin
Fletcher and I were in Tower Records in Tel Aviv to interview a 19-year-old
girl, who was thrown out of her Jewish Orthodox school when her teacher found
the girl's scrapbook homage to Dana International, the popular, and notorious
transsexual pop singer. I walked over to the cash register to ask the manager,
to turn the music down so that we could do the interview in the Israeli records
section. I haven't been here long enough not to feel self-conscious about my
complete inability to speak Hebrew, so I tried to be as polite as possible.
Expecting a brash rebuff, the woman cheerfully turned down the music, and her
colleague, in perfect English, proceeded to ask me how she could get a job at
NBC, because she was a big fan, and very ambitious.
And the day before, working on the same Dana International story, we
interviewed Shlomo Benisri, a member of the Israeli Knesset. He told us how
Dana International was a sick deviant, and how her flamboyance made him feel
very ashamed for the Jewish people. Benisri was very accommodating, and spoke
to us in with a tone of reason and restraint. He told us that he doesn't own a
television or a radio, and does not permit his children to watch t.v. either.
That reassured me that he would not be one of the many that I interview
who typically request a copy of the finished story so that they can watch it
again and again at home.
Beyond work, the last two weeks have been spent trying to come to terms that I
am here for good. I've been trying my best to throw myself into my new way of
life: in my search for an apartment in the heart of Tel Aviv, in my morning
jogs along the beach and subsequent dips into the increasingly chilly
Mediterranean sea, in my sudden plunge in meat intake as I accommodate Kosher
kitchens, humus and pita breaks in East Jerusalem and my attempts to resist
daily trips to the local Domino's (but I have succumbed twice already to the
lure of a personal-sized pepperoni pizza). And I think I've done pretty well,
for the most part.
Still, there is one thing I refuse to accept: the Israeli driving method. I
am convinced that the importance of home leave in my NBC expatriate package is
not so that I can become reacquainted with new techniques and thinking in our
New York headquarters once a year. Rather, it's so I can remember how the
rest of the world drives -- i.e. normally. It is generally recognized that
taking to the Israeli roads is a courageous thing, a true test of mettle in a
country where more people have died behind the wheel than in all of the wars
and terrorist attacks here since 1948. I have discovered so far that drivers
here engage in two well-accepted ways of street conduct. First, when trying
to join the flow of traffic, or changing lanes, inch out just enough to
disrupt the other cars and elicit a few honks. Second, slow right down, or
better yet, stop right there, in mid-motion, because you've lost all your
nerve to follow through on your idiotic move which should have never been
initiated in the first place, until you realize that your sub-sub-sub compact
car does not really have the dimensions of a Mack truck and can fit into that
gigantic gap among the other cars. Frankly, if you're going to drive badly,
at least do it aggressively and get it over with. Just like we do in New
York.
TEL AVIV, DECEMBER 26, 1997
For the first time in my brief Israeli experience, I arrived at the baggage
claim area at Ben Gurion Airport before my baggage did. No mean feat for a
suspicious-looking character such as I with the surly surname and fearsome
features. My return from a weekend in London was much different from my
initial arrival in Israel four weeks ago, when I had been set aside for
special treatment (read: interrogation) with the other Carlos look-alikes
dressed in leather jackets (read: resembling a Palestinian), while my fellow
passengers whizzed by me.
I suspect that the security folks at the airport were easier on me the second-
time around for a number of reasons. First, I elected to wear a khaki Gore-Tex
jacket, instead of the standard-issue terrorist leather. Second, I was
carrying my Israeli press card, which helped somewhat. Third, the novelty of
being questioned because of my funny last name had worn off, and I think that
the 20-something woman asking me questions realized that I wasn't going to
tolerate this much longer (I get the same question every time, "what's the
origin of your last name?"...I tell it to them straight, let them deal with
the truth). But most importantly, and I was quick to point this out to my
inquisitor, hadn't I flown that notoriously secure airline, El Al? If they
hadn't caught me, how could Israeli security?
El Al security procedures merit some exposition. Contrary to the Day-Glo
colors currently employed by British Airways, my plane from London was non-
flagrant, in plainclothes, naked...wearing nothing but a registration number.
But I'm jumping ahead, it would take me a couple of hours to actually catch a
glimpse of my plane. I arrived at Gatwick airport 3 1/2 hours before the
flight. Unlike other check-in counters, El Al's was boarded off from public
view. I had to join a line of people, watched over by machine-gun toting
British police, as someone checked my ticket.
So far so good. Join another line. Someone checks my ticket again, and my
passport. Next line, x-ray and metal detector. After that: the dreaded
security interview. I went through two and a half interrogators...I must have
been tiring them out. Why are you going to Israel? Why were you in London?
Why didn't you stay for Christmas? Where are you staying in Tel Aviv? I
showed them a letter from NBC saying who I was, I showed them all my I.D., I
even invoked the name of my friend who heads up security at El Al in New York,
and still the interview went on.
Once they deemed me secure, I checked in at the ticket counter...and then off
to one of Israel's favorite past-times...duty free shopping! (sidebar: the duty
free shops at Ben Gurion actually allow Israelis LEAVING Israel to purchase
items tax-free, and then pick them up when they return from their trip). I
thought to myself, being in that frame of mind, that if someone wanted to pass
me a bomb now, it would be pretty easy to do in the cigarette section of store.
But they had thought of that too. I arrived at Gate 20, and my passport and
ticket were checked yet again, as was my hand luggage. Which brought me to the
albino Boeing 757.
That being said, I don't resent the level of security, I just resent being
singled out. The officials are usually firm, very quick, but not impolite.
They're looking for inconsistencies in a passenger's story, reaction to
provocative questions. And they always apologize for the delay when they're
done. So me, the victim of Stockholm Syndrome, thank my captors, smile, and
experience waves of gratitude that they were so thorough with me.
One other disclaimer. I have found in my travels, and especially from living
in France, that it is pointless to judge an entire nation, especially during
the first few months. Not to say that I don't harbor negative feelings from
time to time, but you should have seen me snarl at New Yorkers when I used to
live there.
Interaction with my seatmate on my plane to Tel Aviv summarizes my current
opinion of Israelis. He was a big man, with, judging from his clothes and
unkempt beard, had rural leanings. He of the middle seat, insisted that I put
his jacket in the overhead bin, which I did, because that's what Canadians do
(I think). During the flight he was all elbows, and couldn't sit still. He
would spot the beverage cart coming, a few aisles down, and would start barking
out his order before the attendant could even get to us. Once, during the
third beverage service, an attendant came by with a tray full of small cans
of coke, and one big can of orange soda. I mentally noted the presence of the
large can, and decided that's what I would take. But I, closer to the tray,
being in the aisle seat, was too slow. Mr. Middle Seat grabbed the large can
quickly, and opened it up -- his fifth soda within the hour. Aggressive,
boisterous, slightly impolite was he, but he also offered me a piece of his
gum during the flight, in halting English. And upon touchdown, after he
joined the other Israeli passengers in applause (a Holy Land habit from what I
can gather, congratulating the pilot for getting them safely to their
destination), he turned to me with a big grin and said, "Welcome to Israel,
welcome, welcome!" Bottom line: I liked him.
Today, I popped into McDonalds's for something quick. I ordered in English,
service was swift. I felt a little awkward because I don't think the person
serving me understood English too well, and I always feel awkward when I force
a native of any country to speak my language instead of theirs. But as I was
leaving, she and the other girl behind the counter smiled widely at me,
"Goodbye," they said cheerfully, and struggling with an afterthought added,
"Merry Christmas!" I guess they had deduced that someone who didn't speak
Hebrew who was eating at McDonalds's on a Sabbath evening the day after
Christmas had to be a Gentile. I didn't see the need to correct them, their
intentions were obviously sincere and well-meaning. That kind of thing
happens a lot, and it more than makes up for all the bad driving, over-excited
behavior, and arguments with strangers. There's a lot of warmth and
hospitality here.
JANUARY 18, 1998 TEL AVIV
Small Victories during a Big Change mean a lot. Today, I figured out that I
didn't ALWAYS have to turn on the hot water switch thirty minutes before I
showered in the morning. It seems that using electric heat to warm the water
in my apartment is only necessary during those 65 days that the sun doesn't
shine in Tel Aviv. Otherwise, the solar panels on the top of my building take
care of the rest.
So, I will try to have faith in what I can't see above me (that'll be the
extent of it though). I really wish that living in Israel came with an
instruction manual. But even if it did, I wouldn't be able to read the Hebrew
anyway. How many times have I gotten lost because I couldn't understand the
street signs outside of the tourist areas? Or when I couldn't tell whether I
was buying toilet paper or paper towels in the grocery store (they look the
same)? Or the number of contracts I've signed that may mean I'm signing up for
a health club or offering my future home in fee simple to the building janitor?
But that's the fun in trying some new isn't it? Where every mundane act
becomes an adventure, and you learn not to second-guess what you've done
because you'll otherwise have no time to first-guess overcoming the next
obstacle. What doesn't kill you makes you stronger, or in my case, at least
less stupid.
Fortunately, many people have come to my aid. My colleagues at work have
helped me find a place to live, a place to bank, a car to drive -- important
things. They've also endured my countless questions about the bills I'm
receiving in the mail...what am I paying 472 shekels for? How do I fill out a
check when I can't even read my name printed somewhere in the right hand
corner? (Note to self: learn how to write your name in Hebrew).
And then there are the countless others whom I don't even know. My still keen
New York spider-senses scream at me not to trust anyone I don't know,
especially in the Middle East. But then my hopeless situation forces me to
admit that I have no choice, and that I have to have a little faith. So I do,
and I have been surprised by the remarkable warmth by the people here.
There's the retired Russian engineer who's been painting my apartment for the
last week. He's a polyglot: he speaks Russian, Hebrew, Yiddish, German, and
even Turkish. In a multiple choice exam, I must choose "none of the above"
when trying to communicate with him. So we revert to sign language and
speaking very slowly and loud to each other in our respective languages, which
surprisingly, works. He's got my key, I leave him alone during the day. When
I come back, not only are the walls painted, but he's fixed my broken picture
frames (damaged in the move) and split the only telephone jack in my apartment
four ways so that I can plug in a phone in every room.
There's the unilingual old man at the motorcycle shop adjacent to the store
where I bought my bicycle the other day. For some reason, the bike shop
doesn't sell bike locks, the motorcycle one does. (Sounds like collusion to
me). So I went over there and tried to figure out which lock I should buy.
The man yelled to at the people in the grease-laden garage something to the
effect of, "Does anywhere here speak English so I can sell something to this
North American clod?" Two clients rushed over and started translating what
the man was telling me about the locks. I think I engaged in a 10-minute
cross-examination regarding the merits of each lock, and all three Israelis
endured me happily, inserting their own advice at appropriate times, which
didn't make my decision any easier.
Everything here is an observation, a conversation piece. There's the
insignificant: when I walk into a grocery store wearing what is seen as an
oddity in Israel --a bike helmet (it shouldn't be, given the way they drive
here, pedestrians should wear them too). People in the store automatically
assumed that I was a serious biker, training in the Tel Aviv streets for the
Tour de France. The guard at the door who inspects bags for bombs asked me
how many kilometers I do each day. I found out he was French, and we started
going at it. That gave me a "Get out of the grocery store free" pass for next
time. The boy behind the meat counter probably asked me the same question, but
in Hebrew, so instead, using sign language and rudimentary Hebrew, I ordered
three ("shalosh") choice pieces of fresh chicken breast, which he happily
prepared for me.
My attempts to stay in shape have offered me a multitude of sociological
details. Once, in the middle of a particularly heavy workout when I was still
staying at the Sheraton, the supervisor of the fitness center came over to me,
and asked me whether I wanted a cup of coffee. While I was working out? At my
new health club, which is an beautiful location in the middle of a park beside
the HaYarkon River (so heavily polluted that when a bridge collapsed this
summer during a sports event, only one athlete DIDN'T die from being poisoned
by the water), there's a cigarette vending machine right in the lobby. And I
did see a couple of 50-something women, unwilling to leave their car in the
hinterland of the parking lot, park their car, illegally, right in front of the
door to the gym. They obviously didn't want to exert themselves too much
before their workout.
Yesterday, three separate people tried to help me, countless times, to acquaint
myself with the various machines in the gym. And once again, they wouldn't let
me do my workout in peace. There was the bearded guy with a British accent who
pointed to my NBC Nightly News hat and said how much his family preferred
watching Tom Brokaw to Dan Rather. And then he told me how he had been
watching me manhandle the rowing machine, and that I was a prime candidate for
some Mistress of Pain's bi-weekly class where true devotees of fitness show
what they're made of. Then some octogenarian who was apparently a famous
boxer in his day, came up to me and asked me, point blank, "What separates the
British from the Americans?" I played dumb. "A common language!" he cackled,
and then went on to demonstrate some of his boxing moves. I guess I'm some
kind of novelty at the club.
Let's see segue...how's this...boxing, Raging Bull, Robert De Niro! Martin
Fletcher and I met with Ronnie Milo this week. He's the mayor of Tel Aviv,
and self-proclaimed future prime minister of Israel. We tried to mine him for
nuggets of political wisdom. But my strongest impression was that when he
winced, he looked a lot like Robert De Niro.
And speaking of dashed expectations, two weeks ago, we spent ten hours aboard
the U.S. destroyer "John Rodgers" as part of the joint rescue exercise between
the Americans, the Israelis and Turks in the Mediterranean Sea. Fraught with
huge geo-political implications that such an alliance would bring against the
Arab world, we were all pretty excited about the outing. And yet, what I
remember most about that day was sitting up on deck, my back against the
ship's huge gun, half-dozing, half reading a magazine under the winter sun.
Oh yeah, I also watched "One Fine Day" on video in the officers' rec room.
All this meandering to say that at this point, living day-to-day in Israel
seems to be far more interesting (and revealing) than being a journalist
during this very quiet time.
Tel Aviv, March 5, 1998
The last month and a half have been full of the promise of mutually assured
destruction, what with Iraq NOT threatening to attack Israel this time around,
but Israel still pretending that it was 1991 all over again. So we journalists
prepared, brought in more colleagues from London and New York, thought about
getting contamination suits and gas masks, laid out worst case scenarios,
wondered whether our glass office could withstand a nearby Scud attack...and
waited...for nothing. Instead, we ended up playing tennis, having dinner
parties, touring the country; I brushed up on my Hebrew, and generally lived a
life of semi-leisure under the constant cloud-cover of stress and potential
war.
Now that that's over (for now), we can get back to the task at hand: pitching
and producing feature stories to New York in a period of no-news (where art
thou Cold War?).
So we spent an early morning yesterday with the Jahalin Tribe: the Bedouin
near Jerusalem on the road to the Dead Sea. It was quite the eyeful as we
pulled off the road onto the rocky terrain of the Judean Desert. A few large,
white pyramid-like tents lined the floor of a shallow valley. Closest to the
road was a ramshackle lean-to. That was probably where the tribe prepared its
meals: there was a hearth with smoldering embers, and a couple of kettles.
Children stood waiting to leave for school, equipped with their small,
colorful backpacks. A dog barked incessantly up on the hill as he looked down
on dozens of sheep, which were braying randomly, but with much gusto and
personality. A woman wearing a shroud escorted a donkey bearing water. And
right at the top of the hill were two hundred modern homes looking down upon
these people. It was because of those houses, that we had come.
"I am a refugee here, and I am waiting for the day to return to my land,"
Ahmed told us in Arabic. He was the mufti of the Jahalin tribe. "Without
land, a Bedouin is nothing."
There are now 120,000 Bedouin who live in Israel. They have been wandering
the Middle East for thousands of years, with their large families and their
livestock. The Jahalin originally lived in the south, in the Negev Desert.
But the Israeli government forced them to move north when it decided to
develop the desert. Now the Jahalin are being asked to move again, as the
Jerusalem satellite-town of Ma'ale Adummim expands, from 23,000 people to
60,000 in the next ten years. The tribe is actually taking the Israeli
government to court.
The mufti looks to be about 50 years old. He is wearing a long black gown, a
red khaffiyah around his head, and a pair of beat-up black Italian loafers. He
has two wives, and twenty children. As we begin our interview, I am surprised
that the dog, stops barking. Two sheep bray chorus-like in unison, heralding
perhaps the beginning of our interview, and then shut up. Very courteous
animals.
Five men crouch in a line, just out of sight of the camera, and listen to
their leader speak. They're wearing jeans. One has a cellphone on his hip.
You have to feel sorry for these people who are being chased down and pushed
out by the modern world and a growing, young country. It's hard not to draw a
parallel with the native people of North America. But like anything else in
Israel, nothing is black and white, and almost everything has to do with The
Land.
The mayor of Ma'ale Adummim is young, and very sharp. He points out that the
Bedouin moved to where they are now, when the Israeli government had already
designated the land as part of the town. They let them live there, and now
they are giving them another set of land, that will be the Bedouin's for good,
they say. They don't want the Bedouin to leave, they are good neighbors, and
they have jobs in the town. And Ma'ale Adummim doesn't look very different
from any other subdivision built on the edge of a booming, expanding city in
North America. I can relate to that.
But it doesn't end there. In this part of the world, you can argue yourself in
circles when it comes to ownership of land. How far back in time do you have
to go to prove a prior claim? The big question: how can the Israelis designate
land that's not theirs? Cue: the Palestinians. Ma'ale Adummim lies on
territory that the Israelis occupied after the war in 1967, and the
Palestinians want back. So they're getting involved in the Bedouin fight as
well. As Saeb Erakaat, the Chief Palestinian Peace Negotiator told us, "The
West Bank is a single territorial unit. I don't think it's Israel's business
to determine the fate of these people. It's OUR business."
But then some Jews will argue that the land belonged to them 2,000 years ago,
and now that they possess it again, why should they give it back? And even
more Israelis will argue that Ma'ale Adummim is part of greater Jerusalem --
the lodestone of their faith, a city that they will never surrender. It
doesn't help that the Palestinians insist that Jerusalem is also theirs, and
that "Al Quds" will be the capital of their future state. It all goes to show
that both sides, intransigent about their hold on the City of Peace, will come
to blows before either side cedes to the other. This, says NBC's Israel
veteran Martin Fletcher, in a nutshell, "is the story of the story." It's also
why, both Martin and I believe that built into the peace process, is a war
waiting to happen.
These are the tongue-twisting trials you encounter every day in Israel as you
try to remain impartial about the ongoing story you are covering. Just when
you think you've made up your mind about an issue, someone throws another
"but" your way. Sometimes I just give up and blame it all on the British, for
screwing up the whole thing decades ago (the Brits had partition fever in the
late 40's I think, look at Pakistan and India, the borders of Kuwait and Iraq -
- even more catastrophic). It's easier that way, but still not the answer.
After the Bedouin, I was relieved to pop into the Mayor's Conference in
Jerusalem and meet our other camera crew as they were gathering footage of
D.C. Mayor Marion Barry (yes, THAT Marion Barry) for a story stateside. Then
we proceeded to a house in Ramle...formerly owned by Arabs, forced out in 1948
during the war, occupied by a Jewish family. Jew and Arab later become
friends, decide to dedicate the house to bringing both peoples together, so
they open a kindergarten for Arab children, and sponsor joint activities for
Arab and Jewish grownups. Yesterday, the mayor of Ramle's twin city, Kansas
City, MI, brought a group to visit. The Arab director of the house shook them
down for funds to help support the house. And the daughter of the family that
lived there last tried to shake us down for money for an interview with her so
that she could tell us the story of her family and the house. I think we'll
politely shy away from this piece.
Back at my own house, exhausted, and a bit put off by the whole day, at least
three men phoned, looking for Moishe. I wondered who Moishe was, and why
everyone thought he was here. And then I decided to give up thinking...at
least for the rest of the day.
TEL AVIV, April 11, 1998
As I looked down from my room on the 27th floor at the top of the Ramses
Hilton in Cairo, listening to the incessant squawking of the car horns from so
far below, I realized that my life in Tel Aviv didn't quite qualify as part of
the "Arab world."
True, there are similarities between Arabs and Israelis. Technically, they're
both Semitic people: which makes them by default excitable, mercurial, and
hospitable -- qualities that tend to exhibit themselves all at once. And
true, when they drive, they both demonstrate what I call "the Middle East
drift"...an inability to drive straight without slowly drifting over the
dotted white line, blocking both lanes just enough to stop you from getting by
them before they do something REALLY stupid.
But that's where the similarities stop. Israeli drivers are still
incompetent, while, for example, Egyptian drivers know exactly what they're
doing, but that doesn't stop them from being totally bonkers at the wheel.
Also, in Egypt, there's no doubt that you're not in the developed world.
Cairo is ten times the size of Tel Aviv, with eight times the population.
That makes it a tight squeeze, but nevertheless, still a dynamic, energetic
place. Similar to India, merchants and beggars accost you in the street. But
unlike the subcontinental assault on your ears and your wallet, Egyptians take
'no' for an answer. You can get by well there on a smile and a few polite
words. We were less successful with the Egyptian government. We were forced
to have Ahmed accompany us on all our shoots in public areas. He's a
government escort, keeping an eye on us, making sure we weren't there to
offend any Egyptian sensibilities. Not quite the openness we are used to in
Israel, where anyone will speak to you anywhere, anytime. Seeing Israeli
soldiers on the streets with their Uzis still astounds me, but nothing
compares to the security coverage in Cairo, with virtually a policeman or
solider on every other street corner.
We were there for a few days to do a story for the Today Show on how Egyptian
women were shaping up, fitness wise. Not exactly hard news, but it was fun to
do, and a welcome relief from the stifling boredom and claustrophobia of the
Israeli/Palestinian saga. But for me, the excitement lay in finally stepping
foot on the African continent, into a place that I had heard and read so much
about.
And what a place. Cairo is clearly not a city burdened by its past. My first
evening there, I ended up shooting the Egyptian jet-set as they waited
patiently in line to get into the newest hip place in Cairo...T.G.I. Friday's:
that paradigm of American bar food, with hustling waiters who spoke English to
everyone, served beer and bacon burgers to tourists and natives alike, as we
chatted with Niraj, the Indian manager, and W.W. Gregory, Yassir Arafat's
American pilot who happened to be there that night, and also happened to be a
bit tipsy as he gave us the scoop on his boss.
You can see the Pyramids in the distance...when the smog from the cars isn't
obscuring them. And yet, the highlight of my trip was riding out by horse,
over the powdery sand of the Sahara desert, towards Cheops, Chephren, Menkaure,
and the Sphinx. We deliberately took the long way around, trotting behind a
ridge which obscured the full impact of those four thousand-year old structures
until the last minute, when we were forced to really gaze upon them and
contemplate the enormity of their conception and significance (and I had a
chance to dismount and contemplate my saddle soreness and the significance of
my lack of prowess at the reins).
. . . .
People who don't live in the Middle East sometimes throw up their hands
helplessly in disgust and wonder why we just can't forget about the Arabs and
the Jews and leave them to their own devices, and destruction. It's the
simple, "just nuke 'em", answer. I live here, and I sometimes think the same.
Recently, I went down to Gaza a number of times, to try and convince
Palestinian authorities to let us have access to Arafat. Each time I crossed
the "border" (an hour south of Tel Aviv), I had to set my watch back an hour,
because the Palestinians didn't recognize the Israeli's early observance of
daylight savings time (which starts a week earlier than in Europe, apparently
at the religious Jew's insistence). It made it difficult to make our meetings
with the Palestinians because we were never sure whether the time we were given
was "Israeli time" or "Palestinian time." (We later discovered that
"Palestinian time" also involves promises like "ten more minutes, I will meet
with you," "call back in two hours, I'll have an answer for you," "tomorrow,
tomorrow, no problem." -- another sure sign that you're no longer in the
developed world). When you come across something as basic as this, you can't
help but wonder how these people will ever come to terms: how can you recognize
a nation's borders when you can't even recognize each other's time zones?
Today, in 40 degree (104 degrees for you backwards Fahrenheit people) weather,
we went to cover an Israeli settler "demonstration" in mostly Palestinian-
controlled Hebron. Ten thousand people showed up, wearing t-shirts like
"Hebron Forever." A teenager with a megaphone shouted incessantly in Hebrew
that "every shekel used to buy something from an Arab" would be used on bombs
to blow up Jews. A black-suited, black-hatted Israeli sat innocently beside a
toothless old Arab man wearing a white and black khaffiya around his head.
The Israeli put his arm around the man and said in Hebrew that he wanted
nothing more for the Arab to leave Hebron forever. The old Palestinian man
smiled (he clearly didn't understand what the Israeli was saying), and the
Israelis witnessing the spectacle cheered and laughed.
So yes, when I see things like that, I too throw up my hands in disgust. But
in moments of introspection, I realize that it's foolish, and far too simple-
minded to distance myself from these people. The Middle East, this embattled
area, gave us Western Civilization with its three monotheistic religions, its
ten commandments, and its codes to dictate how we shall live civilly with
ourselves -- created by a few hundred desert nomads, a carpenter, a merchant,
and a cast of thousands of other swarthy characters throughout millennia of
foment and unrest. So if the place that spawned who we are is going to unsettle
us from time to time, so be it. It remains a region of incredibly concentrated
intensity that sometimes changes the world, but more often than not, just
leaves us gasping for breath.
MAY 16, 1998, KARACHI, PAKISTAN
Deported. With that, I join the ranks of the desperate, the drug mules, and
the undesirables. I have never experienced anything like this before. But
here I am, sitting in the same seat (2c), on the same Royal Jordanian Airlines
Airbus 300 that I boarded six hours ago in Amman. Heading back to my port of
embarkation. Busted in Karachi at 5:50 a.m. local time, I now feel in my
stomach the hollow sensation of failure, compounded by utter exhaustion.
It shouldn't have been a problem. NBC wanted me to proceed to Islamabad, the
capital of Pakistan, to cover the possible nuclear test that India's rival was
about to conduct, in retaliation for India's two tests earlier that week. I
was to work with a London-based correspondent and crew. Geography and
geopolitics were on their side -- Pakistan's embassy in London issued them
emergency visas in less than 24 hours. But as an Islamic nation, Pakistan
does not recognize Israel, hence no embassy, hence no visa for me (and no
direct flights either, forcing me to commute to Jordan). We had been told that
I could get a temporary visa upon arrival in Pakistan, so I quickly packed my
things, (enough for two weeks, and enough to handle the 43 degrees Celsius
temperature (111 F) there), cancelled plans to attend my first Israeli
wedding, and had my friend and colleague Amikam drive me to the Jordanian
border near the Sea of Galilee.
At the Hussein bridge crossing, I encountered my first problem. I would use
my first Canadian passport to leave Israel. That was the one that had my
Israeli work permit, and various other Israeli entry stamps in it. But should
I use it to enter Jordan? It wouldn't be a problem to do so, given the peace
treaty between the two countries (but in effect, with stalled negotiations
between Israel and the Palestinians, more like a "cold peace.") But I was
thinking that I would have more credibility at the Pakistani airport if I had
Jordanian stamps in either my OTHER Canadian passport or my British passport.
This is the game that foreign journalists have to play in the Middle East: the
passport shuffle. How to enter an Islamic country with a passport that does
not reveal your ties with Israel.
It was a difficult decision. First, I ruled out my other "clean" Canadian
passport, because it was not as "clean" as I thought it was: twice-sullied with
a visa that the INDIAN embassy in TEL AVIV had recently given me (India and
Israel, entering Pakistan? Forget it). Then I decided that my thoroughly
stamp-free British passport wouldn't appear so innocent if I had "Jordan
Valley Crossing" stamps in it. Any immigration official with a good sense of
the Middle East would know that that meant I had crossed from Israel. So I
went for my "Israeli" Canadian passport, paid thirty-six Jordanian dinars
(about $55 U.S., THE most expensive visa to enter Jordan), got some very
pretty stamps placed on one of the pages, and made my first mistake.
On the other side of the gate, Mohammed, our Jordanian driver welcomed me. In
his red Mercedes, we drove through the very scenic Jordan River valley, past
small towns, farms, always climbing away from the valley and the Dead Sea,
making the hour and a half journey to Amman. It amazed me how much Jordan
resembled Israel: verdant plains, hills covered in pines, and the desert. Of
course it shouldn't have come as that much of a surprise, the border that
created Israel and Trans-Jordan in the early half of this century was merely
splitting one land into two. As I entered the attractive (and clean) city of
Amman, I realized that if a country like Jordan (population four million, 2.5
million of that formerly Palestinians) could create such a pleasant, civilized,
place to live (albeit fairly undemocratic), what could the Palestinians
achieve, once peace finally settled over the land on the other side of the
border?
I met briefly with NBC's representative in Amman, Hisham Ayyad -- a sharp,
handsome, warm-hearted Jordanian, with a healthy mustache (like all good Arab
men: being clean-shaven classified me as a woman), and two wives. We had a
nice chat, and then I set off to Queen Alia Airport for my flight.
At the Royal Jordanian check-in counter, I handed over my Israel-stamped
Canadian passport and my British passport along with my ticket. The clerk
raised his eyebrows, and ran off to consult his supervisor. I knew that he
was wondering whether he could let me on the plane without a visa for
Pakistan. They both looked up the rules on the computer. I reached over to
take a look at the screen. The rules said something along the lines that if
the passenger was travelling for business reasons, and his home country did
not have Pakistani representation, he could board the plane, and complete
customs formalities upon arrival. They let me board the plane, but not before
my attempt (I was getting nervous) to get the Jordanian customs official to
stamp exit visas on both my Canadian and British passports, so I would at
least have SOMETHING in my British passport. No dice.
The flight to Pakistan was uneventful. While on the plane, I met up with
Keith Miller, the correspondent I would be working with. I watched Muslim
pilgrims from India, dressed in flowing white garb board the planes, carrying
plastic jerry cans of sanctified water from their pilgrimage to Mecca, and I
settled down to read my sheaf of papers about the Pakistani nuclear program.
After spending an hour on the ground in Dubai, we landed at Karachi airport.
Keith let me go through immigration first.
The official leafed through my British passport, puzzled at the lack
of...anything in the document. I explained that NBC was told by the embassy
in London that I could get a temporary entrance visa. He referred me to
another official. I tried another tact with him, recalling the rules I had
read on the Royal Jordanian computer, saying that I was a journalist, and that
I had to travel to Pakistan without advance notice, which is why I didn't have
a visa. He told me to speak to the supervisor, and pointed in that person's
direction.
My immediate reaction was that I was looking at a more malign-looking version
of the Star Wars character, Jabba the Hut. Four stars on his epaulette, a
mustache that curled around his lips, and a gut that hung over his belt, as he
looked bemusedly over the hordes of passengers entering his country. I went
through my story with him.
"No visa, no good. Go back," he mumbled. I pretended I didn't hear him
properly, and repeated my story.
"Are you trying to argue with me?" he said menacingly.
"No sir, I would never think of arguing with you," I backtracked. I felt like
things were taking a turn for the worse, so I decided to play all my cards. I
explained that I was working for an American television network, but was based
in a country that did not have a Pakistani embassy, which was why I didn't
have a visa. I then took out my Canadian passport to show him my Jordanian
visa. It only made things worse.
"You know we have no relations with Israel," he said, mercilessly. He pointed
towards an office. I thought he was going to relent, so I gestured to Keith,
who had gone ahead to get our luggage, and explained to him what was
happening. I told him that I was going to go over to the office to see how we
could get out of this mess. Keith immediately tried to charm the supervisor,
who reacted almost violently to pursuing any further conversation on the
matter.
"Why are you so angry?" Keith purred, using all of his correspondent's guile.
"You must be married," he joked, trying to find a common thread to hang on to.
That seemed to soften him up.
I was still waiting to see if Keith could do anything before walking off the
office. My colleague then tried to play the dumb foreigner routine in an
effort to prostrate ourselves to the higher developing country bureaucratic
power. "My friend here is young, he didn't know any better, won't you please
help him out?" The official said gruffly that I didn't have a visa, and was
from Israel, so there was nothing he could do. At that point, I went to the
office, to see what I could do.
Apparently nothing. As soon as I sat down, another immigration agent began
filling out my personal details on a coarse brown form. Using my great
ability to read upside down, I saw the heading "PASSENGER REFUSAL FORM." I
knew I was in very big trouble. I ran out to Keith.
"I think they're going to deport me," I said.
"I'm afraid they're quite serious," Keith replied sympathetically. We quickly
discussed our options. We decided that he should move on to Islamabad,
because we were afraid that the Pakistanis were going to conduct their test
soon. I could either remain in Karachi, and wait for the Interior Ministry to
open in about three hours (if lucky), and appeal to them for a visa. Or I
could accept the deportation order, and turn right back around and return to
Amman, where at least I could appeal to the embassy there, and have Hisham help
me. Thoughts of bureaucratic limbo and potential jail time in Karachi ran
through my exhausted brain, and I opted for Amman (many of my NBC colleagues
later told me that I had done the right thing, they had all experienced no-
visa-airport-limbo-for-days-on-end at least once in their careers).
So I informed Jabba that I would return on the next flight, which luckily
enough was within the hour, on the same plane I had come in on, and
embarrassingly, with the same flight crew. I gathered my luggage, and
waited for the Royal Jordanian agent to process my ticket and papers, standing
at the threshold of the Karachi immigration desk, feeling a whole lot of
despair that a story was about to happen without me.
Funnily enough, my tormentor took great pity upon me. With an imperial flick
of his hand, he gestured to a man dressed in grey overalls, who came up to me,
and poured me a cup of steaming hot, sweet, milky tea. It was just what I
needed. I drank the tea in two gulps and ambled over to the official. I
thanked him for the tea, and apologized for creating such a problem. He
smiled, and said that he was sorry as well, that I was sure to get a visa from
Amman in an hour, and that he would be happy to welcome me back to his
country, "in'sha'Allah" (God willing).
POSTSCRIPT
God didn't will it. I made a petition to the Pakistani embassy upon my return
to Amman, and returned to Tel Aviv, leaving it in Hisham's hands. I figured
that I upon being approved for the visa, I would re-enter Jordan, and this
time, get my British passport stamped (but by flying into the airport, rather
than crossing at the river). I never had the chance. Despite speaking to the
Consul at the embassy, and despite their assurances that I would probably get
the visa, inexplicably, I was refused the visa yesterday afternoon. My only
recourse now is to fly to London and try the embassy there. But by then, it
might be too late.
August 7, 1998 TEL AVIV TO NAIROBI
I could not have been more bored, hot or frustrated this morning. Operating
on two hours of sleep after a late night script approval process with the New
York office, before having to get up at 6 a.m. to drive to Jerusalem to shoot
a standup with my correspondent, Martin, before he left for his vacation.
Nothing had happened in Israel in such a long time, I wondered why I had even
bothered to return from my own vacation. We were scheduled to do a non-story
about the non-existent peace process for the weekend show. Needless to say, my
adrenaline was not pumping.
I went home for a quick nap. Twenty minutes later, I was awoken by Yael on
our assignment desk. There had been two explosions near the U.S. embassies
in Kenya and Tanzania. NBC teams from London, or anywhere else could not
possibly get to Nairobi in time to file for the evening newscast. We were
"it."
Easier said than done. It was a few hours before the start of Shabbat in
Israel, and aircraft were full of weekend travelers. We only had one
solution: to hire our own plane.
I returned to the office, half-thinking that there was no way we were going to
pull this off. A few phone calls later, and that feeling was even stronger.
There was only one charter available: a Boeing 757, for $70,000. It would
take six hours, and once we said 'yes,' we would be liable for a $10,000
cancellation fee -- even if the pilot was unable to secure last-minute landing
rights at Nairobi airport.
I duly reported this to New York. But by then, the other networks began to
realize that they were in similar straits as us. In the space of ten minutes,
I received calls from ABC, CBS, CNN, CBC, Fox, and even Sky in London. They
all wanted to see what we could come up with. Despite being competitors, that
was not such a bad thing, since we could all split the cost. So at 3 p.m., we
got the final word to get to Kenya, regardless of the cost. An hour later, I
was at the airport, ready to board a plane, that might not even be allowed to
land.
We took off, almost on time. The captain told the 28 journalists aboard the
200+ capacity plane that he still had not secured landing rights, but that we
would make the attempt anyway. If we couldn't land, we would have enough fuel
to take us back 3/4's of the way back to Tel Aviv...landing us somewhere in
Eritrea.
So here we are, 30 minutes from landing, and all is well. The only question I
have now, will we make Nightly News?
----------------------------------------
Warned by those who have made the trip to Kenya numerous times, I expected the
airport to be chaotic, laden with long lines and corrupt officials hunting for
bribes. That was not to be. (I found out later that the U.S. State Department
had asked the Kenyan government to open its doors to the media).
I decided to give my long-empty British passport its first stamp (a $50 visa --
the most expensive one, Canadians only paid $25 -- I guess the Kenyans didn't
take too kindly to their former overlords). Correspondent Tom Aspell and I
left the rest of our team behind to deal with their equipment, and we zipped
out of the airport, and found a driver, all within 15 minutes of landing.
We decided to pass by the site of the bomb blast first, before heading to KBC
(the Kenyan Broadcast Corporation) for our satellite feed to New York. David,
our soft-spoken driver, took us there in his white Toyota Corolla.
The floodlit scene was surreal. A 20+ story building, slightly charred, all
the windows blown out. The U.S. embassy to the right, seemingly intact. And
in the middle, nothing but a huge pile of rubble, a building that used to be.
Dozens of Kenyan rescue workers clambered over the pile, patiently digging with
their hands, wearing white surgical mask to keep out the dust. It was a cool
night, about 15 degrees Celsius. The air reeked with a smoky dankness, the
smell of burnt plastic, and maybe, something worse.
Hundreds of Kenyan soldiers looked on quietly, but let us pass without a
challenge. I was glad I was wearing my boots. My feet crunched over thousands
of pieces of glass strewn over the ground. I didn't dare look too closely at
what else lay around me.
Tom and I took in the scene for a few minutes, chatted with some other
journalists, then drove to KBC. We got there around 12:45 p.m. (5:45 New York
time, 45 minutes before the start of the newscast). I immediately phoned the
foreign news editor at Nightly. The KBC facilities were shoddy -- one tape
deck to feed video, a camera in front of a white wall with a torn map of Africa
for a background for any live shots we may want to do -- but functional. But
all our efforts had been pointless, Nightly News decided they would not take
us for this broadcast. We ended up recording a narration and shooting a
standup for the MSNBC show "The News with Brian Williams," and feeding that to
New York. We were tired and disappointed. We left KBC, and checked into our
hotel.
August 15, 1998 FRANKFURT TO TEL AVIV
This is the first time I've had a chance to sit down and think about what has
transpired over the last eight days. My journal consists of single paragraph
scrawlings, in between the satellite feeds, interviews, telephone calls, live
shots, and script approvals. Seven straight days, eighteen hours a day,
dreamless nights, nervous mornings, near-disastrous days, brutal evenings.
How to service two morning shows (Sunrise, Today), a twenty-four hour news
channel (MSNBC), an incredibly demanding evening newscast (Nightly News), a
highly-produced prime-time newsmagazine (Dateline), along with the Specials
Unit, the weekend shows, and Meet the Press? And with only twelve people (two
correspondents, two producers, three camera crews, one editor, and one
coordinator (thank goodness we brought Gila, the head of our assignment desk
in Tel Aviv), we were a far cry from the resources-in-triplicate of ABC News --
which also had its own satellite dish, placed conveniently beside the swimming
pool at the Hilton Hotel.
Our situation began to hurt us as early as the first full day that we were
there. I had been lulled into a false sense that everything was going to work
logistically, after our successful feeds the night before at KBC.
Unfortunately, that was the best it was going to get.
That Saturday, we had five satellite feeds booked, beginning with Weekend
Today, which involved a live crosstalk with Aspell and a guest from the BBC.
We spent the morning on the phone with KBC confirming that they had the feeds
listed in their records. But as we found upon our arrival at the feedpoint
half an hour before our first live, what they said on the phone, and what they
actually did were two separate things. KBC said they had no record of the
feed, or for that matter, any other NBC feed for the rest of the day: and that
meant MSNBC, and even worse, Weekend Nightly News. We ended up doing the
lives on the satellite phone that I had brought, just in case (there were no
long distance phone facilities at KBC).
Our London satellite desk couldn't figure out what had happened. Everything
had been booked and confirmed. My stomach had dropped out of my body at about
1 p.m. that day, and wasn't returned to me for another 12 hours, when I ate a
piece of cold pizza and finally realized that the satellite fiasco wasn't my
fault. At best, KBC wasn't organized enough to handle the foreign TV
onslaught. At worst, we had heard that the only successful outfits able to
feed throughout the day were German and Japanese TV. Suspicions arose: were
the former Axis powers throwing around a lot of cash to make sure they were
assured satellite time out of Nairobi? (I had to pay $700 per feed, cash, in
addition to the minimum of $2,300 NBC was billed per ten minute window).
After attempting a few Band-Aid solutions, we realized, late in the day, that
nothing at KBC was going to work. NBC finally bit the bullet and decided to
use the ABC satellite facilities. That's $2000 for the first 10 minutes, $200
per minute thereafter. We did it, and we made it.
So unfortunately, even with the huge tragedy occurring around us,
technical logistics were my preoccupation for the first couple of days in
Nairobi. They didn't sort themselves out until Reuters got their dish up
and running on Sunday morning. Then I could concentrate on the story.
But I felt scarred by the KBC experience, and realized, that from time to
time, to prevent myself from going crazy when something didn't work (which
happened at least twice a day), I would have to repeat the mantra of dark
continent veterans: "This is Africa."
-------------------------------------------------
Despite those periodic nightmares, Kenya was an incredible experience. As
Rajiv Bhatia, the Indian High Commissioner to Kenya (and family friend) told
me over lunch later in the week once things had calmed down, "The people are
Kenya's greatest asset."
I've become accustomed to the overheated temperaments of the Middle East:
overblown and often too loud. The Kenyans I encountered were extremely
courteous, gentle, and dignified. A smile and the Swahili greeting "jambo"
could get you very far, either with a bureaucrat, and policeman, or with
someone on the street you wanted to interview. During my daily visits to the
bomb blast site, I was often overwhelmed by the silence of the Kenyan rescue
teams, on-lookers, and soldiers.
This was a place that saying you were "Press" actually accorded you access to
cordoned-off areas without an argument. Although local politicians and
newspapers were incendiary in their calls for the U.S. to atone for its lack of
assistance after the blast, as well as its implicit guilt by bringing this evil
thing to Kenya, the people on the street refused to give us those negative one-
liners that we feed off too often. They were thoughtful and intelligent. The
Kenyan Muslims I spoke to at the Jamia Mosque did not even think of condemning
America for what had happened. Instead they spoke of the harmony of Kenyan
society, and the fact that Muslims had been initially blamed for the Oklahoma
City bombing. Kenyans on the street told us that the Americans had every
right to help their own people first -- they would have done the same thing.
I was most struck by something I witnessed on Thursday morning. It was cool
and cloudy at the site. The rubble had been mostly cleared away after
rescuers had given up hope of finding more survivors. Office workers were
lined up patiently to get into the still standing Cooperative building to
reclaim their personal effects.
And then, from down the road, a group of young Kenyans began to march and
sing, as they approached us. They were brandishing signs that I could not yet
read, as well as brooms and shovels. I expected trouble. Perhaps they were
going to confront the American investigators who had amassed around the
fenced-off embassy. We waited for them.
It was a brigade of Kenyatta University students. They walked right by the
barbed wire installed by the U.S. Navy. They were singing quietly, and quite
beautifully...Christian hymns. The signs they held would give pause to even
the most cynical journalist: "Sacrificial Lambs? NO!," "We thank the
International Community for their support." The group stopped before the
remaining rubble of the site of the secretarial college. People spoke. We
listened. All I remember is one young woman who gave a beautiful speech
without notes, perhaps begging forgiveness from those who died. "We're so
sorry," she began.
------------------------------------------------
POSTCRIPT -- OTHER FRAGMENTED OBSERVATIONS
- Watching the Israelis search and rescue team arrive on the scene,
immediately bringing much needed energy to the bomb blast site, with their
yellow helmets, sniffer dogs, and a single-minded determination to get the job
done. I have to admit to feeling a tinge of pride for them as I saw them trot
steadily from their vehicle to the pile of rubble. It was nice to be able to
flash my Israeli press card to Kenyan soldiers and be accorded courtesy that
even an NBC card couldn't get me at that point. They were definitely the
heroes of the day.
- Watching the Kenyan Red Cross workers bring a body down from the rubble, and
pass right by me. It was a man, most of his body covered by a brown blanket.
His bare legs, covered in dust, remained uncovered. I realized then how sad,
and unfair, this whole thing was. What could drive someone to do this?
- Spending most of the day at the site as rescue operations went on.
Clambering up onto the pile of debris as workers dug with their hands around
me. I found it difficult to associate any distinguishing characteristics to
the shards of concrete, bits of office furniture, and pieces of paper around
me. I had to really concentrate and use my imagination to picture what these
everyday items may have looked like intact. I recovered a green form from the
wreckage and pocketed it: "Branch Emergency Loans Only, Ufundi Sacco Society."
Maybe someone was filling it out at the time of the bomb. That night, when I
blew my nose, whatever came out was very grey
A Day Unlike Any Other, by Hanson R. Hosein, Producer, NBC News
TEL AVIV September 30: The sun had set. Three men stood at the head of the
room inside Beit Brodetsky, a synagogue for conservative Jews. Two of them
held the scrolls of the Torah -- the scriptures known to Gentiles as the Old
Testament. The congregation recited in one voice, in Hebrew: "All vows we
take, all promises and obligations we make to God between this Yom Kippur and
the next we hereby publicly retract in the event that we should forget
them..."
It is the "Kol Nidrei," a legal formula that allows Jews to annul all vows
they may make to God in the coming year. The idea is that it is a sin not to
fulfill such a promise. So, by relieving you of the obligation in front of
this symbolic court of three men, you are relieved of the guilt of committing
such a sin.
I stood with the rest of the congregation, struggling to read the prayer book
with my rudimentary Hebrew (luckily there was an English translation on the
other page), pondering this amazing concept of the absolution of guilt. It was
the start of the holiest of days in the Jewish calendar: Yom Kippur -- the day
of atonement.
My colleagues at NBC here in Israel had told me that my predecessor had once
said that every country should have its own version of Yom Kippur. This being
my first one, as a non-Jew and a North American, I have to agree. Beyond the
religious importance of this day ("in the seventh month, on the tenth day of
the month, ye shall afflict your souls, and do no work at all" -- Leviticus
16:29), it is an incredibly peaceful and introspective time. For twenty-four
hours, all of Israel comes to a halt.
In fact, I had to ride my bike to Beit Brodetsky, because once the sun went
down, no one was allowed to drive until sunset the next day. As a Jew, you're
supposed to deprive yourself of comfort and luxury on Yom Kippur as you atone
for your sins. All of the synagogue's congregants had walked to the service.
Most were dressed casually in simple dresses and khaki pants. Some were more
religious than others: one man, wore a dark suit and tie, but with sneakers
and a cloth belt (leather is considered a luxury).
As I left the synagogue after the two-hour service, I had to pedal around the
children who had flocked to the streets with their bikes and rollerblades. It
was their revenge against all the drivers who had deprived them of their space
and freedom during the other 364 days of the year. They had taken back the
streets.
This morning, I woke to...silence. I slid open my picture window that looked
out upon a busy main street, and the Mediterranean Sea in the distance. A
weekday, with no cars, no buses, no trucks. The air was entirely clear and
clean; the sea, bright turquoise blue. For once, I could leave the window
completely open, not having to worry about car horns, ambulance sirens, diesel
fumes, and dust. Then, I decided that I had to take advantage of this unique
opportunity.
I took my bike out and hit the road. I could not believe how relaxed I felt,
not having to worry about the traffic. It was time to be audacious, I turned
right and took the entrance ramp -- onto the highway.
In this way, I rode southbound, across the top of Tel Aviv, on a road upon
which vehicles normally roar by at 100 km/h or more. A few police cars did
pass me. Their lights were flashing, but they refrained from using the siren.
And they gave me the benefit of the doubt, and the road, leaving me lots of
space to ride in the middle lane of the highway. A couple of civilian cars
also drove by. I wondered whether they were on legitimate emergency
business, or transgressors, taking advantage of the early hour, thinking that
most religious people were either still asleep or at morning service. Two
teenagers rollerbladed ahead of me, and then exited on Laguardia Street.
I took the next exit -- Bat Yam -- and found myself in southern Tel Aviv. The
streets were entirely empty. I stopped to take in the silence. I noticed that
there seemed to be more flies than usual. I suppose that unmolested by
pollution and people, they feel free to take to the skies and look for garbage
that has not been picked up because of the holiday.
I have had to struggle to find metaphors to describe this day. There is a
certain post-apocalyptic feel to Tel Aviv on Yom Kippur. It is hard not to
think that -- with a few people walking the streets with their prayerbooks,
kids running amok, shops and offices shuttered tight, cats reigning supreme in
the alleyways -- the end of the world has come and gone. But that is too
negative of a comparison to draw. Let us just call it a surreal, somber, day-
for-night feeling, which everyone should have the chance to experience -- if
only once a year, or just once in a lifetime.
THE WEST BANK, FRIDAY, NOVEMBER 21, 1998
I had so far drawn a blank on how to make this story any more interesting than
the slew of hundreds of other stories we had done before about the
interminable, sometimes interesting, often repetitive Palestinian-Israeli
conflict. Today was the day that Israelis were finally set to start pulling
back from a whole two percent of the occupied West Bank. What could be shown
and told that hadn't been done before?
I set out from Tel Aviv with the camera crew -- Jeff and Levy -- at 8:30 a.m..
It was a beautiful Friday morning: the sky became progressively more blue as we
headed northeast up the coast, and then through the hills of lower Galilee.
Reminding myself that 23 degrees Celsius (about 70 f) and sunny was undoubtedly
better than the weather I would be submitted to in either Europe or North
America at this time of year, my mood improved slightly.
As we crossed the "Green Line" (the almost imaginary boundary between Israel
and the West Bank), we began to encounter heavier traffic, and our media
colleagues who were already stopping along the way in this journalistic
scavenger hunt to pick up soundbites and elements that would help illustrate
the momentous pullback. Three cameramen would surround some hapless
Palestinian posing in front of a newly minted red sign in Hebrew and Arabic
proclaiming how this particular land had transformed into "Area A" from "Area
B." Four-wheel drive vehicles and Volvos rented by the foreign press would
pull over to the side anytime their occupants saw an Israeli military vehicle,
or a flatbed truck hauling out the washing-machine size yellow and brown
concrete blocks meant to delineate the newly expanded territory of the
Palestinians.
Feeling sorely tempted by the monkey-see, monkey-do attitude (we are
journalists after all, and our main insecurity lies in missing "the story,"
hence our pack mentality ), we soldiered on, albeit reluctantly, knowing we
could rely on the AP and Reuters for their generic agency pix of the day.
Around 10:30 a.m., we pulled into Qabatiah. This town of 17,000 people is
nestled between hills in the Dotan valley, nearer the larger city of
Jenin. It's famous for its agricultural industry, for being the source of
the bleach white "Jerusalem stone" so pervasive in the Holy City
("Qabatiah stone" is much less exotic-sounding I suppose), and for being
the site of the first lynching of a Palestinian collaborator during the
Intifada (he was strung up on a telephone line for having worked with the
Israeli army).
Hundreds of people had gathered along the main drag of town. They were
waiting for the triumphant entrance of the Palestinian police, which would
symbolize the transformation of Qabatiah from occupied area to an
autonomous area under full Palestinian rule. Friday being the Muslim
weekend, residents were taking advantage of their day off, and the great
weather, to come out and celebrate. They were all in an ebullient mood
and were happy to talk to us. One young man spoke to me in perfect, if not
flowery, English. He had decided that it was his "duty" to help the
visiting journalists get acquainted with his town -- which he did
willingly, without expecting anything in return.
There are some huge advantages to covering this part of the world. Israelis
are exceptionally media-savvy, always have an informed opinion, and are
usually quite happy to share it with you at any time -- which makes our job
much easier. The Palestinians are far less sophisticated, but make up for it
with their incredible warmth and hospitality. Without fail, anytime I'm in a
Palestinian area, someone will come up to me and ask, "Where are you from?
Are you Hindu?" Depending on the situation, I'll either confess to my working
for American television, or my Canadian nationality. Their smiling response is
usually, "You are welcome."
Another helpful Palestinian dragged me away from a conversation I was
having with a couple of men in a blue Mercedes, just as I was about to
give up on hanging around for another two hours to wait for the police
procession. "I have someone who speaks good English," he told me in his
own pretty good English. He took me across the street to the, wait for it,
"Qabatiah Billiards Hall and Coffee Shop."
Inside, the rules are posted on a large sign in Arabic: no gambling, no
playing for free games, no standing around and watching the games. The
unwritten rules were, no alcohol served, and no women.
About thirty young Palestinian men were sitting around the three pool
tables watching their friends play, at a cost of 50 cents a game. Some
were excellent, sinking balls decisively and forcefully -- the ball
springing up one last time in the pocket, almost incredulous that it had
succumbed so easily, before moving on to its final resting place. Others
scratched their shots mercilessly, occasionally making the white ball a
projectile which you could hear bouncing on the floor from time to
time. But they could be forgiven for their lack of experience as they
played a watered-down version of American eight-ball -- the Qabatiah
Billiards Hall and Coffee Shop had only been open for a week, the only one
of its kind in town, and conceivably, in the West Bank. I had found my
anecdote.
Thirty-five year old Maher Al-Hag Hasan owns the club. Hasan is a man of the
world, having lived most of the last fifteen years in India, Bangkok and Tokyo
(he has an Australian girlfriend in Japan). He greeted us warmly, and
immediately declared his entire three-roomed premises to be ours. We were
served delicious, thick and black Arab coffee, as well as freshly made apple
shakes. He sat us down in the back room, with a view of the pool room, on
pink plastic chairs. Later, he would put on a Jean-Claude Van Damme
kickboxing movie on the VCR (dubbed down many generations, with Hebrew
subtitles), for the young men who eventually joined us in the back.
We spent an enjoyable two hours with Maher, as he explained in fluent English
(I swore he had a Swedish accent, as he punctuated his phrases with "yeah?" and
"sure") why he had come back home, after having seen so much of the world.
Like most Palestinians, he wants his own country. "When you have a country,
you'll be more respected, sure, you'll be more free, you'll be a free person,"
he said.
What intrigued me most was that the Israelis had denied him a license for
his establishment, fearing that young Palestinian men congregating in one
place were most certainly up to no good. It was only after the
Palestinian Authority established civilian rule that he was able to get a
license. For Maher, this was the freedom and opportunity that the future
Palestinian state promised. For his clients, they had gone from being
hardened throwers of stones during the Intifada, to contented shooters of
pool and viewers of American action movies.
"It changed not only my life, but the life of many people here," Maher told me.
We had given up on waiting for the Palestinian police calvacade and had
started to drive out of Qabatiah, after having exchanged warm good-byes
with Maher, when we suddenly passed two baby blue jeeps stuffed with
20-something Palestinian policemen with square jaws and Kalishinikovs
pointed upwards (in a silhouette, it would look something like the
Charlie's Angels logo, with firearms pointed askew). We made a quick
U-turn, and followed them back into town. An instant traffic jam ensued
as the people swarmed around them jubilantly. Being young men with guns,
the police in their shades-of-blue-camouflaged-pajama uniforms got caught
up in the moment, and started firing willy nilly into the air. Spent
cartridges flew to the ground, nailing a few supporters in the head;
people watching from their rooftops, instinctively ducked, knowing from
experience that bullets from the air eventually have to land somewhere. A
commanding officer yelled at them to stop firing, which worked, for a
while. We caught up again with Maher who had come out to watch.
He was so emotional, he could barely speak. "It's a big day, it's a very big
day," he said.
Crossing back over the Green Line on our way to Tel Aviv, Israeli security was
being more diligent than usual. When it was finally our turn, the soldier
looked at me on my cellphone, Levy in the back seat, blonde mustached-Jeff in
the driver's seat, in our Israeli-licensed utility vehicle -- a sight that
screams "ISRAEL" -- and had the insight to actually pursue a line of
questioning that began with, "Where are you from?"
Jeff just looked at him and said, "Mars." They both smiled, and we were waved
through.
FACIAL HAIR IN THE MIDDLE EAST
What bothers me most about international travel is airport security. Although
I'm a television news producer with a relatively clean record, I still find
myself getting a little self-conscious when it comes to crossing foreign
borders. That's because I have a dark complexion, fast-growing facial hair and
an Islamic-sounding last name. It has gotten me into some trouble in the past,
and it continues to do so, especially because I am presently based in Israel
for my news organization. In this part of the world, your Canadian passport
only gets you so far, and then after that, you are merely suspicious along with
the rest of the swarthy. Which was why I always shaved just before getting on
a plane.
So why did I do it? Why did I grow a beard? The last time I had sprouted a
dark thicket of facial hair was during an exceptionally cold winter in Montreal
while I was still a student at McGill. I got rid of it then because icicles
had begun to form on my chin when I went outside. But now was different. It
was time to take a stand. If border guards already suspected that I was a
terrorist, then why beat around the bush? Let them target me at first sight.
I would relish the challenge, even if it got me into even more trouble.
The event that set off my defiance occurred just before Christmas. I had
driven my car to Tel Aviv's Ben Gurion airport, where I was going to leave it
while I was away. But before I could even get to the terminal, Israeli
security officers pulled me over in my car, after having examined my passport
at the checkpoint, and noticing my last name. Despite my having lived in
Israel for over a year, working for an American network as a journalist, and
being a Canadian, they insisted, over my protests, on searching my bags, my
person, and my car (engine, trunk, and upholstery for traces of explosives). I
was furious, hence, the catalyst for the beard.
Upon my beard's premiere, after my return to Israel, I felt like a terrorist
walking the streets of Tel Aviv. Were people looking at me? Did women clutch
their purses a little tighter? Were those security officers at the entrance to
shopping malls searching through my bag a little more carefully? It was almost
a relief when I had to travel to Jordan to cover King Hussein's return. A
Jordanian colleague of mine had once told me that not to have facial hair was
effeminate. So off I went with a two-week old beard into the land of the
bearded and free, where the much loved monarch and I even shared a similar-
sounding name.
But upon my arrival in the Hashemite Kingdom, I was picked up by a cleanly-
shaven Jordanian driver. And the majority of men whom I met during my
assignment there were either of similar countenance, or had neatly trimmed
mustaches. I began to worry that I was looking a little unkempt with my
straggly beard. Even in the Arab world, I was an outsider.
And when we returned to Tel Aviv, Israeli security could not be less interested
in me. I even passed through security and customs faster than my Israeli-born
cameraman. I was beginning to feel a little foolish, especially when many of
my friends were telling me how good the beard looked, including my chic Israeli
hair stylist.
The icing on the cake was my solo encore at Ben Gurion Airport, as I was set to
depart for Rome one weekend. By now, my beard was full and menacing, or at
least so I thought. The men in uniform barely looked at me as I drove by
them. The guy who took care of my car at the Hertz parking lot thought I was
Italian, a fellow passenger asked me if I was English, and the woman at the
duty-free check-out counter assumed that I was Israeli. To add insult to
injury, it took me five minutes to pass security at the airport in record time
for those who are familiar with the stringent security procedures there, where
interviews can last up to an hour and culminate in a strip search.
So maybe I was wrong all along with my hang-up about having facial hair.
Perhaps I even look less menacing and more distinguished. I had called my own
bluff, and my fears and assumptions had been totally unjustified. But I wager
that my social life will suffer, I hear that women hate men with beards...
Death of a King
My brother Ian remarked insightfully over the weekend that either, I was very
lucky, or just a bad luck charm. Two royal funerals in less than two years:
Hussein and Diana, and on both occasions, I was a witness at the end of the
road for both of these larger-than-life figures: Althorpe in September 1997 as
Diana's hearse passed me by, covered in flowers, Amman yesterday as the King's
coffin was lifted by eight Bedouin soldiers from a truck bed, also layered in
flowers and wreaths.
I was close enough to catch the fragrance as the truck passed by. But my eyes
were fixed on the calm stateliness of the proceedings. Hussein's four sons
were there, faces stoic, their arms linked. And then their brother, the new
King Abdullah, joined them. The red kaffiyeh wrapped around his head seemed
longer and more ornate than the others, but that may just have been my
imagination getting the better of me. It was difficult not to be impressed by
a King, and the successor to Hussein at that.
But even Abdullah could not keep my attention for long. I have been in the
presence of heads of state before, maybe one or two at a time. However,
yesterday was a moment rarely seen. It was a casual orgy of who's who in the
world. As I stood there outside the gates of the Raghadan Palace I watched
Prince Charles, Hafez Assad, Bill Clinton, Jacques Chirac, Tony Blair,
Binyamin Netanyahu...and an ailing Boris Yeltsin in his boxy black Zil
limousine...a few feet in front of me. Many of these people would not
normally find themselves in each other's company, at least in public. But they
found the will to all show up, without their usual accoutrements and formal
hang-ups -- Khadaffi's son was staying a few rooms down from me at my
hotel. These were just people, who happened to be in charge of small and big
countries alike, popping by to pay their respects to a man who had charmed the
world.
For me, this assignment in Jordan was surreal. I had spent the last few weeks
waiting to see what would happen to the King. It was only three weeks ago
that I had been standing in the cold rain, waiting for King Hussein to drive by
in his motorcade, his triumphant return to his kingdom after his six month
absence due to his cancer affliction and treatment in the States.
I was so used to people's cynicism about their governments during this end-of-
the millennium seen-it-all-before phenomenon, that it was refreshing to speak
to the Jordanians who had lined the procession route that day. They told me
that it was their returning King who had brought the rain -- that it was
actually good omen: precious drops so sorely needed during a winter drought in
this desert kingdom. They spoke with genuine emotion about the love for their
king. There was no anti-democratic coercion at play here, Hussein's people
adored him. Even the Israeli camera crew I was with were enamored, saying that
if King Hussein ran for Prime Minister of Israel, he would capture twice the
votes that Bibi would. And then when the King's motorcade drove by, His
Majesty standing on a platform at the rear of a vintage white Mercedes,
assailed by the wind and rain, the three hours we had all waited to see him for
a mere ten seconds, all seemed to be worth it. The photograph that I took at
that moment captured the magnetism of the man: clearly focused at the center of
the frame, King Hussein with his kaffiyeh bundled around his face, wearing an
anguished look, and everything else, a blur.
And the day he died, it rained hard again. Jordanian TV suddenly switched
from regular programming to prayers from the Koran, the first sign. I called
our New York office to let them know, and minutes later we confirmed it with
our sources at the palace. And just like that, the mood around us changed.
Moufaq, our tough local fixer had tears in his eyes as he tried to cater to
our breaking news demands. The hotel staff suddenly sprouted black ribbons on
their lapels, affixed by golden crown pins. As we moved into a frenzied state
of live shots, crashing stories, and figuring out when the funeral was going
to happen, the rest of Jordan seemed to slow down as it became somber and
solemn. And today, the day after the funeral, life is slowly returning to
normal, as the sun shows itself for the first time in nearly a week. In the
end, I must admit, I was very lucky to have seen all of this.
IN ISRAEL, LIFE'S A BEACH by Hanson R. Hosein
I'm a British-born, Canadian national with an Islamic-sounding last name,
and parents who were born in Trinidad and Tobago. To make matters more
confusing, I'm a journalist who works for an American news organization.
I barely speak Hebrew, and have lived in Israel for nearly two years.
Come to think of it, this all-over-the-map background more than qualifies
me to write commentary about what it's like to live in this eclectic and
perplexing country as a foreigner. I must admit that the relationship
between myself and Israel is one of Love-Frustrate -- it's a crazy,
interesting, endearing, annoying place to live. So with that
understanding in mind, yallah.
I would think that my tour of duty here has made me an expert on what it's
like to live in Israel. I can more or less reconcile myself with the
endless security checks, the incompetent drivers, and the aggressive
personalities. I like the modern, cosmopolitan life in Tel Aviv, the
weather, the modern amenities, and the people. But as each day passes, I
know that living here is not that simple. This place is unlike any other.
Indeed, I continue to rely on a number of travel guidebooks to navigate
this country's sites and culture.
For example, the introduction to the most recent edition of the Rough
Guide to Israel reads: "Sooner or later...even on the most hedonistic
beach vacation, you're going to come face to face with the complexities
and contrasts of a region that eludes easy definitions."
Coincidentally, I was reading that paragraph as I was lying on the beach a
few Sunday ago. As a consummate North American, I insist on maintaining
my traditional Saturday/Sunday weekend. Besides, it gives me a day of
freedom as the rest of the country rushes around on the first day of the
week.
The rest of the country that is...except for the hundreds of
Ultra-Orthodox women who had flocked with their children to the religious
beach in northern Tel Aviv. They arrived in buses, vans, and cars packed
with kids, probably looking forward to a day of frolicking and fun after
Shabbat.
Access to this part of the beach is blocked off by a wall, to preserve the
modesty of those who choose to partake in an afternoon of frivolity, but
still want to adhere to their orthodox lifestyle. But that didn't stop me
from being exposed to them as I faced their beach a few hundred meters
away, lying on a strip of sand that jutted out from the mainland behind
the Hilton Hotel.
I watched incredulously as more and more of them settled onto the beach.
From a distance, they looked like multi-colored ants at a picnic. And at
that point, the contrast between my situation and theirs became even more
pronounced.
Our lifeguard barely paid attention to us as we waded into the neck-high,
but sedate waters of the Mediterranean. Meanwhile, across the way, the
lifeguard policing the religious beach sounded like a 1930's radio
sportscaster as his voice screeched constantly in Hebrew through a
megaphone at the women and children in his care. He seemed to be
genuinely concerned that they would drown the second he stopped
admonishing them for their poor swimming abilities.
"Lady, if you don't watch all your children today, I'll tell your husband
tomorrow," he threatened one mother, knowing full well that the religious
men's turn to hit the surf would come the next day.
"Mrs. Greenberg, your son is here...Mrs. Greenberg, your son is crying..."
And then suddenly, a youngster's voice cries out on the loudspeaker,
"IMA!!!! [Mama!]"
Throughout this cacophony, the inhabitants of my beach appeared to engage
in more and more sinful behavior as the afternoon wore on. In fact, it
almost seemed as the closer the swimmers and beach bums go to the
religious beach, the more decadent they became. It was like an adverse
reaction. Gay men touched each other affectionately in the water. A few
women pranced around in g-string bikini bottoms. Some even sunbathed
topless. But most amazing of all, both beaches had no difficulty in
coexisting peacefully -- albeit with a great deal of din -- and
separately.
The symbolic possibilities were numerous: call it Tel Aviv versus
Jerusalem, the religious versus the secular, the God-fearing and the
sinners. Or perhaps, just a more simplistic North American explanation:
no matter what you might believe, everyone loves the beach.
It was if I had died and gone to Wisconsin. This place is damp,
dark and cold. Its flat geography is adorned with clumps of pine
trees, large Wal-Mart-type stores and burger joints with
drive-thrus.
But this is not Wisconsin. And it is clearly not Israel. This
is a place where taxi drivers are polite, don't expect to be
tipped, accept credit cards (which can be approved via a quick
wireless link to the local bank), and refuse to drive over the
speed limit. Here, people are pale, thin, withdrawn, law-
abiding, courteous, and show their true colors at the breakfast
buffet in the morning when it becomes full-body contact
all-you-can-eat. This, is Finland.
I'm here in the land of department stores brand-named "KKK" and
young blonde female janitors to do a story about the largest
cruise ship in the world, the "Voyager of the Seas" as it sets
out on its maiden voyage to Miami. I wasn't crazy about doing
another "largest cruise ship in the world story" as I had
done one last year, in Barcelona and it turned out to be a lot
of work as we scramble around a leviathan of ship trying to get
everything shot in two days.
Still, I thought a bit of time in a Nordic country wouldn't be
such a bad thing. I half expected my Finnish-made Nokia
cellphone and Suunto wrist "computer" (that's what the
manufacturer calls it, because it's blessed compass, altimeter,
barometer) to rejoice upon my touching down on hallowed Finnish
soil and break into Sibelius' "Finlandia", happy to finally end
their involuntary exile. And aren't these the things this
country is best known for?
But nothing of the sort happened. Instead, I observed the
Finnish shipmaker Kvaerner-Masa put the finishing touches in an
incredibly efficient manner on this $600 million vessel in its
shipyard. I couldn't help but marvel at the irony of such a
conservative, small nation contributing to the "more is more"
grandiosity of this clearly American, floating version of Las
Vegas. I snickered when I heard European journalists question
cruise line executives at the press conference: why are the
non-sea view rooms that look out on to the SHOPPING MALL of the
ship more expensive? why not a two-week cruise through the
Caribbean instead of one (code for "who takes only a week
vacation?" deciphered into not Europeans who get more time off
than retirees in Florida)? And why so BIG?
I have to admit that I was perfectly content with my assigned
room aboard the Voyager of the Seas: cabin 1260, deck 10 -- a
huge 5-star room with balcony overlooking the port, a king-sized
bed, couch and love seat, and a fairly nice bathroom. Along
with the largest restaurant in Europe, the largest slot machine
on the seven seas, the La Scala theater (larger, of course, than
its inspiration and namesake in Milan) the ice skating rink, the
rock climbing wall, the Leonardo de Caprio "I'M KING OF THE
WORLD" photo opportunity space at the bow of the ship (doubles
as a helicopter landing pad), three miles of deck space, and
probably the shortest cruise ship captain in the world (at 5
foot 5, Svein Pettersen from Norway) this thing is clearly Over
The Top.
But don't cry for me Argentina, or for that matter, Kosovo or
Turkey -- this ended up being a difficult, challenging and
premature assignment. Upon our arrival, although the ship was
intact, much of it was just not ready for prime time. That left
me with the unenviable task of justifying NBC's faith in
splurging on this story (they love cruise ship anythings, and
saw this as an "exclusive" look at this ship before it went into
service). There were no passengers, the wedding chapel and the
Royal Suite were still being built, workers in candy-colored
hard hats got in the way of every possible shot. How were we
supposed to do this story about this luxury Caribbean cruise
liner with the low cloud cover, perpetual dampness and the
constant interruptions over the PA as they tested the
loudspeakers in absolutely every room and cabin on board? It
took us three tries to interview the president of the cruise
line, as each time he would launch into something pithy, we
would be cut off by the unintelligible Finnish language. I knew
the announcements were for the welfare of the ship and its
passengers, and that they were saying nothing more
than "testing, one, two, three." Still, as our frustration
grew, I decided that it sounded more like "toxic testicles are
NOT for Liza Manelli." Or something like that.
Okay, it was still fun to see a bit of this part of the world.
And I was happy to catch the last bit of autumn here. Living in
the Middle East, I really do miss the change of seasons (and
efficiency and customer service, and...).
The food on board was quite tasty, especially what I suspected
were reindeer ribs in barbecue sauce. The multi-ethnic crew
were exceptionally courteous, cosmopolitan and smart, recruited
mainly from developing countries (where the labor force was
either happy to put up with hard work and low wages, or was
just looking for a way to see the world for free -- something
that a Liberian-flagged ship could exploit as it circumvented
strict U.S. labor laws), which includes India, the Philippines,
Jamaica, and even Quebec (I know cheap shot, Montreal is
booming... ). And they were more friendly than the Nordic
breakfast crowd at the Naantali Resort and Spa. One evening,
when I went to get a bottle of water in the galley the woman who
was policing their distribution asked me where I was from. I
couldn't tell whether she was wondering about my professional
affiliation or my origins, so I guessed correctly and
said "Trinidad and Tobago." She beamed appreciatively and said
that she knew it the minute she saw me. She then proceeded to
point out how she was dressed in the colors of our shared
nationality: red, white and black.
The greatest attraction of this assignment was that I was
supposed to sail on the Voyager of the Seas for the first 48
hours and get off in Denmark before it continued on to Miami.
But a delay in departure (caused by high winds they say, caused
by unfinished business I say), and Nightly News' desire to make
this a breaking news feature for Monday night compelled us to
wrap things up before it set sail. That meant having to get up
early enough to get off before they did away with the gangway
for good. Which left me in great fear the night before that I
might NOT miss the boat. Which isn't a particularly
proper journalistic concern, is it?
I was surrounded. Palestinians ahead, Israelis to the left and right. I
couldn't be too sure who was on my side and who was against me. My shirt
was soaked with perspiration, although it was more a product of exertion
than from anxiety. Happily, I was not in mortal danger, but I was under
attack.
The predicament was my own doing. I had opened the Pandora's box. Up to
then, my presentation to the twenty Israeli and Palestinian journalists
had stuck to basic pre-production news skills - the art of research, the
pre-interview, and character selection -- showing them my old stories
about how Nigerian con-artists were ripping off innocent Americans, and
about landmine victims eking out a living in Bosnia. But then, I decided
that my parting shot should be about objectivity, and I showed them a
story that pitted Israeli settler against Palestinian farmer on the West
Bank. I had thought it was a fair story and an interesting one: two
former New Yorkers - American citizens - who were now fighting over the
same land, both believing they were right. But many people, especially
the Palestinians, begged to differ.
"I think this story is a nice story, but it's not nice as an issue," was
the first response.
"The comparison between a settler and one who is native, this is not
good," another Palestinians participant said. "It's not fair. He is
living in a settlement on the West Bank. He's not from Tel Aviv. It is
not a good comparison."
"On both sides we are always very sensitive about how we are projected.
And we have to admit that we can't be objective about it," a seasoned
Israeli TV producer said. "For me it was too much equal, it was too much
contrived. In television, I would rather have something that is not so
equal, and have more of a story."
I wasn't going to win with this one.
"They made the settler legitimate, and he's not, in the eyes of most
Israelis as well," and Israeli woman said. "It enabled me to see
something that I had not seen before."
At least there was something positive they could take out of this
particular example: both sides agreed that it was not the kind of
sensitivity they would have used to make such a story. So I too learned
something in the process and my skin got a little thicker.
It was all part of an ambitious effort by the Tel Aviv-based Peres Center
for Peace to help teach skills to the staff of a joint Palestinian-Israeli
talk show for teenagers. "Meeting Points" is co-hosted by two young
people who speak in both Hebrew and Arabic to a mixed audience. They
discuss heavy issues like terrorism, children in war, poverty, and
culture, and will hit Israeli television next month. As a foreign
journalist, I was ask to present a seminar that was part skills-oriented,
part opportunity to have both sides in the room in an educational
atmosphere to air their opinions, and as I found out, grievances.
"The American media always misunderstands the Palestinians," a
well-traveled participant said. "You feel that it will never be fair."
To everyone's credit, the discussion never got out of hand, no one ever
raised their voice in frustration or anger. These were people who were
still getting to know each other and were happy to talk it out, speaking
freely, with eloquence and sharp insight.
I realized that the Israeli media tradition is quite similar to the North
American one: good pictures, graphics, short soundbites, conflict, lots of
reporting. The Palestinians are building their journalism institutions
from the ground up, and they sometimes have a different perspective on how
to do things.
They were very sensitive to bias, and felt that in any news story, all
points of view should be represented. That afternoon, my German colleague
from RTL showed a traditional piece about Israeli settlers on the Golan
Heights protesting against their own government about any potential peace
agreement with the Syrians. But the Palestinians immediately jumped on
the fact that no one had bothered to speak to the Syrians, the Palestinian
refugees in Lebanon, or the Druze Arabs who now lived on the Israeli side.
They wanted to pack it all into one story - something that I thought would
have muddied the issue, making it more complicated for the viewer to
understand. It would have also expanded the piece into a ten minute
documentary. Still, it was a worthy point and showed that they were not
interested in creating simplistic stories for an audience with a short
attention span. Even more interesting to me was how they insisted that
the traditional Western media practice of omitting graphic violence when
talking about war or terrorism was not objective either - that life was
harsh, and we had a duty to show it.
Frankly, I think I may have learned more than the attendees did, and it
was a more inspirational experience than I could ever imagine. These
people were also visionaries: trying to promote co-existence and
normalization between two nations who were exceptionally mistrustful of
the other. That made their job far more difficult than mine could ever
be. How could you persuade interview subjects hostile to the other side
to cooperate with the program if, for example, there had just been a
terrorist attack, or negotiations had broken down and the border to the
West Bank had been closed?
"It's very difficult because not all the people are happy to work with the
Israeli side," said one of the Palestinian participants. "It's a big
problem we have."
Amazingly, they persevere. Five years ago, many of these journalists
would never have thought they would be sitting together in the same hotel
room in Tel Aviv. Take Fadil for example. He was a PLO fighter in the
1960's, his family refugees from Jaffa, victims of the 1948 war between
the Arabs and the Israelis. He smuggled weapons from Syria along the
Mediterranean coast, and got caught on this third attempt - and spent
fifteen hard years in a prison in Israel for his efforts. Now, he acts as
a conduit between the Palestinian and Israeli police and writes novels
about his past life (one book has been printed six times in Jordan). He
believes strongly in peace, and wants "Meeting Points" to be a success.
And today, he's happy to sit at the same table with Israelis. Also
neither he, nor his colleagues, minded talking to an itinerant Muslim such
as myself when I finally revealed my family name, but confessed to not
knowing very much Arabic.
"Then you don't read the Qu'uran!" one woman said. I was on shaky ground.
"I know, it's terrible," I replied. I figured that confession was the
only defense for my lack of faith. Thank goodness they all laughed.
As far as experiences go as I enter the third year of my assignment in the
Middle East, this was an amazing one. It was a chance to meet people who
do the same work as me, but face much greater obstacles in their quest for
peaceful co-existence and dialog. When it was all over, I received a
great many invitations: to produce a documentary, to visit studios, and to
go for coffee in Ramallah. I think I may accept them all.
MAY 18, 2000 on the Lebanese border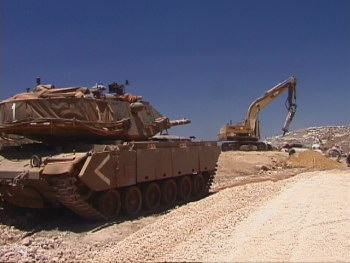 A BRUSH WITH KATYUSHA ROCKETS (FROM MSNBC.COM)
Hanson R. Hosein, NBC News Producer (Tel Aviv)
(LIVNE, Israel): I was getting impatient. It was already mid-afternoon, and we still had to do a few more interviews before tackling the arduous two and a half hour drive from Israel's northern border with Lebanon back to home base in Tel Aviv. But NBC cameraman Chaim Dekel insisted on
getting a few more shots of the Israeli army's fortification of the border in preparation for its impending pullout from southern Lebanon, after twenty years of unsettled and tense occupation.
I got out of our four-wheel drive vehicle to prod Chaim and soundman
Amikam Cohen to wrap up quickly. As I walked by two camouflage-green
tanks parked along the side, I noticed that an Israeli officer was
speaking fervently to our tall, imposing cameraman. I wondered whether we
had outstayed our welcome, and that we were being asked to leave. After
all, what government in its right mind would allow a nosy news crew to
poke around a sensitive military construction site in clear view of a
number of Lebanese villages as it erected electric fences and concrete
bunkers?
Half-expecting a reprimand myself, I was instead surprised to hear a sharp
explosion detonate unsettlingly close to us.
"Katyushas!" someone yelled.
We were under fire - the dreaded Katyusha rocket, the deadly weapon of
choice of the Syrian-backed guerrilla army Hizbullah, was being used once
again to strike fear against the residents and soldiers along the northern
border. The first rocket struck the place where we had been taping only
five minutes ago. A puff of smoke rose from the mound of dirt.
Everyone ran for cover - wherever it could be found. Amikam is built like
a truck, but he somehow managed to fit into the front-end shovel of a
yellow bulldozer that was parked near our vehicle. It looked like a safe
place to me, facing away from the direction of the rockets, so I joined
him. We temporarily lost sight of Chaim, but I suspected that like most
experienced overseas cameramen, he felt a certain obligation to shoot what
was going on - albeit from as safe a position as possible. Thankfully,
NBC News policy was quite clear in this situation: no one should lose
their lives for the sake of a story.
Our editor, Paul Goldman, had decided to join us on our outing. He wanted
to get out of the office and get a sense of how we worked. It was a good
idea, because Paul is a genius with news footage, and if he could also
give us a sense in the field of what he liked in the edit room, all the
better. It also turned out to be a bad idea as I watched Paul jump for
cover into the ditch near our vehicle.
The incoming rockets sounded like gunfire. I was unable to see them land,
but as they got closer, I could feel the ground shake. Amikam decided to
take advantage of the intimacy of our confines in the shadow of the
bulldozer to explain that the army officer was trying to tell us to leave
as soon as possible because he had just received a radio report about
incoming Katyushas. The warning had come too late. It takes less than a
minute for the rockets to fly their arc-like trajectory over the
Israeli-occupied twelve-mile "security zone" (established to protect
northern border towns from guerrilla attacks) in southern Lebanon to hit
inside of Israel.
"PSSSSSSSSSSSSSS!"
We could now hear the whisper of the rockets as they streaked through the
air. The seventh or eight explosion managed to spray dirt and gravel
against my leg. We pushed further against the bulldozer and yelled at
Paul to join us. He ran towards us, and we all squeezed in together.
Perversely, I found myself patting myself on the back for having had the
foresight to have changed into more outdoorsy clothes before I left my
apartment this morning. I was coated in dust and dirt. Less perversely,
I was afraid. We all were. We didn't know where the next Katyusha would
hit.
The next one landed very close - about thirty feet from our position. I
saw a dust cloud rise above us to the right. I was worried that we would
actually see the following salvo, perhaps as it even hit our vehicle. Not
for the first time during my career as a journalist, I was reconsidering
my choice of profession.
Then I heard a deep explosion in the distance. The Israeli Air Force was
bombing the Hizbullah. For now, there would be no more Katyushas.
I saw Dekel run for the four-wheel drive, his trusty camera still hoisted
on his shoulder. I knew he had gotten something. He started the engine
and yelled us to get a move on. We crawled out of our improvised shelter
and started for the car. But Amikam then turned back.
"Hanson, my cellphone!" he yelled at me.
Amikam had lost his mobile telephone in the melee. I could not believe
that in a volatile situation like this, he was actually concerned about
recovering a possession. Then again, it was company property, and if
nothing else, Amikam was a true professional. I was about to dial his
number with my cellphone to see if we could somehow hear it ring in the
maelstrom, but luckily I was saved the effort by a construction worker who
found the phone nearby and handed it to our intrepid soundman. We ran for
the crew car.
We made it to the nearby border village of Zarit where people were just
beginning to surface from their homes. We met Shimi Biton, a twenty-five
year old who had lived all his life in this tense area. I had a newfound
appreciation for the people who had decided to make the northern region of
Israel their home. To live under such conditions for over a decade seemed
to be intolerable - bomb shelters for basements and the constant fear of
attack. Nonetheless, Shimi told me that Israel had to withdraw from
Lebanon. Ethically, it could not occupy another nation, even if guerrilla
forces continued to threaten his home and refuse to recognize the
existence his country. Almost in passing, he told me that his father had
died fighting in Lebanon. It was crucial to make sure that no more
Israeli soldiers lost their lives on foreign soil.
As Israel withdraws from southern Lebanon over the next two months, the
Hizbullah has made it clear that it plans to make the occupying army's
departure as harsh and difficult as possible - to make it look less like a
pullout and more like a retreat under fire. It has all the makings of a
difficult summer.
The radio relayed news of the attack as I headed back to Tel Aviv with my
colleagues. We were all relieved to have escaped our ordeal unscathed,
and determined to enjoy the spring, while we could.
#30
And my horoscope for that day:
Aries: Things may get a bit out of hand today. Expect a time of dealing
with explosive control issues. Do your best to stay calm as events back
you further and further into a corner. Getting angry or losing your temper
will only make matters worse. Don't give up -- there may still be a door
or window that will provide an easier escape. Listen to your intuition
when dealing with a difficult personal situation this evening.