Montana

August 2002
Write to pictures: this is the tenet of broadcast television news composition. So when you have such great material as we did when we went to Montana to visit Heather's sister and our newborn niece, you choose the images first -- what you write will merely be the 1001st word to the thousand the pictures have already provided.
It's true what they say. This is "Big Sky" country. In Kalispell, in northern Montana, I could try to explain this visual phenomenon this way: the valleys are wide, the mountains that flank them are precipitous, and all elevations reach for the stars. That's brings us closer to the sky and hems you in with blue, grey and black, left, right, center and above.
Every evening, I would build a fire outside of Melissa's house to keep the ferocious mosquitos away and to grill the occasional sausage. And I would sit there for a few hours. And enjoy the show. I watched weather come and go in the guise of fast moving clouds, rainbows and showers in the distance. Then the sun would set and all would turn to gold before fading to black. Later, we would return to our room at the fabulous and hospitable Grand Hotel and Heather would tell me that I smelled of fire: my musky mesquite that had warded off the mosquitos had stayed with me. She didn't mind.
We must have become westerners at some point in the last year because we hardly noticed the beautiful scenery along the way during our nine-hour drive from the B.C. Okanagan to Montana's Flathead Valley. Valley to Valley you drive through mountain ranges, thriving towns, dying towns, farming communities, construction zones, border crossings, all the while cursing the seniors and their bus-like RV's, the bike rack that wasn't built for such a long journey and the dog who sits in the back and wonders where this is all leading.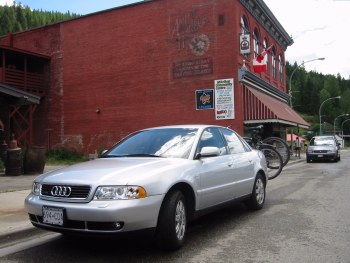 Scenery may no longer the highlight in our journeys east. But we always look forward to stopping off in Greenwood, B.C.. This former mining town is trying hard to rejuvenate itself for the tourist trade with its turn-of-the-century architecture (it bills itself as Canada's "smallest city" and where scenes from "Snow Falling on Cedars" were filmed). But a third of the homes here are up for sale, the resources economy and a spendthrift provincial government may just make it a picturesque ghost town. We like it here. Especially our regular stop at the Copper Eagle Cappuccino and Bakery, where we pick up some coffee and nanaimo bars. This time, we had lunch at the Greenwood Inn and Saloon beforehand. I told our server that we had never seen the street so full of cars during the five times we had been through here this year. She wondered why anyone would ever bother coming through her town that frequently. She said she's trying to get out, and will probably head towards Kelowna by winter. The only thing really booming in Greenwood is probably the real estate sign trade.
Two hours later, we were essentially waved through American customs at Bonner's Ferry, Idaho, at the top of that state's panhandle (the agent wasn't even interested in Miles' vaccination papers). We were back in the land of the free and cheaper-gas-despite-the-weak-canadian-dollar. But if someone had knocked me out in Greenwood and woke me up in Idaho or Montana and asked me where I was without allowing me to look at a speed limit sign, a license plate or a gas station, I would probably believe I was still in British Columbia. No wonder a small group of creative people want B.C., and the Northwest to politically secede together from the rest of North American and form the self-contained state of Cascadia. Lots of trees, hills, pick-up trucks and S.U.V.'s, cyclists, orchards, rivers, lakes and mountains, a few wineries here and there.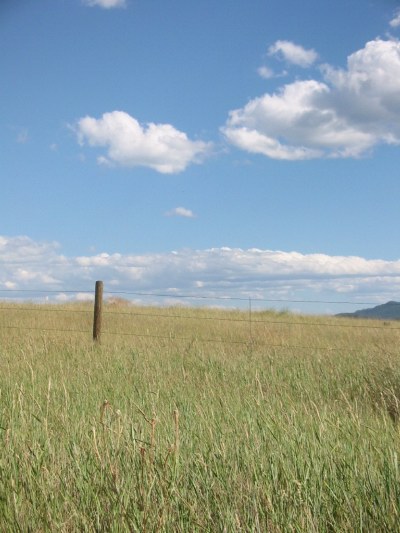 But how would the greens and the rednecks get along? In Vancouver, they were more green than red, but that slowly changes as you go further east, culminating in Montana, where bumper stickers on big pick-up trucks make wise declarations like:
"Earth First...
we'll log the other planets later"
and
"Smokey says [drawing of thin white guy in sunglasses smoking a cigarette]
lock 'em up
shut 'em out
burn 'em down" [referring obviously to the three thorns in any red-blooded yahoo's side: criminals, immigrants and trees]
Not that any of that scares the rest of America away. People are moving to this place: refugees from California (not unlike those from Vancouver who cashed in on their valuable property) in search of a cheaper, simpler life, millionaires from Hollywood and NYC (Redford, Letterman, Turner, and 'me old boss Brokaw) and emigrants who left when the economy was good elsewhere and think they can make a go of it where they once called home. So people are snapping up property, according to Melissa's landlord, Jim, because as everyone knows, when times are tough, small towns do better. And after September 11th, who wants to live in a big one anyway?
So despite the bumper stickers, this place is used to outsiders. Winter here is harsh (don't make the decision to move here in the summer you idealistic Californians), businesses hang on for dear life during nine months of the year and then ratchet up their rates, prices and "no vacancy" signs during those 90 magical days of summer. The Grand Hotel Kalispell serves fresh baked cookies every afternoon, there's no state sales tax, and there's a French chef just down the road, in the appropriately named hamlet of "Big Fork." Who wouldn't want to visit Montana?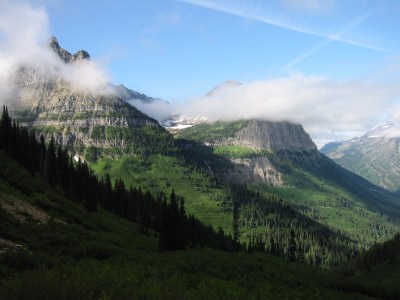 They all seemed to congregate in one place the day we decided to visit Glacier National Park, near the Albertan border. The tour book describes the "Going to the Sun" road as one of the most scenic drives in the world. That's possibly true (I'd add the Atlas Mountains, the Judean Desert, Highway One, the Four Corners and our daily trek to the dog park near Cedar Creek to that highly contentious list). It's also the place where you can go from 23 degrees Celsius to 4 degrees in 30 minutes, drive through a cloud at Logan Pass, play demolition derby with R.V.'s and Harleys in the packed parking lots along the way as you compete for a space, curse the Albertan drivers with their fancy big cars and cowpoke driving ways and try and convince your wife that there aren't any bears along that well-trodden hiking trail...really. But then all is forgiven at the "Two Sisters Cafe" where you can have a big breakfast, wonder why the guy who owns the place doesn't look like a "sister" and have the server tell you that if you don't like the weather in Montana, wait five minutes and it'll change (it was cold and cloudy on the east side of the Divide that day).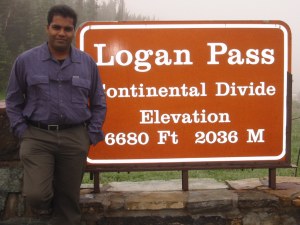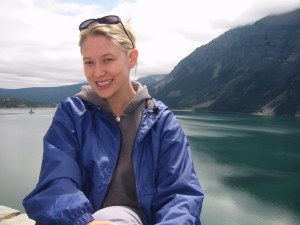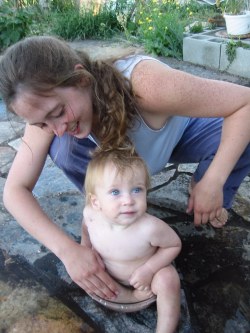 Meanwhile, back at the homestead, Hannah Hughes bathes her energetic (and photogenic) son Willow in a soup bowl and dog Miles takes a breather from his week-long dog camp outside of Melissa's house to pose for the camera (three female dogs and Miles, we believe he finally came of age that week. At the very least he learned how to pee by lifting his hind leg...)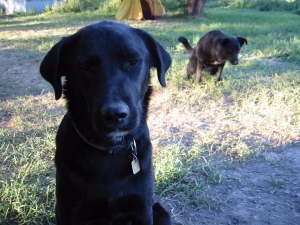 Now that's writing to pictures.
For more about the Pacific Northwest (or Pacific Southwest if you're Canadian) see: