Turkish Delight

September 5, 2000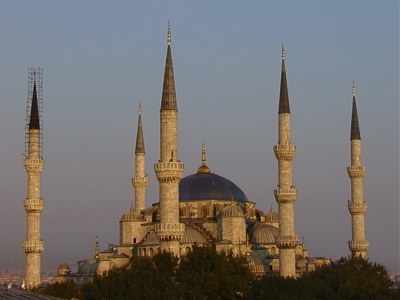 The view from the terrace of our hotel, the Ibrahim Pasha hotel,
steps away from the beautiful Blue Mosque, with it's slender and
awe-inspiring minarets.
Thursday afternoon arrival was painless: a new airport terminal,
taxi drivers who use their meters and don't charge very much, and
a nice welcome from a hotel manager who gave us discounts for
paying cash and spending more than three nights. It ended up
costing us $62 a night. Highly recommended. Just in case, check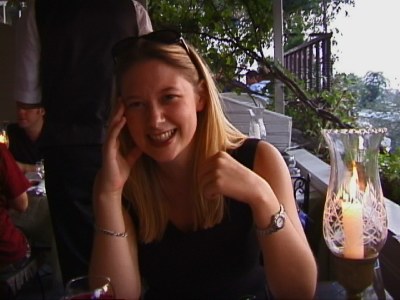 Five minutes walk from the Ibrahim Pasha, we decided to
have a meal at the recommended Rami Restaurant (check
out the Eyewitness guide to Istanbul, excellent information,
and great photos). We reserved a terrace table so that we
could catch the sound and light show at the Blue Mosque
once dusk hit. My kebab in yogurt was divine, as was the
rice pudding. The house wine from Turkey was surprisingly
good, fruity like a Beaujolais. Heather enjoyed it as well and
will make it the centerpiece of her Istanbul food essay. (to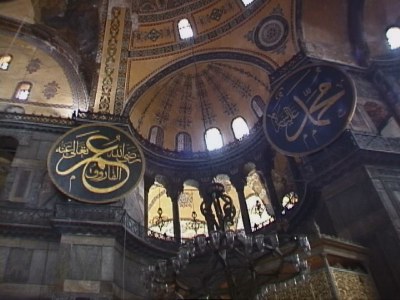 The next day, we were awoken at 5:30 a.m. by the call to prayer
at the Blue Mosque -- proximity does have its disadvantages.
So we started sight-seeing early. We began with the heart
of the Ottoman Empire and Tolkapi Palace, then the Haghia
Sophia (interior picture above). A 6th century architectural marvel
built by Emperor Justinian at the height of the Christian Byzantine
Empire, it was later converted to a mosque.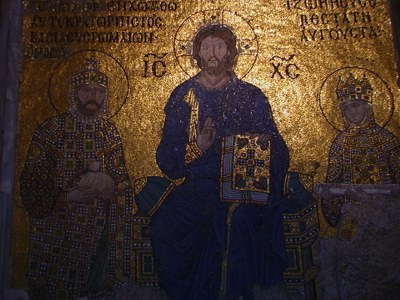 The Haghia Sophia has some beautiful mosaics. This one
is of Christ flanked by Constantine, the Roman Emperor who
moved the Empire from Rome to Constantinople (now Istanbul)
and my hero, Justinian -- instigator of a legal code that is still
the backbone of the Western legal system. We'll overlook the
fact that his wife encouraged him to massacre 30,000 rebels
just down the street from our hotel in what was once the Hippodrome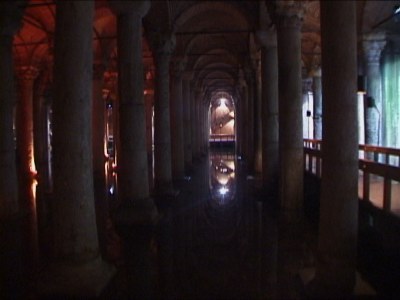 One of our favorite places in Istanbul: the Basilica Cistern.
Also built by Justinian, it was largely forgotten and only uncovered
again in the 19th century when the authorities noticed that
locals were collecting water and fish by lowering buckets
through holes in their basements. Today, it's a serene, cool
place where classical music is piped in through speakers.
They even have live concerts there from time to time.
We had a great, inexpensive dinner at Sultanahmet Koftecisi
-- essentially Turkish meatballs and salad served fast, fresh
and unceremoniously. It reminded me a lot of the fast food we
ate in Kosovo. The influence of the Ottomans is felt far and wide.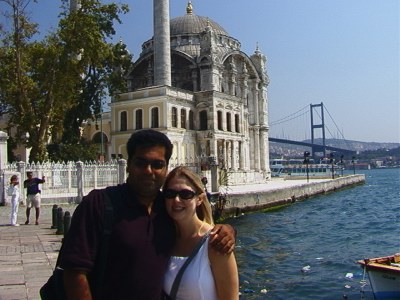 Another 5:30 a.m. wakeup call and we headed to the Grand
Bazaar, a huge covered market, to be accosted by carpet
salesmen, but to ultimately purchase nothing. But we did
thoroughly enjoy the riverside neighborhood of Ortakoy
(pictured above). It's right below the Bosphorous bridge,
which connects the European side (where we were)
with the Asian side of Istanbul -- truly bridging two continents.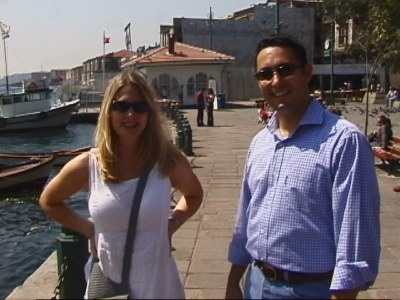 We discovered the Soho-like environs of Ortakoy thanks to
our new friend, Turkish-American tech entrepreneur Timur
Altop. I met Timur a year and a half ago on a plane as I was
headed to Macedonia via Vienna. I was supposed to go to
Istanbul a few weeks later for Easter holiday, but the war in
Kosovo put an end to those plans. Timur was nice enough to
give me his number and urged me to call him once in Istanbul
-- which finally happened...18 months later.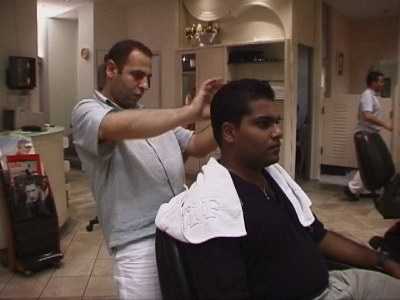 We had a great time with Timur. I expressed to him my dream
to have a true Turkish shave. So he took me to Dibi beauty
salon where the movers and shakers of Istanbul get their
makeovers. For $30, I got a haircut, a shave with a straightedge
razor, a hot towel compress..."shave and a haircut, two bits?"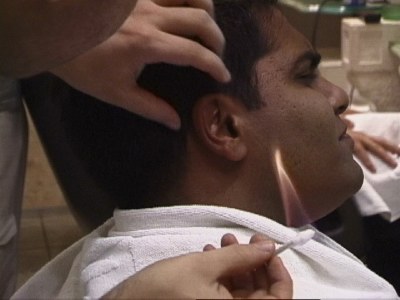 ...along with the alcohol and flame treatment, to burn off ear
hairs. It was hot, but my barber's hand was steady and sure.
I decided to put my fate -- and my face -- in his hands. It was
well worth it. I had never had someone pay so much attention
to my appearance. Unfortunately, Heather had to shoot these
pictures, so she didn't have a chance to be pampered as well.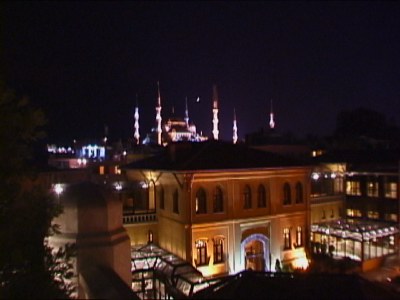 The socialite that he is, Timur was gracious enough to invite
us to a dinner party a few of his friends were throwing...on
the terrace of the five-star Four Seasons Hotel. But this is
not just any hotel (pictured above with the Blue Mosque in the
background), it used to be a Turkish prison -- from my
understanding, the one from the movie "Midnight Express."
Now it's just this luxurious place with great food, amazing service,
and incredible views of the Sea of Marmara. My dad got a
kick out of hearing calls to prayer from at least four different
mosques when he called me on my cellphone during
dinner. Then there was the crescent moon rising over the
Blue Mosque: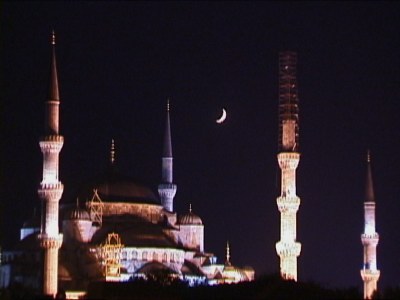 It was great to socialize with these Young Turks of the New
Economy (actually, three of them were architects). It was even
better to get out of sightseeing mode for an evening and enjoy
a slice of Istanbul life.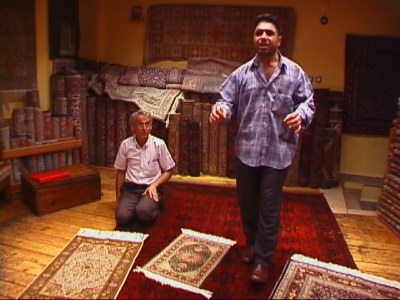 We downshifted on Sunday, with the major event being my
purchase of a couple of Hereke silk carpets -- one for me
and one for my parents. Carpet salesmen in Turkey are a
breed apart. Charming, excellent judges of personality,
perserverant.
We met Zeki our first evening in Istanbul, as we were searching
for the Rami Restaurant, which happened to be immediately
adjacent to his carpet store. A kindly man with a fatherly face,
he invited us to come and take a look at his carpets any
time we wanted -- or to just stop by for a conversation. Heather
and I instantly felt good vibes from this man. Visiting the Blue
Mosque on Saturday, another Turk persuaded us to stop by his
store after sightseeing. I decided to take him up on his offer,
with the immediate caveat that we were not intending to buy
that evening.
To our huge surprise, he led us right back to Zeki's shop, Onur
Carpets! In a neighborhood inundated with carpet, this was
either an incredible coincidence, or really effective focused marketing.
So we met up with Zeki, and his colleague Nufel (who had spent some
time in Heather's hometown) and they double teamed us. We
got quite an education in carpet-making as they laid out at least a
dozen carpets before us, served us apple tea and coffee, and spoke
about our respective backgrounds.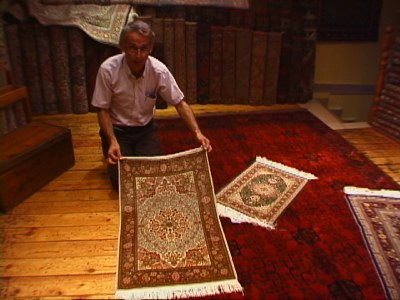 I have acute salesman radar, and know when I'm being fed a
line, but these two made us feel so comfortable. I told Nufel
that I was in Turkey the day after the earthquake last year with
the Israeli Army's rescue team, near the epicenter in Golcuk.
He told me quietly that Zeki -- who was carrying on a gentle
conversation with Heather -- had lost one of his sons in Golcuk
that day.
We didn't buy anything on Friday. We returned on Sunday, having
done some Internet research and some heavy thinking about
spending so much money on a carpet. But my parents wanted
a silk carpet from Turkey, and I wanted to have a real keepsake that I
would have in my house many years from now. Hence the Hereke
silk rug: the brand name of Turkish rugs with the greatest knot-count
per square inch of all the Turkish carpets, given by Sultans as gifts
to foreign emissaries, taking at least a year to make one, and a good
investment that grows in value over time.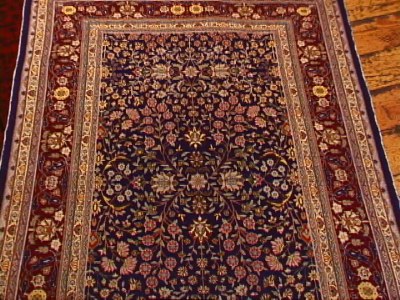 We narrowed down our choices, then finally began to discuss
money. I know there was no way a Turkish carpet salesman
was going to lose money on a negotiation, so my goal was to
not feel like I was being burned. Happily, our new friends did
not protest that we were taking them to the cleaners, did not
declare poverty, etc.. They did show us their red binder with the
"wholesale" prices on it after we got down to my second offer.
By my third offer, Nufel was on the phone with someone to see
if they could go that low (I heard him say during his conversation in
Turkish the word "Muslim" which either implied that I deserved
a good bargain, or that he was just putting on a great show for me).
Thirty minutes from the initiation of our dance, we had a deal:
I had brought the price down to a quarter of the list price, and
just over half of their initial verbal offer.
For more narrative about our rug exploits, click on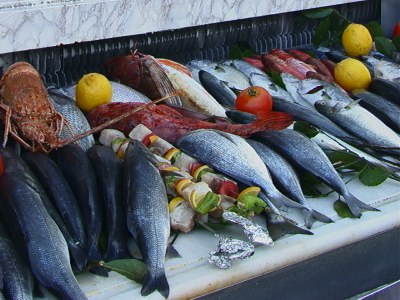 Monday was our last day in Istanbul. We took the ferry to
Buyukada Island, the largest of the Prince's Islands on the
Marmara Sea. It was a quiet place with clean air -- no automobiles
are allowed on the island. We had lunch at Birtat Restaurant
on the pier, where the fish is so fresh, boats pull up alongside
the tables and hand off their catch to the manager. The grilled
sea bass was superb, as was my final serving of Turkish rice pudding.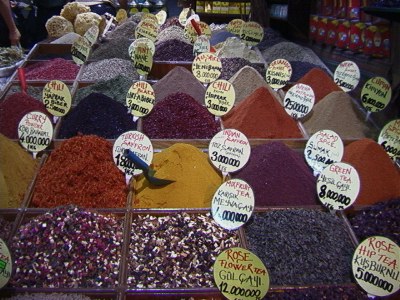 We reserved the rest of the afternoon for last minute shopping
and bought a few more things at the wonderful Spice Bazaar.
It was hard to pay over a dollar for anything, and I was finally
able to buy a dash of Persian saffron. Hopefully some of these
spices will help us replicate some of the excellent delights we
sampled during our long weekend in Turkey.